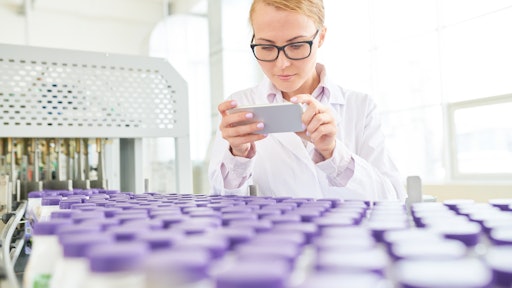 Seventyfour/Adobe Stock
While the term "smart manufacturing" may prompt many to think of factories building and producing goods, it is also an important part of the food industry today. In an age where the Internet of Things (IoT) is extremely prevalent and still growing, technological operations can help food processors and manufacturers become extremely efficient and agile.
Numerous trends in the food industry exhibit the growth of smart manufacturing in real practice, not just in theoretical concepts. Food producers and technology groups now grow from proof of concept to scalable use cases, where these companies no longer focus on developing and experimenting in one "lighthouse location," but instead on application and the creation of scalable network-wide solutions to drive efficiency, according to Tim Gaus, principal, Deloitte Consulting LLP.
Technologies that are popular with food manufacturers include focus on traceability and visibility, machine learning and analytics and numerous forms of robotics and autonomous technologies on the factory floor. Additionally, other traditional material handling equipment are now known as smart devices and connect through IoT capability, which help operators manage the floor more efficiently and tap data for how the machines are running and create best practices on how to operate.
Click here to hear more about technology in logistics and food:
While these new technological solutions become integrated into many food logistics' companies, Robert Brice, co-founder, president and CTO of RFgen, emphasizes that the barcode is still the foundation that enables new technology like this to seamlessly operate. The barcode allows for mobile and IoT devices to collect automated data, which enterprise resource planning (ERP), manufacturing execution system (MES) and other systems can interpret. This creates extremely accurate, real-time inventory information that can be accessed even on a global scale.
"This type of advanced automation creates a reliable product traceability system to track raw materials and ingredients and finished products as they flow through the warehouse or factory," Brice says. "Since locations of all inventory are also recorded, locating potentially contaminated inventory in the event of a recall is fast and accurate, minimizing the scope of the recall to only contaminated product. Using barcoding software enables food companies to meet labeling and packaging requirements with ease."
Additionally, the growing use of connected devices reduces the use of paper and allows employees access to information in and out of the warehouse through mobile devices.
Cold chain resiliency through smart manufacturing
While not all food processors and manufacturers have extensive smart manufacturing solutions in place throughout the entire operation, it is absolutely a growing trend. Many see significant benefits in adopting an IoT-focused strategy like helping to lift the burden of the labor shortage, optimizing the use of equipment, sustainability growth and traceability and its ability to react quickly to recalls and other food-related disruptions.
"Food manufacturing has rightfully been working to rationalize footprints over the past decade, which is driving greater pressure to both extract more capacity from existing assets and be more reliable in delivery when doing so," says Gaus. "Smart Factory is a key to driving higher overall equipment effectiveness (a way to measure how effectively you are using your production assets) within facilities as well as maintaining and improving stable customer service levels.
"Smart Factory is an emerging key lynchpin to food manufacturing sustainability goals," he says. "From energy usage reduction to optimizing performance of new materials, the Smart Factory toolkit is driving significant movement toward sustainability goals."
But, as the case with all new technology, there are some pitfalls to keep an eye on. For instance, IoT solutions can be extremely complicated, and companies need to effectively plan when it comes to connecting the information technology (IT) and the operational technology (OT), considering important things such as cybersecurity, mobility and connectivity.
Other issues are related to the technologies themselves such as poor interface and system responsiveness in addition to the complications of outages.
"Poor UI design leads to a poor user experience, which can ultimately lead to system failure through user resistance," says Brice. "It doesn't matter how much your business needs real-time track and trace capability; if your users aren't comfortable using the system, they'll find ways to circumvent it. We also find that some browser-based systems simply aren't architected to support the sub-second response times necessary for these systems to fulfill their promise. Workers having to wait seconds on the system to validate information or provide next step guidance almost always trigger user resistance and implementation failure.
"Lastly, many food operations are time sensitive, and management simply cannot stop production lines because of a network failure. When selecting a mobile barcoding solution, it is extremely important to ask how operations can continue, with real-time validation of local activities, in the event of network failure. In the food industry, simply store-and-forward data collection isn't enough to prevent potentially serious, life-threatening mistakes from occurring, so making sure the solution can catch errors before they happen is critical."
Many smart manufacturing systems require an overhaul to infrastructure, where the creation of a new operation from the ground up could be easier than an attempt to interject new technological systems into legacy infrastructure. This means the future of food distribution will likely see very different infrastructure.
Click here to hear about changes in warehousing infrastructure:
"Scaled Smart Factory investments often get bogged down due to the pure infrastructure investment required to create the foundation," Gaus says. "However, with the growth of 5G and private cloud options, the ability of the industry to use infrastructure-as-a-service will accelerate the journey and reduce the upfront cost and timeline."
A growth in automation and intelligence from start of finish will also be a major part of the future of food logistics, and for the most part, it already primarily is. Not just in the manufacturing plant, but in the warehouse and in the transportation process, there will be traceability throughout the food supply chain.
"Today's food manufacturing typically has continuous batch at its core, with many elements staged in and out of the process with limited visibility," Gaus adds. "With the enhanced power of vision analytics and the decreased cost of sensors, the detailed track and automation of all process steps will change how we think about flow in food manufacturing.
"Smart Factory as part of Smart Supply Chain; food manufacturing has broadly started their Smart Factory journeys focused within the four walls of manufacturing. However, that paradigm is quickly shifting to the factory as just one node in the digital supply network. The interplay between Smart Supply Chain and the Smart Factory capabilities will drive step change value across the end to end, all connected through a seamless digital thread."
The future of food manufacturing is likely to look very different than it even was just a few years ago in the near future. A collaboration of changing consumer habits, a pandemic completely shifting society and the growth of intelligent technologies changes the food industry from the inside out.