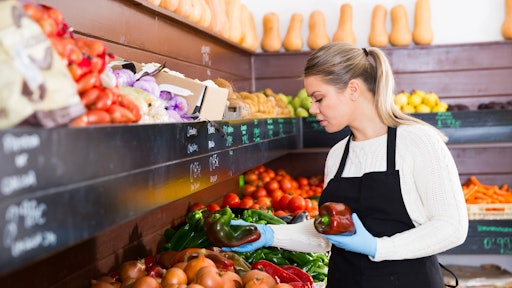 AdobeStock_286417489
The holiday season is among the busiest times of year for grocery stores as people prepare to stock up on food in preparation for hosting holiday feasts. However, challenges caused by the pandemic have many grocers focused making sure shelves are stocked and products are moving out the door, but also on the health and safety of their customers. According to a recent Harvard study, grocery shopping is a more high-risk activity than flying on an airplane during the pandemic.
With the Coronavirus disease (COVID-19) pandemic still raging, shopping experiences have to be as efficient as possible to reduce exposure and the risk of infection as people venture to the store for food. To help improve safety while also ensuring bottom lines are met, many grocery stores are turning to technology, like the Internet of Things (IoT), to help. By placing IoT devices throughout the store or even on grocery carts and baskets, grocers can help make experiences safer and more efficient. Here's how:
Create safe, quick trips for customers
Most grocery stores in the United States are following guidelines such as requiring customers to stay six feet apart, wear a face mask and walk in pre-determined patterns through the store. By turning to IoT devices attached to shopping carts, grocery stores can get data on how and when people move around the stores, allowing them to optimize layouts to be more efficient for shoppers and more profitable for grocers. Collecting this data can help stores make the most out of the holiday season and ensure safer experiences. For example, IoT devices can create a better flow of traffic, which is especially important as one-way aisles continue to be a normal part of shopping during the COVID-19 pandemic—even as more shoppers flock to stores this season.
Grocers can also use IoT enabled tracking devices on their shopping carts that show every cart's location on a map and track each cart's movement history. As many grocery stores around the country have implemented a maximum store occupancy limit, IoT enabled tracking devices will provide grocers with real-time data about how many customers are in the store at a time. The data is also useful for grocers to measure the effectiveness of social distancing measures, by tracking how far apart customers are staying from each other.
Make the most of each shoppers' visit
Grocery store owners can also leverage data from IoT sensors to know where the most populated areas of the store are. This information is critical as it allows store owners to make business decisions about where to place advertisements and specials to maximize their view. These most populated areas of the store are also the best places to display "add-on" items like candy and magazines, so they are seen and purchased as often as possible. Grocers can maximize their revenue by placing hot ticket items and advertisements in the most populated parts of their stores.
Having information about where shoppers are spending the most time in stores will also demonstrate where shoppers' priorities lie. For example, if most shoppers spend the most time in the baking aisle, shop owners can likely expect sales on baked goods to be doing well. Grocers can analyze the areas of the store that are getting the most exposure to understand which sales are the most (or least) successful. This information can also be used to help cross-merchandise certain areas of the store. These store "heat maps" can also be used with CPG partners to identify the most valuable real estate in the store for promotional displays.
Consider a low-powered, low-cost network
When it comes to selecting the right network, grocers should consider a low-powered, low-cost network.
By using IoT-powered devices, grocers can receive data in real time about their stores that will help them protect their shoppers while also making better business decisions. In turn, grocers will be able to create a better flow of traffic, assess the most populated areas of the store and analyze where shoppers' priorities stand when it comes to sales. Technology is imperative for grocery store owners who are looking to improve the safety of their stores, meet sales numbers and keep their customers happy and returning to the store.
Adopting IoT devices will allow grocers to remain competitive and adapt to an ever-changing business landscape, while prioritizing the health and safety of their customers and employees. Customers' minds will be at ease knowing that their local grocery store owners are turning to technology in order to keep the stores running safely and efficiently.