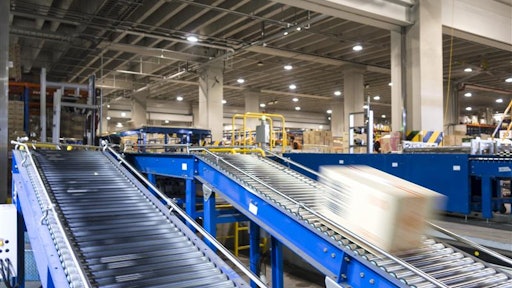 bon_Conveyor Belt system
It goes without saying, grocers today are under a lot of pressure. Given the massive shifts in consumer shopping habits, expectations and preferences, grocers must balance fulfillment across a variety of channels, as well as inventory forecasting and assortment management.
Disparate systems and fragmented processes lead to inventory visibility gaps and ultimately, the inability to give customers what they want, when they want it and via the channel they prefer. Now, more than ever, it's time for retailers to ensure their "house" is in order. In this sense, retailers must resolve structural issues before they can focus on optimizing big-picture business processes. And, you can't optimize the business without accurate, holistic data.
Master data management is vital to creating actionable strategies around the entire business. Master data management provides grocers with a single point of truth, and access to data quickly, consistently and accurately in order to make strategic decisions that can benefit the supply chain, inventory and collaboration with suppliers. Historically, retailers with legacy systems have faced challenges with their data as they work in silos.
Inventory visibility to improve the bottom line
The Coronavirus disease (COVID-19) pandemic saw a massive shift to e-commerce, with 68% of shoppers stating they bought groceries online. This added stress to operations, putting pressure on the different channels and inventory efforts. And, inventory is an essential factor to a retailer's bottom line. Too much inventory can be expensive, but when there's not enough, it leads to dreaded out of stocks.
Between managing inventory from various locations including distribution centers and stores, as well as suppliers trying to keep up, it's essential for grocery retailers to ensure they have the correct inventory data. If a grocer is not underpinned by the right data, managing inventory levels and will continue to remain a challenge, and it will fall behind the competition. Today's grocers, operating across multiple distribution and retail channels, require one central enabler to inventory visibility. This sounds simple, but it's a challenge for those whose access to distribution channels, inventory within the store and information to suppliers exists in silos. To provide an accurate view of inventory, a retailer's master data management solution needs access to inventory information that flows through the entire supply chain. And ultimately, this will positively impact other supply chain functions, including forecasting and replenishment.
Clean data as the key to forecasting
Successful master data management is impossible without clean data. With clean data, grocers can access predictive insights and make strategic decisions, including accurate forecasting. Master data management, when paired with artificial intelligence and machine learning, eliminates manual efforts and increases efficiencies within the grocer's business.
For example, when forecasting demand around strawberries, a forecasting engine analyzes data around seasonality, sales patterns and anomalies, consumer buying behavior, and internal and external events that may impact the forecast. Any inaccurate data would throw off the forecast. As well, even if a grocer were to calculate demand manually, the process would not only take more time, but still lead to inaccuracies.
Increased partner collaboration
With the retail house in order by way of master data management, retailers can then look outward to their relationships with partners and suppliers. In addition to the positive ramifications of having a single point of truth inside an organization, master data management drives additional benefits when retailers share data from common services with partners and suppliers.
The ability to share data and insights leads to a symbiotic relationship – one that ultimately boosts incremental sales and profit growth on both sides. Master data management allows for a smoother process, with data flow through one system versus multiple spreadsheets and disparate technology points. From there, both retailers and partners can easily access information for new vendor or item setup, local assortment, ordering pricing scenarios and more.
Master data management is the house's foundation
Retail and executive teams must work to meet today's challenges while also taking advantage of the opportunities for growth through market expansion. This requires innovation around improved inventory management, demand forecasting, partner collaboration and more. These are all necessary materials for building house, but when one is found to be unsound – such as by siloed data – the structure suffers. A successful, efficient and truly innovative retail business stems from leveraging and handling data in a strategic manner, which begins with master data management: the key to building a structurally sound house.