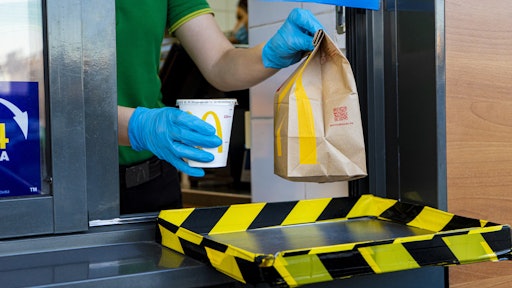 gargantiopa - stock.adobe.com
At the beginning of the Coronavirus disease (COVID-19) pandemic, quick-service restaurants (QSRs) could survive with a makeshift mobile app. Consumers initially gave QSRs a pass and simply appreciated that their favorite restaurant was even open.
But, now that the "New Normal" is simply "normal," customer expectations for QSRs will only grow exponentially. As we approach Month 8 of the pandemic, QSRs are reaching a sink or swim point for their mobile app experience.
The expiration date of short-term fixes
As consumers have modified their own behavior by wearing masks and social distancing, QSRs have done the same. Customers have formed new, longer-term habits with the QSRs they've ordered from during the pandemic. And, within those habits, there are opportunities for brands to build customer loyalty.
Many QSRs turned to third-party food delivery apps to continue driving business during the pandemic. Even as some parts of the country re-open for in-person dining, food delivery is still a safe way for customers to enjoy their favorite restaurants.
However, third-party delivery services do not give QSRs the opportunity to build loyalty with their customer base. These companies don't offer restaurants data about their customers, such as how often they order and repeat purchases. And, without these valuable insights, QSRs can't personalize the customer experience.
Other QSRs have cobbled together makeshift apps to offer safer dining options like delivery and curbside pickup. But, if a restaurant hasn't improved the app since its initial launch, they risk losing out to competitors that offer better app experiences. Given that the average app rating for top QSRs is a 4.5, low scores can equate to less downloads. And with fewer downloads, there are fewer opportunities to build customer loyalty.
Third-party delivery apps and fast-developed apps have a short shelf life, and their expiration date is looming if your QSR doesn't evolve its app experience.
Take ownership and perfect the customer experience
To continue driving business during the pandemic, QSRs must own their customer experience and make it people-first. By focusing on the details of your customer journey and leveraging the right technology, you can gain better opportunities to build customer loyalty and stand out from your competition. Here are some ideas to get you started:
Work with a partner to create or renovate your app. Whether you're developing your own delivery app or improving an existing app, the project will require an app development expert. Given the shortage of tech talent in the United States, hiring an in-house team of software engineers to build or renovate your app can be expensive. In addition, teams with an existing engineering staff have often already allocated those employees to other projects for the business. A smart alternative is to partner with a digital consultancy.
Working with a digital consultancy gives you access to a team of app developers at a smarter, cost-efficient rate than hiring a fraction of that team full time. Digital consultancies bring a diverse set of experts who've developed multiple apps across different industries, including the restaurant space. A digital consultancy also ensures the app is developed to meet your customers' expectations by leveraging the right technology for your mobile ordering experience.
Craft the customer interaction. As you develop your app, pay close attention to every step in the customer journey. Consider ways to solicit key learnings from frontline employees and customers using the app. Identifying friction points — common user experience pain points in the app — is key to perfecting the customer app experience.
Your customer journey and friction points are the core components of how your app will use certain technology. It's also critical to leverage these components to make the app experience synonymous with your pre-COVID-19, in-person customer experience.
Use artificial intelligence and machine learning to personalize the customer experience. Owning and operating your app enables access to first-party data on each individual customer and unlocks the potential for personalization.
Take a fast food QSR, for instance. On its app, the restaurant can see that their customer, Brian, consistently orders chicken from the menu. The restaurant could then filter this activity through artificial intelligence (AI) and machine learning (ML) technology to offer him a customized digital coupon for its new spicy chicken sandwich instead of the new cheeseburger.
You can also leverage first-party data for in-person customer interactions. To illustrate, imagine that a coffee shop customer orders a pastry through its app from time to time. The coffee shop's frontline employees could execute a "surprise and delight" approach with the customer by offering a complimentary pastry when they pick up one of their coffee-only orders.
First-party customer data enables QSRs to engage customers on a personal level and make them feel valued each time they place an order. With customized app offers and rewards, you can build deeper loyalty and retain high-value customers.
Although the goal is to drive business through technology in your app, it's important to also leverage technology to make your app more human. For some customers, the experience at your restaurant may be the only person-to-person interaction they'll have outside their family due to COVID-19, so make it count. By partnering with an app developer and perfecting customer interactions, you can provide a positive and comfortable app experience that helps build long-term customer loyalty.