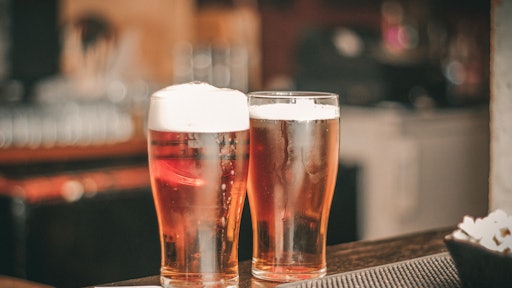 Photo by Matan Segev from Pexels
St. Patrick's Day: a day where over half of legal drinking age Americans spend the day drinking green beer and celebrating the luck of the Irish.
The holiday is the second biggest drinking day of the year for the U.S., with Independence Day ranking number one. However, most of the drinkers that are celebrating the holidays can't identify where their beer is brewed from. Solutions from Verizon Connect can link data to invaluable insights that help ensure consumers get their perfect pint.
"Verizon Connect manages a robust set of data inclusive of GPS location, diagnostics, driver status and road data," Kevin Aries, global product success, Verizon Connect says. "All of this is designed to make it easier for businesses, like breweries, to make sure they're maximizing their fleet and service operations by better tracking their vehicles, assets and workers."
As craft beer becomes more popular in bars, it is beneficial for customers to be able to track the brewery-to-warehouse-to-bar journey. Transparency is now a standard that consumers are demanding from businesses when it comes to their delivery or service. Having a track and trace technology is quickly becoming a high value differentiator for businesses.
Innovative technology can also help brewers maintain their temperature-sensitive drinks while in transit. With Verizon Connect solutions, a brewery work can search for an available technician in case something goes wrong. In addition, the company's solutions allow the brewers to route the technician so they can avoid traffic for an on-time arrival and fix any issues before a batch is ruined.
"Verizon Connect helps optimize beer deliveries in several ways. First, the warehouse planner creates an optimized delivery route. This way their driver drops off the right beer in the right order. If something goes wrong, an alert lets the bar manager and dispatcher know the delivery is delayed," Aries explains. "The driver can easily navigate from the warehouse to the neighborhood and the bar manager can sign for the order on an app, eliminating the need for paperwork. We can also track and communicate up-to-the-minute ETAs along with additional insights around driver details, delays and inventory visibility associated with drivers and shipments, providing bar managers complete visibility into when they can expect their next batch of brews."
It is especially important that brewers get their beer delivered on time this St. Patrick's Day. On-time deliveries means happy customers.