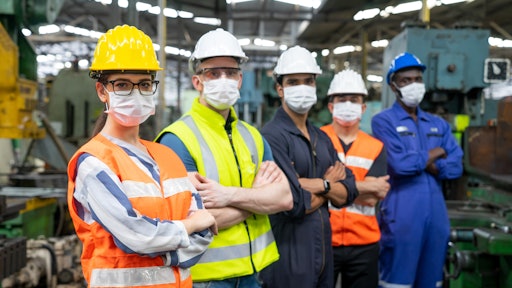 godji10 - Adobe Stock
The majority of U.S. frontline manufacturing workers (72%) have no concerns using mobile software and apps in order to do their jobs better, however more than half report not having access to the right mobile technology on the factory floor, according to a new survey presented by Parsable.
The Coronavirus disease (COVID-19) pandemic has made clear that although advanced automation has modernized many aspects of today's factories, frontline workers remain at the core of manufacturing operations and production. And, that's why equipping them with the right tools is of utmost importance.
"Agility has become the No. 1 priority for manufacturers as the world emerges from the COVID-19 pandemic, but that can't be achieved unless frontline workers are given the right digital tools to help them work more efficiently and safely," says Lawrence Whittle, Parsable CEO. "Parsable's new research uncovers both the challenges and opportunities that companies have in ensuring their frontline workforce is supported, empowered, and most importantly, connected. With increasing competition and pressures on so many fronts, including the loss of tacit knowledge as retirement accelerates within the industry, manufacturers can't afford to delay delivering the right technologies to the workers who are at the core of the business. 
From PR Newswire:
32% of respondents said text messaging or online chat to communicate with colleagues/report issues was the most important type of digital tool that would help them work better.

30% of respondents said management does not listen to recommendations that employees make for workplace improvements.

Nearly half (49%) said their employers have not provided any digital tools to help them stay safer at work.