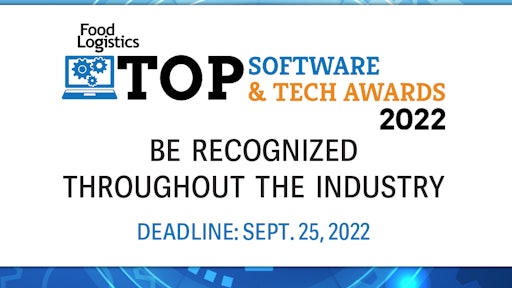 Nominations are open for Food Logistics' annual Top Software & Technology Providers award, which honors software and technology providers that ensure a safe, efficient and reliable global cold food and beverage supply chain.
The supply chain management software segment is projected to reach $18.04 billion this year, according to Statista.
Many of today's supply chain companies are investing in and implementing emerging technologies. From mobile technology and Internet of Things (IoT), to food safety management, routing and scheduling, yard management and more, today's software and technology offerings provide flexibility, efficiency, safety, visibility and more. They offer end-to-end management, from farm to fork, and beyond.
Submissions are due Sunday, September 25, 2022 at 11:45 p.m. CST.
CLICK HERE
to access the nomination form. ALL NOMINATIONS must be submitted electronically.
CLICK HERE to view the criteria of this award.

And, CLICK HERE to preview the questionnaire.
For questions, please contact editor-in-chief Marina Mayer at mmayer@acbusinessmedia.com.
Check out previous winners here, including video interviews and more!