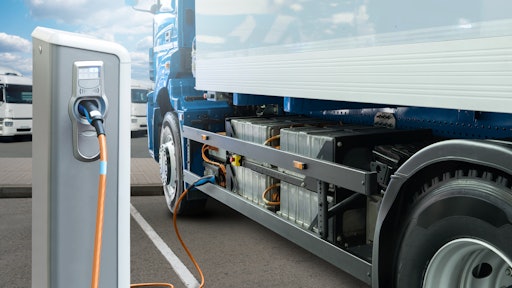 scharfsinn86 AdobeStock_460441554
The sustainability of business operations is now a key consideration in the boardrooms of major corporations, and this is fueling significant demand for zero-emission trucks, according to an IDTechEx report.
Just as electric light commercial vehicles have now become relatively commonplace in cities, IDTechEx expects zero-emission trucks, led by battery electric vehicles (BEV), to become an increasingly frequent sight, with initial deployments on urban and regional routes.
From AgilityPR:
IDTechEx forecasts rapid growth for the global zero-emission truck market over the next decade at a CAGR of 37.1% and expects the global medium and heavy-duty zero-emission truck market to be worth more than $200 billion per year by 2043.
The adoption of zero-emission trucks will be critical for businesses that rely on road freight to deliver on their environmental pledges.
Fuel cell trucks may offer a zero-emission solution for long-haul applications. With an onboard fuel cell that generates electricity from pressurized hydrogen stored on the truck, fuel cell systems offer a greater energy density than battery electric systems, and therefore, a superior range.
Using hydrogen as a fuel also offers a flexibility advantage, with refueling times comparable to diesel and far shorter than battery charging times.