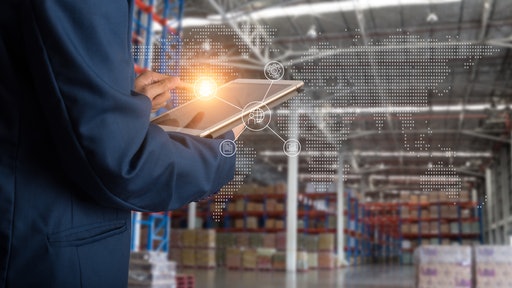 Getty Images
Let's face it, the Coronavirus disease (COVID-19) put the supply chain industry through the ringer. And, it's still occurring. U.S. supply chains are upside down, plagued by disruptions, attacks and many unforeseen challenges.
Yet, it's the supply chains that continue to win by keeping food on the shelves and technology available for those in need of some automation.
Here are the Top 5 reasons I'm thankful for today's supply chains.
1. Food, glorious food!
What most consumers don't always understand is what it takes to get food to their local restaurant or grocery store. They just know that these days, the chances of finding the right food item at the right time (and right price) is very few, far and between. But, we need food to survive. That's why it's imperative third-party logistics (3PL) providers and other fleet managers work to keep food flowing through the cold chain. Next time you dive into that delicious entrée from your local diner or rejoice because your grocery store brought back your favorite kind of cheese, think of the supply chain. Think of the food processors, packagers, food safety auditors, truckers, cold storage providers, warehouse managers, dock supervisors and more.
2. Pivoting takes practice
Pivoting almost overnight takes skill, patience and practice. When COVID-19 hit, consumers pivoted to shop for groceries online and (gasp) have cold food items delivered to their front door. This shift took patience and trust. But, supply chain execs also pivoted, reconfiguring pretty much every aspect of the supply chain. Achieving this constant juggling act is certainly an act worth appreciating.
3. Technology takes over
Technology is what makes the world go 'round, and today's solutions are no exception. Yes, a global pandemic pushed the development and adoption to the forefront, but reverting back to a pre-technology environment would only do a disservice to the companies who've turned to technology to improve safety, quality, efficiency and more.
In fact, technology adoption is growing rapidly across the supply chain to support vehicle automation, robotics, artificial intelligence, machine learning, blockchain and computer vision systems. Emerging technologies continue to emerge, and anything designed to product people, product and planet are worth thanking.
4. Collaboration is key
Watching the cold food supply chain industry evolve into an environment in which suppliers worked with other suppliers, truckers partnered with other fleet and supply chain leaders joined forces to collaborate, network, innovate and create ways to keep the supply chain moving.
For example, the International Foodservice Distributors Association (IFDA) and FMI-Food Industry Association formed an ad-hoc partnership that connects foodservice distributors with excess capacity (products, transportation services, warehousing services) to assist food retailers and wholesalers that require additional resources to fulfill needs at grocery stores.
Meanwhile, foodservice distributors shifted to a direct-to-consumer model, repackaged product to sell in grocery stores and donated leftover food to prevent waste. Collaboration is what has kept the supply chains stable enough to keep food moving. And, that's a feat worth celebrating.
5. Supply chain leaders lead the way
At the end of the day, none of the above would be possible without today's supply chain leaders. These leaders come with different titles, different backgrounds, different skillsets and different ways of doing business, yet all share the common denominator of keeping our nation's supply chains moving in a safe, efficient manner.
These supply chain leaders are the ones who write expert columns, educating our readers on how-to processes and problem-solving solutions; they're the ones who present at our SCN Summit sessions; they're the ones who mentor, educate and help young professionals move up through the company; and they're the ones we honor and celebrate in our awards.
These supply chain leaders are the true heroes of the industry, and without them, none of the above and everything else that goes into the supply chain would be possible.
This Thanksgiving, yes, I'm thankful for my health, happiness, family, friends and my job, but I'm also thankful for the millions of supply chain leaders who keep the supply chains moving.