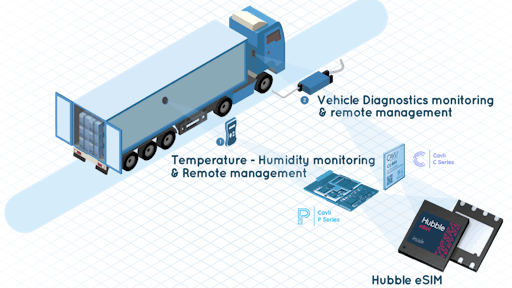 Cavli Wireless
The aftermath, or let's say the ongoing onslaught, of the Coronavirus disease (COVID-19) pandemic has affected global trade at an unprecedented scale, leaving many multinational companies struggling to balance demand and supply and thereby sustain their revenue models. While all industries have been hit badly in the macroeconomic sense, the underlying "cable" that powers any sector -- production, manufacturing and supply chain -- have been wounded. In fact, the wrath of this pandemic has forced many governments and corporations alike to examine the fragility of the current supply chain systems, and hence, the need of the hour demands a smarter, stronger and more diverse supply chain strategy in place. With minimal human workforce available on the ground due to restrictions and cost-cutting measures, the supplier ecosystem will also need to digitize their operations to provide end-to-end visibility of the supply chain systems.
In today's digital age, the Internet of Things (IoT) is greatly enhancing supply chain management and its associated processes. Some of the greatest challenges encountered today is knowing the quantity and location of assets throughout the supply chain process. IoT-enabled sensors can provide real-time knowledge of asset/fleet location, fleet motion speed, temperature conditions and other crucial data that can immensely transform any business's supply chain.
Here's a rundown of IoT-enabled solutions for the supply chain.
Temperature-humidity monitoring and remote management. While transporting perishable goods, IoT sensor devices help keep track of the overall temperature/humidity levels at which the goods are being transported.
Vehicle diagnostics monitoring and remote management. Keeping track of vehicle movement history, fuel gauge and other ECU and engine parameters ensure smooth logistics tracking and predictive maintenance of vehicles.
Consignment tagging solution. Warehouse inventory systems including space management and order tracking are being made seamless with IR/ RFID tagging solutions and other barcode reading solutions.
Industrial gateways. The Industrial gateways connect devices in a local environment with devices and resources in another environment.
IoT use cases in supply chain management
Asset tracking. IoT devices enable "floor-to-store" tracking for location, temperature, humidity, light levels, movement, handling, speed movement and environment. IoT-enabled sensors to help to monitor storage conditions and enhance the quality management of perishable products and medicines.
Warehouse management solution. Tagged goods are easier to locate at the distributor warehouse. Security/surveillance cameras are no longer standalone systems and can be integrated into the overall IoT framework on a smart factory floor.
Business intelligence. According to the Food and Agriculture Organization (FAO), one-third of fruits and vegetables perish during transit. IoT-enabled rich business intelligence can be used to improve the overall operational efficiency of the supply chain.
Inventory forecasting. Smart devices can be used to closely monitor and deal with more variables than ever. For example, when stock is low, an in-store management solution can provide proactive, real-time information enabling automatic shelf replenishment.
Fleet management. Connected fleet helps to get better insights regarding driver behavior and monitor critical fleet management information in real-time. It empowers fleet owners to undertake preventive maintenance to ensure vehicles run safer and longer.
Cold chain monitoring solution. IoT-enabled cold chain management solutions utilize sensors to monitor and manage the environment of temperature-sensitive perishables to prevent spoilage and wastage as they move through the supply chain. It allows customers and fleet managers to track shipments in real-time, receive alerts to any delays and remotely inspect the condition of packages.