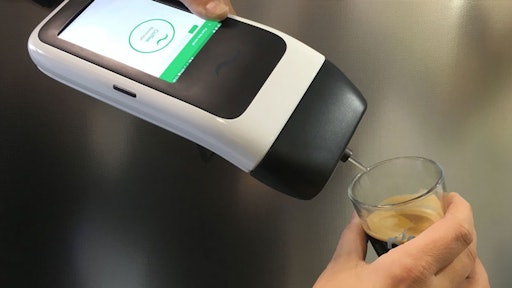 Aryballe
The Coronavirus disease (COVID-19) has presented businesses around the world with a variety of unique challenges. According to a report from Deloitte, one of the largest and most pressing of those challenges is addressing supply chain disruptions. It's no secret that global supply chains across industries — ranging from healthcare and automotive manufacturing to food and beverage — have faced an uphill battle, as major suppliers of global commodities like China and the United States have been increasingly disrupted by COVID-19.
While there remains much uncertainty around when the global economy will bounce back and supply chains will fully recover, business leaders are being forced to rethink their approach to solving problems and are seeking out innovations to support ongoing research and development.
Digital olfaction is one such innovation that is helping organizations diversify their supply chains and enhance their operations by harnessing the power of smell. Using biosensors, advanced optics and machine learning to mimic the human sense of smell, digital olfaction has the potential to support various industries as they seek to innovate and transform their business models amidst the economic uncertainty brought on by COVID-19.
Like many industries, the food and beverage space has been adversely impacted by COVID-19, especially given the added complexities and costs of ensuring that manufacturing processes conform with new social distancing standards. Food and beverage manufacturers must also adjust their product offerings to align with the tumultuous shifts in consumer confidence, preferences and demand over the past several months.
As a result, manufacturing processes, such as maintaining ingredient consistency across a constantly shifting pool of suppliers, have taken on a new sense of urgency. Using digital olfaction, food and beverage manufacturers are able to quickly assess the quality of incoming raw materials by objectively classifying odors to ensure that ingredients maintain a level of consistency and defects are not transferred to the final product.
Grocery retailers are one segment of the food and beverage market that must maintain product quality across a wide range of suppliers while focusing personnel on cleaning and social distancing protocols. Digital olfaction can help ensure product freshness for incoming and on-the-floor inventory such as produce and meats, helping retailers ensure the consistency of goods.
Manufacturers and warehouse managers have increasingly leaned on automated technologies such as robotics and autonomous materials movement to assist with this new reality. Digital olfaction is another technology that can give manufacturers the ability to adapt to this change, enabling them to objectively classify the odors of plastics and other fabrics to determine whether or not they align with quality standards.
As businesses look to bounce back from the economic downturn brought on by COVID-19, innovation is proving to be a crucial component for recovery. But, this is not the first time the global business community has seen a burst of technological innovation in response to an economic crisis. In fact, 550,000 new startups launched in 2009 during the height of the recession, and the years that followed resulted in a surge in entrepreneurial activity.
Digital olfaction serves as an important player in this current wave of innovation, helping businesses across industries, including food and beverage vendors to adapt to constantly shifting supply chains and renew customer demand.