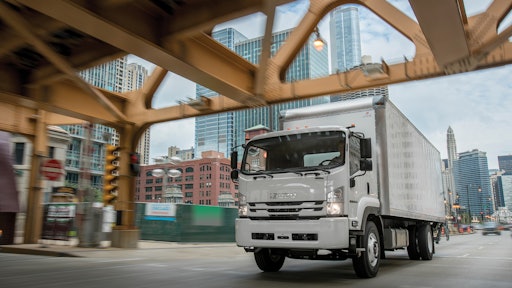 The urban population is changing. And unlike the post war sprawl to the suburbs in decades past, people are now moving back to the city—creating logistical challenges throughout the supply chain.
In addition to substantial urban growth, changing consumer habits over the last 20 years has created increased pressure on the food and beverage industry, as it copes with the challenges presented in delivering anything from meal kits to groceries quickly and safely in a tight urban environment.
According to the National Highway Traffic Safety Administration (NHTSA) 47 percent of vehicle crashes occur in an urban environment.
"That's kind of a surprising stat for drivers to learn," says Laura McMillan, vice president of training development at Instructional Technologies Inc. (ITI). "They may not realize that there's just as many hazards and dangers (in an urban environment as on the freeway). Just because they're traveling at a slower speed doesn't mean they are at a lower risk of getting in a crash with others."
ITI, which provides a variety of training solutions for the transportation industry, recently released a series of courses designed to address the specific challenges and distractions that professional drivers face in an urban environment. What they learned while designing the online course is that although there are definitely collisions and crashes associated with freeway traffic, compared to urban environments, the freeway is relatively safe. The reasoning? While people are traveling at a higher rate of speed on freeways, the traffic is generally moving in one direction—unlike cities where traffic is stop and go, vehicles are turning in different directions at busy intersections and on to side streets, and most importantly, trucks and cars aren't the only moving things on the road.
Maneuverability and Visibility
The greatest challenge affecting professional drivers in any environment, but especially an urban one, is maneuverability and visibility. The congestion in city areas is significantly greater in terms of not only increased traffic but navigational challenges and distractions, as roads are narrower, and there often is less or smaller signage.
"When you're out on the freeway, you have the great big green signs, and you usually have signs that give you a mile or mile and a half or so to let you know where certain exit points are," explains McMillan. "That isn't the case in the cities. You've got restrictions in terms of signage and information about where you should be or where you need to turn. That can be a complication for drivers, especially if it's a city or urban environment that they're not familiar with."
Unfamiliar territory in the urban environment tends to cause decreased situational awareness, meaning the driver may become confused and not notice restrictions such as bridge heights or weight restrictions.
"Maneuvering the trucks around congested city streets is still the most difficult part of a driver's job. This is why Kenworth puts such a large emphasis on visibility and maneuverability when designing our medium duty trucks," says Kurt Swihart, Kenworth marketing director.
Kenworth offers two model configurations that are perfect for urban applications. The T270 is a non-CDL conventional truck rated at 26,000 pounds GVWR. The T270 offers a 20-inch sloped hood, DayLite doors, and optional corner windows to provide maximum visibility. For the ultimate in maneuverability, Kenworth also offers a cab-over-engine K270. The K270 is 45 inches shorter than a typical conventional model, and features a massive 2,500 square-inch windshield combined with a 55-degree wheel cut to make even the tightest routes seem manageable.
Brian Tabel, executive director of marketing, Isuzu Commercial Truck of America, agrees, noting that Isuzu sees no slowing in the large amount of growth they are seeing in customers buying Isuzu to better handle the urban environment.
"Our Low Cab Forward (LCF) design is the perfect medium duty truck for urban environment," Tabel says. "The Isuzu LCF has great maneuverability to give drivers a narrow turning radius to make the tight turns they encounter while maneuvering through city alleyways or tighter docks you find in the urban environment. Another big advantage of the Isuzu is the visibility for the driver to see pylons, docks, cars, other trucks, and all the other items you will see in an urban environment."
Outside of the challenges drivers face while actually in motion, another aspect that can cause strain on drivers is getting in and out of the vehicle, says Swihart. "On a normal delivery route, a driver can make 50+ stops per day. This means climbing in or out of the truck 100 times each day. Because of this, Kenworth has designed many features into their medium duty trucks that maximize the ease of ingress and egress.
"Grab handles and steps are strategically placed on our truck models to make sure that getting in and out of the trucks is as easy as possible," adds Swihart.
Added Challenges
Though specialty urban delivery vehicles do help drivers combat many of the challenges associated with city driving, most specifically maneuverability, ITI believes a little driver training could further reduce the risks. ITI's course focuses on tips and techniques for drivers to follow when they get into urban traffic situations, but a lot of it comes down to route planning.
"If they planned out their route, they'll be able to look for the navigation signs and be prepared for those well ahead," says McMillan. "In a city environment, drivers need to be familiar with that environment and check a map out ahead of time, so that they can plan when they need to change lanes and set up for turns properly to avoid a problem when they reach an intersection."
The training session also focuses on helping drivers understand how to navigate small parking spaces and tight areas around a building or loading dock at supermarkets, liquor stores, shopping areas and the like. Special attention is given to the idea of managing the six sides of space around a vehicle.
"Many people think there's four sides; there's actually six," explains McMillan. "You've got the front, the sides, the back, and above and below. We consistently train drivers to maintain and manage space on all six sides, with the space in front of the vehicle being the most important."
Distraction—on the part of both the driver and pedestrians—is another major challenge associated with urban delivery. The American Automobile Association (AAA) estimates 60 percent of pedestrians that are killed in an urban environment are killed in a motor accident due to distractions, such as texting while walking or driving.
"There's a lot of attention in the lesson on drivers specifically making eye contact with pedestrians, so that they make sure they see you and that they know that you're there so they don't just walk right out in front of you," says McMillan. "From a driver perspective, you can't control whether people are texting and have their head down, but you can hover your foot over the break, and be ready to stop. Basically, expect the unexpected; just know that people do that, especially in congested urban areas. Be prepared for it, and be ready to stop when you need to."
A big part of being able to stop is slowing down.
"The difference that one mile per hour can make between a driver being able to stop the vehicle in time and potentially striking a pedestrian. Everyone gets mad at the truck driver who is slow, but it's a much safer position," McMillan adds.
Driver Shortage
The challenges of urban delivery can be overwhelming, but there is good news. The urban delivery vehicles now entering the marketplace may actually help relieve an even bigger challenge puzzling the transportation industry, as most do not require a commercial driver's license or CDL, meaning they can be driven by anyone with a state-issued driver's license.
According to the American Trucking Association's (ATA) most recent industry report, the trucking industry was short 38,000 drivers in 2014, with an estimated shortage of almost 175,000 by 2024 if current trends hold.
Kenworth is seeing an increased interest in vehicles that are well suited for tight environments. While part of this is due to the increasing population density of large cities, which makes it more difficult to maneuver trucks in inner-city operations, another factor contributing to this is the shortage of drivers with their commercial driver's license.
"The majority of trucks in local pickup and delivery operations are expected to be operated by anyone with a driver's license," Swihart adds.
FG Products, which provides a variety of refrigerated transportation solutions, is helping to solve this dilemma with its COOL-R Kits. The kit is a cargo van insulation package, which can be installed in most van makes and models, including Mercedes Sprinter, RAM Promaster and Ford Transit high roof cargo vans. All three of these brands offer models below 10,000 pounds, no CDL required, excellent fuel mileage and a long service life. A payload capacity of up to two tons is possible with select models after kit and refrigeration installation.
"The COOL-R Kit is a fuel efficient vehicle platform, rather than a 20-foot trailer or a straight truck. You don't have the need for a commercial driver's license or a CDL. It's much more nimble in traffic. It has a much tighter turning radius. And as long as you don't have a complicated skew model or a lot of different products to deliver, you can really focus on your core business and distribute to the inner cities, where the model fits best," says Matt Nelson, vice president, FG Products.
FG Products manufactures these kits and ships them to distributors for installation and delivery.