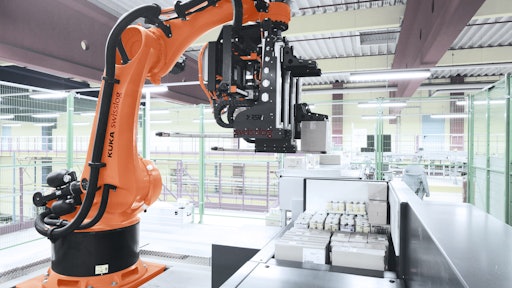 Regardless of the season, a shift in technology or changes in product delivery, some things tend to remain the same. Food and beverage warehouses and distribution centers, for example, are always closely monitoring their employees' productivity and work environments, along with their costs, automation and throughput.
And, as the seasons change, technology shifts and product delivery becomes even more demanding. Yet, these crucial aspects of successful distribution are still top priorities. By utilizing the following robotics offerings, warehouses and distribution centers are improving their odds for success—whether its higher profit margins, improved work environments, more automation or higher throughput. As a result, they no longer have to be wary of change. Rather, they can fully embrace it.
Working in Sync with Employees
To help maximize food and beverage warehouses and distribution centers' thin margins, Dematic's robotic product offerings are replacing fork trucks with automatic guided vehicles (AGVs) that conduct virtually every type of activity that traditional fork trucks have in the past—but without the cost of manual labor.
After all, as autonomous robots, AGVs can automatically load and unload trailers, while also performing automatic picking and transport in food and beverage distribution warehouses. Not to mention, in blast freezer or cold storage environments, they can operate nearly all day long, as they only require battery swap outs every several hours. As a result, the AGVs free workers from the harsh temperature environments that are inherent in food and beverage distribution warehouses, so that they can work in more value-add areas instead.
"As we look ahead to the future, one area where we will be seeing new developments in robotics is where the robots and workers work closely together," says John Clark, mobile automation product marketing manager for Dematic. "Historically, the idea of AGVs was to do work without people or separately from workers. But a new generation of AGVs is now poised to work alongside—and in sync—with workers."
Dematic's latest AGV, which is scheduled for release this fall, will operate automatically alongside workers. Once orders are complete, the AGV will then leave the worker and automatically transport the orders to shipping, prior to another AGV arriving to continue picking.
"For a food and beverage distribution center, where orders are typically cases, rather than pallets, this will be a valuable labor-saving picking option—and much less expensive than an AS/RS or conveyor solution," he adds.
Increased Flexibility and Adaptability
As a consulting and engineering firm, Peach State Integrated Technologies is involved in a variety of projects in which it evaluates traditional automation options like AS/RS, multi-shuttles and palletizers as a means to reduce operational costs. These tools still offer considerable capability, as many operations are mostly manual, especially food and beverage distribution, which is generally still conducted at a full case level.
Nonetheless, many co-packers have been exploring more robotics solutions lately, primarily to handle some of their tasks.
"These could include taking three 12-pack cases of product of three separate flavors and creating 12 three-packs of all three flavors for a warehouse or grocery customer—or adding a 'mix in' like nuts or granola to a yogurt or applesauce cup to create a totally new product," says Dean Starovasnik, practice director at Peach State.
Oftentimes, according to Starovasnik, the de-palletizing of initial products, along with heat sealing or shrink wrapping (prior to palletizing the final products), have been applied to not only reduce labor, but also offer assistance with ergonomic issues. Yet, the actual handling of individual items in between these functions has never received much attention—until now.
"Normally this work is—if not seasonal—at least pretty irregular with relatively short-term contracts," he explains. "Therefore, the payback is more challenging. So the increased flexibility and adaptability of the newer robotic tools is appealing."
With regards to the "mix in" example, the application of a "mix in" cup to a base product cup, such as granola to yogurt, can be quite challenging, and applesauce cups may not be the same size as yogurt cups, and so forth. For that reason, the flexibility of robotic arms with grippers, adaptable to varying sized objects, is very appealing now.
"The gripper—normally multiple cup capacity—grabs and applies some number of cups of cracker crumbs simultaneously, usually with the aid of a vision system to increase the speed of the grab and placement," he states. "The flexibility is important as the actual contents of each job vary in size, method of attachment and types of products."
Starovasnik adds, that, "If the robot can move from one job to another quickly, the realized throughput is enhanced. This helps to increase pay back as staff is not required to reconfigure the robot, yet it continues to produce at a consistently high level."
Automated Mixed Pallet Picking
By combining technology like its light goods shuttle system (the CycloneCarrier), along with conveyor systems that have high performance, palletizing robots, Swisslog has recently developed a fully automated system for order picking of mixed case pallets.
The system, known as ACPaQ, is considered a universally applicable solution, as it features the RowPaQ—which is designed for mixed row palletizing, and comprised of a palletizing robot (KUKA's KR470)—and a four fork row gripper that is capable of handling multiple cases.
Due to its versatility, the ACPaQ can palletize complete rows, while taking up to four cases from a pick-up conveyor at a time and then placing them on pallets. And, of equal importance, it also allows units of different dimensions to be processed at the same time, as package types like cartons, crates, shrink wrapped products and trays can all be handled gently.
In addition to its applicability, regardless of package type or size, the ACPaQ's row grouping of products has been estimated to increase throughput by up to 1,000 units an hour, roughly two to three times more than typical solutions.
"Based on our relationship with our parent company, KUKA, we are positively impacting safety in warehouses, as we automate unsafe or heavy tasks previously performed by humans," says Patrik Seibel, global market leader for Swisslog. "And we're increasing the availability of distribution center operations because our automation is less dependent on a large workforce, thereby ensuring that customers receive their orders."
Companies in this article