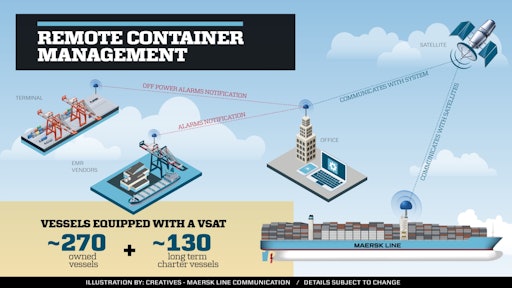 In 2015, Maersk Line began rolling out a new technology, remote container management (RCM), designed to offer real-time tracking of refrigerated containers and monitor the temperature, humidity and other conditions inside the "reefers" to improve cargo care and expedite pre-trip inspections.
Already, the carrier has equipped 270,000 reefer containers with remote container devices that utilize a 3G SIM card, a GPS unit and an antenna. In addition, about 400 vessels have been outfitted with a VSAT dome, which transmits data gathered from the reefers to a satellite.
The data offers a number of benefits for Maersk Line and its customers. For instance, if an alarm is triggered by a reefer container, a notification is automatically sent to the shipper or related parties so they can take immediate action to protect the cargo.
"RCM provides data on the container, including its location, power status, temperature, humidity and ventilation settings. This data allows us to act quickly when it comes to exception handling, so that we can maintain and prioritize perishable goods at any point in time and as needed," states Maersk Line.
While the technology provides real-time monitoring of time- and temperature-sensitive cargo, in turn helping reduce spoilage, damage and loss of food and pharmaceutical shipments, RCM also gives Maersk Line considerable intelligence about the condition of its reefer fleet.
For example, when it comes to pre-trip inspections (PTIs), "We are able to determine the condition of the container upon arrival, so it's only sent for a PTI when needed," states the carrier.
Last year alone, Maersk Line eliminated 225,000 PTIs, which helped provide faster turnaround of its reefers for customers.
According to Catja Rasmussen, Maersk Line's project head, the time devoted to conducting PTIs has also been reduced from up to six hours to about 12 minutes because so much data was available to the carrier in advance of the reefer container arriving at the terminal.
In an interview with Port Technology, Vincent Clerc, Maersk Line's CCO, said "The RCM technology will give full visibility of reefer containers and cargo throughout the cold chain, reduce constraints from human errors and allow for safer operations by reducing the number of physical inspections needed at the terminal."
In July, Mediterranean Shipping Company (MSC) announced it would join CMA CGM in backing TRAXENS, a container monitoring and coordination system that received an initial investment from CMA CGM last year.
According to Rodolphe Saade, vice chairman of CMA CGM, "We recognized the need for more and better data coming from our containers quite a while ago. We are proud to have identified the potential of the TRAXENS solution early on. This is just a part of our global digital strategy."
TRAXENS' container monitoring solution consists of hardware and software. The basic data that can be gathered from the containers (reefers and/or dry containers) includes GPS coordinates, temperature, shocks, door open/closed status, vibration and movement. Additional data that can be monitored includes internal temperature, humidity and pressure. However, anything that can be measured can potentially be added to the list, states the company.
"A normal container with the added electronics that capture and communicate data about their position and condition is what we call a Smart Container," according to TRAXENS, which adds that, "Data is the next big thing for container shipping. All major shipping companies are looking at how they can get more data from their containers."
Together, MSC and CMA CGM have a combined fleet of 4.5 million units and transport approximately 25 percent of the world's shipping containers.
The deployment of the TRAXENS devices across the fleets of both carriers will be announced in Q4 of this year.