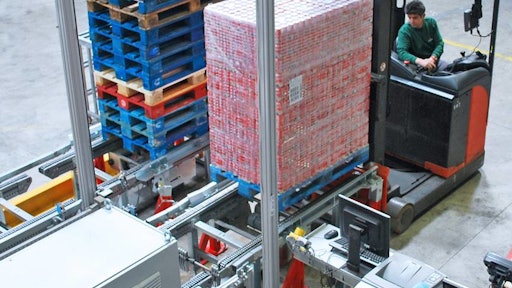 Energy represents one of the largest costs of operating a food warehouse. Hence, managing energy offers one of the greatest opportunities for improving profitability. New technologies in the areas of temperature control, material handling, lighting and water management make energy use one of the most important considerations in warehouse efficiency.
Refrigerated Versus Non-Refrigerated
Energy use varies significantly depending on whether a warehouse is refrigerated or ambient.
Non-refrigerated warehouses in the United States use an average of 6.1 kilowatt-hours (kWh) of electricity and 13,400 Btu of natural gas per square foot annually, according to E-Source, a research and advisory service that works with most of the 300 largest electric and natural gas utilities in North America. Lighting and space heating account for approximately 76 percent of total energy use in such warehouses, making these systems excellent targets for energy savings.
Energy typically accounts for 15 percent of a non-refrigerated warehouse's operating budget, but in refrigerated warehouses, refrigeration accounts for 60 percent of the electricity used.
To better understand energy costs, it helps to know how utilities charge for them, says Esmond Snell, research manager at E-Source. Utilities charge commercial buildings for natural gas based on the amount of energy delivered. They charge for electricity based on consumption and demand.
Utilities base the consumption component on the amount of electricity the building consumes in a month. The demand portion is based on the peak demand in kilowatts that occurs within the month. Some utilities determine the peak demand based on the previous 12 months.
Companies often find utilities and energy consultancies helpful in reviewing energy use.
DPI Northwest, a division of Ontario, California-based DPI Specialty Foods, worked with Pacific Energy Concepts, an energy consultant, to explore its lighting options. The company wanted to reduce energy costs and improve lighting quality for employees.
The company founds its options included light-emitting diode (LED) fixtures in specific areas that would perform well in refrigerator and freezer environments. In addition to improving brightness and visibility throughout the facility, the upgrades would save energy, reduce costs and qualify for incentives from the Energy Trust of Oregon, a local utility company, according to an Energy Trust of Oregon case study.
LEDs, unlike fluorescent lights, provide instantaneous illumination. Plus, they are cooler so they don't add heat to the freezer, which provides additional energy savings. LEDs also replaced several exterior fixtures on the loading docks, entrances and parking lot poles.
Many of the LED and fluorescent fixtures included occupancy sensors and wireless controls for additional energy efficiency. The fixtures can be programmed to operate according to different lighting levels, timing options and motion activation, also saving energy.
DPI Northwest reported a 12 percent decrease per day in energy consumption. Since 90 percent of the building is refrigerated, the decrease delivered a significant energy savings.
3PL Takes Action
Kane Is Able Inc., a 3PL with locations across the United States, recently completed a 1.2 million square foot LED lighting upgrade in two DCs located in its main business campus, says Alex Stark, senior director of marketing. R World Energy Solutions installed the lighting. The upgrade is projected to save more than 2 million kWh annually with the added benefit of eliminating the emission of 2.7 million pounds of greenhouse gases each year.
Additionally, Kane Is Able continues to participate in the Environmental Protection Agency's (EPA's) SmartWay program, which it has done since 2006. The 3PL supports the program's emission reduction initiatives by purchasing EPA-designated SmartWay tractors and trailers. The company's recent update of its diesel-powered tractor fleet is expected to save $1.3 million and 343,000 gallons of diesel annually.
LEED Certified Skylights
Ryder System Inc.'s energy conservation strategy includes sourcing energy efficient buildings equipped with skylights, preferably LEED certified, says Nanci Tellam, group director of environmental services and sustainability. LEED refers to Leadership in Energy and Environmental Design (LEED) certified by the U.S. Green Building Council for environmental performance.
The company converts lighting in existing buildings from metal halide to fluorescent and LED fixtures. It also installs motion and daylight sensors and equips the lighting system with on/off controls. The controls allow the lighting to be controlled by zone (e.g., unoccupied warehouse space is fully equipped with light fixtures but the area is lit just for security purposes).
In addition to the facility design and criteria of the building itself, Ryder places a great deal of emphasis on many other factors, such as:
Incorporating energy-use selection criteria in pre-acquisition due diligence reviews for equipment,
Establishing routine repair and maintenance programs for high energy-use equipment, such as HVAC systems, to ensure optimum performance,
Implementing a formal process to identify and acquire/occupy greener facilities and buildings, or working with landlords to improve building efficiencies,
Tracking, measuring and reporting energy use and greenhouse gas emissions, and
Sub-meter key systems, such as HVAC, battery charging systems, conveyor and packaging equipment, refrigeration and other energy intensive aspects of the facility.
Refrigeration Systems Evolve
For cold storage facilities, refrigeration consumes the most energy.
The application of cascade carbon dioxide and ammonia refrigeration systems have been gaining popularity in food distribution facilities in recent years. Factors contributing to the lower cost include smaller, low-stage compressors; smaller low-temperature suction piping, valves and liquid separating vessels; and less piping and vessel insulation.
The phase out of ozone-depleting refrigerants and increasing legislative pressure on the use of such refrigerants has resulted in a surge in interest in low-charge ammonia for temperature-controlled storage, distribution and food production facilities.
The newest low-charge ammonia solutions are breaking efficiency targets by more than doubling the European Union's minimum energy efficiency rules set for 2019, Dr. Rob Lamb, group sales and marketing director at Star Refrigeration, told the recent International Conference on Sustainability and the Cold Chain (ICCC).
Tim Bauer, director of industrial architecture at Ryan Companies U.S. Inc., a national builder, developer, designer, capital investment consultant and real estate management firm, states he thinks the low-charge ammonia system will continue to gain favor due to superior safety, environmental benefits and ease of use.
The low-charge system does not require an extensive piping system that central refrigeration systems have, Bauer says. The low-charge systems have rooftop units that plug-and-play installation and fast startups. Such systems are especially useful in leased buildings, where expansive, built-in refrigeration is less practical.
There has been some concern about ammonia leaks, especially in produce warehouses, Bauer says. Such issues are rare, however. "By and large, larger food [refrigeration warehousing] is going to be ammonia."
Sysco's Diverse Approach
Foodservice distributor, Sysco Corporation, was able to reduce energy usage in its warehouses by more than 19 percent while increasing warehouse space by 29 percent, according to a recent company sustainability report. The multifaceted initiative focused on the operation of pallet and lift trucks, lighting, air conditioning and refrigeration units.
Sysco's Houston, Texas, warehouse uses a fleet of pallet and lift trucks entirely powered by hydrogen fuel cells that have replaced approximately 180 lead acid batteries.
Sysco's Houston headquarters is LEED Gold rated for its environmental performance. Features at this location include natural light, high-efficiency glass to prevent heat loss and gain, low-energy lighting, more efficient ventilation systems and a heat reflective roof. The facility's water-saving features include low-flow fixtures in bathrooms and the use of native plants in landscaping to reduce the need for watering.
The company's business services facility in Cypress, Texas, has computer-controlled air chillers, a heat reflective roof and an automatic lighting sensor.
Refrigeration units typically account for half of Sysco's energy consumption, with lighting and battery charging constituting the majority of the remaining load.
The company regularly upgrades refrigeration equipment, freezer and cooler doors, dock doors, lighting and office air conditioning systems in its warehouses.
A recent set of energy upgrades included the installation of computerized refrigeration controls, variable speed drives on equipment, more effective freezer doors and energy-efficient, motion-controlled fluorescent and LED lighting.
Sysco also regularly reviews building layouts to reduce the distance traveled by forklift trucks, allowing more product to be handled over a shorter timeframe.
Switching from double pallets to triple pallets allowed Sysco to lift 50 percent more cases for the same distance traveled.
Sysco has installed "miniload" machines in its new facilities to automate the storage and retrieval of low-volume products, allowing the company to store more items in smaller spaces.
Next Frontier: Automation
One of the key energy efficient improvements in the food supply chain is automated equipment.
The management of automated equipment requires an understanding of how the equipment works. In addition to the outlay for capital investment, a company requires management that is knowledgeable about the technology.
The introduction of telematics and hydrogen batteries to lift trucks is one of the most aggressive areas of investment in warehouses.
Susan Comfort, product manager for narrow aisle products at The Raymond Corporation, a material handling solutions provider, says lift trucks can consume far more energy in a warehouse than many people realize. Lift truck manufacturers are able to reduce energy requirements by how they design the truck, she says.
Electric equipment requires adding infrastructure to the building for battery charging, notes Jim Chamberlain, senior director of industrial engineering and continual improvement, at DSC Logistics, a 3PL. "Costs include installation, power hook-ups, stands, batteries, chargers, watering system, battery transfer equipment and a battery monitoring system if you want to maximize your investment in your batteries," he says.
Electric equipment typically has a higher lift height capacity and is a better fit for racked environments in high clear-height buildings, Chamberlain adds.
"Energy efficiency can increase productivity with increased uptime," says Mick McCormick, vice president of warehouse solutions at Yale Materials Handling Corporation. "This can be achieved by both extending the time between refueling or battery replacement, and reducing the time necessary to complete the battery replacement or refueling operation," he says.
Most electric lift trucks currently use lead-acid batteries, McCormick notes. Once the battery charge expires, the battery must be removed and taken to a charging room. A freshly charged battery must then be installed, which overall can equate to 15 to 30 minutes of lost productivity every four to eight hours.
"In contrast, hydrogen fuel cells can be rapidly refueled in approximately three minutes," McCormick says. "In multishift operations with two or more battery replacements per day, the quick refueling of hydrogen fuel cells saves time and increases operator efficiency."
For companies striving to reduce emissions and environmental impact, hydrogen fuel cells produce zero harmful emissions, he says, with only water and heat as byproducts. On average, companies that generate hydrogen on-site can expect about a 33 percent reduction in greenhouse gas emissions, compared to lead-acid battery systems charged from the electrical grid.
"With thousands of lift truck units in daily service and hydrogen fuel supply options becoming more established, I think we're entering a new phase with multiple providers and greater competition along the entire fuel cell supply chain," he adds. "This should have a big impact on accelerating adoption."
Lift trucks using lead-acid batteries suffer performance degradation over the last half of a charge and in harsh conditions such as subzero temperatures. In contrast, hydrogen fuel cells allow electric trucks to operate almost continuously at top performance with only periodic refueling stops.
Additionally, implementing hydrogen fuel cells can free up indoor space to increase capacity and better serve operational demands. On-site hydrogen generation and fueling equipment includes a hydrogen generator located outside of the building, eliminating the indoor space required for battery charging and storage rooms. This enables expansion within the existing footprint, helping improve throughput capacity and productivity.
"This is especially beneficial for operations located close to urban centers with higher real-estate costs, enabling them to avoid large capital expenditures, such as investing in a larger facility," McCormick says.
Lithium Ion Batteries Evolve
Another driver is the emergence of time-sensitive direct store delivery (DSD) applications that involve using lift trucks to move product through narrow warehouse aisles, trailers and convenience store aisles. McCormick says lithium-ion batteries have emerged as a more reliable and flexible power solution for these sorts of applications.
"They [lithium ion batteries] are suitable for opportunity charging on-site and in-transit since there is no off-gassing, negative memory effects or cooling time needed," McCormick says. Additionally, they have a life span at least five times longer than lead-acid batteries and are maintenance free, meaning they do not require watering and contain no acid.
John Rosenberger, manager of iWAREHOUSE Gateway and global telematics for The Raymond Corporation, says warehouse managers have to weigh the faster battery degradation of opportunity charging against the extended vehicle use it provides.
Telemetry Brings Savings
Telemetry is another evolving technology in managing lift trucks.
Telemetry can produce a wealth of relevant data insights to improve fleet management decisions. It can provide a clearer picture of an operation's idle time and energy usage to help operations take action. Tracking telemetry data by operator can help a manager recognize the productivity of all workers and make decisions to reallocate staff and restructure facility layout to minimize idle time.
Natural gas energy has application in lift truck fleets.
"If you are handling full pallets of product in a large facility, propane trucks are the way to go due to their faster travel speed vs electric," says Chamberlain at DSC Logistics. However, "If you are doing a high amount of loose case picking, you would want to use an electric stand-up lift truck or pallet jack versus propane due to the easy mount/dismount time associated with these trucks. With propane, every time you mount/dismount the lift truck, you have to buckle/unbuckle the seat belt to be in compliance with safety standards."
Material Handling Efficiencies
Automated material handling equipment also reduces energy output, particularly in temperature-controlled facilities.
Compact storage and short conveyor lines can reduce space requirements by up to 50 percent or more compared to conventional warehouse systems, notes Norman Leonhardt, business development manager at WITRON Integrated Logistics, a designer and implementer of logistics solutions. This enables savings in energy use, particularly in frozen and temperature-controlled storage areas.
There is also potential for energy savings in optimizing the material flow in a distribution facility. In the latest order picking machinery (OPM) generation, several load handling devices are grouped together to create one transport unit on the conveyor. This reduces the length of time the conveyor elements are switched on and lowers the plant's energy consumption by up to 30 percent. Forty percent fewer drives are needed in an OPM system.
A well-planned material flow solution using a combination of modules and the variable positioning of the articles lead to optimized paths for stacker cranes and shorter throughput times. They also result in fewer case transport trips on the conveyor.
Tote conveyors, elevators and transfer cars can incorporate a number of energy-saving aspects when it comes to upgrades.The significantly enhanced efficiency provided by gearless drives and the improved start-up performance (based on the use of frequency converters) bring quantifiable savings.
Most of the company's elevators and transfer cars are fitted with energy recovery units. Synchronous drives reduce the energy requirement by increasing efficiency in the partial load range and make the size of the motor up to 40 percent smaller.
The application of programmable logic, computer-controlled, autonomous accumulation drives remove the need for a main accumulating roller conveyor drive that is always running, Leonhardt says. The individual conveyor segments run in economy mode. In other words, they only run when there are goods being transported on them. Consequently, the energy requirement depends solely on the number of transport units carried. This completely resolves the issue of no-load times.
Companies in this article