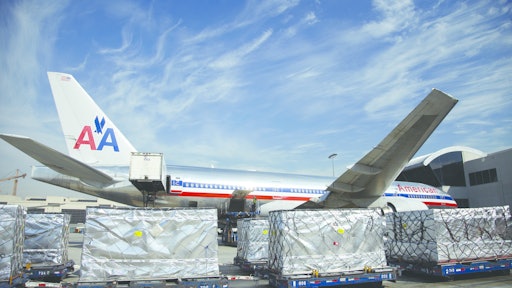 Today's consumers want access to virtually anything, anytime of the year, including an array of food items from different countries, according to the experts in the airline industry.
Carmen Taylor, managing director for American Airlines Cargo (AA Cargo)'s Latin America Division sums it up: "The consumer appetite for all types of foods available year-round is going to continue."
According to Nick Finbow, operations director, Hellmann Perishable Logistics, some of the hottest food trends and commodities include exports of Scottish Salmon to the U.S., and exports of U.S. cherries to the UK.
The Outlook for Air Cargo Remains Up in the Air
The U.S.-South America trade lane is dominated by South American exports of vegetables, such as asparagus, to the U.S., says Miffy Wiggs, general manager of Delta Cargo. In addition, U.S. imports of tuna from Guam is another popular item, she notes.
However, "The trends are kind of dependant on the seasonality of the actual product itself," Wiggs adds.
While air carriers are moving and increasing volumes of food products around the world, like other transportation providers, they're in a never-ending battle with rising fuel costs.
"The fuel costs have jumped more than 40 percent between 2005 and 2011," says Colin Rogers, senior manager of specialty sales, Southwest Air Cargo. "This is what gets passed on to the shippers, usually in the form of fuel surcharges."
Fresh programs and services
With more food products being shipped, and often for longer distances, shippers and carriers alike are looking for ways to prevent spoilage along the way. For starters, it's important to make sure that the product isn't too warm or too cold.
One solution is AA Cargo's Expedite TC program, which is designed for passive and active temperature control monitoring during transportation.
"Although the temperature control containers that we offer are more targeted for the pharmaceutical industry, we are seeing more and more food customers out there that are looking for this kind of service," says Taylor. The ability to monitor and track a shipment online is one of the benefits of the Expedite TC program.
AA Cargo also offers a cooling service called AA Cool Perishables, which provides pre-cooling for shipments at the Miami gateway.
"When the shipments come in, we put them in the cooler in order to protect them from the weather elements," says Taylor.
The longer perishable products take to be delivered, the more likely the quality will decrease, which is why perishable products should be delivered in a timely manner. Southwest Air Cargo recommends their service called Next Flight Guaranteed (NFG), which is for shipments that need to be sent out on the next available flight. One of the advantages with this service is that perishable cargo will ship on a nonstop and direct route. Southwest guarantees that a shipment will be in transit on the next available flight or the customer will receive a refund.
Southwest also has a RUSH Priority Freight service that offers an expedited service. According to Southwest, a shipment will reach its final destination within 24 hours or the customer will receive a 50 percent refund.
Cool equipment
Along with using the best programs and services available, utilizing the right equipment is important in order to track shipments and reassure perishable items remain at the optimum temperature.
One piece of equipment that is utilized by Southwest Cargo, Delta Cargo and AA Cargo is OnAsset's wireless Sentry 400 FlightSafe device. The device provides a company with full visibility into the chain-of-custody and also provides information such as current location and proactive temperature monitoring. The device also provides information on the cargo's humidity and motion.
"What these technologies are doing to innovate is improve and increase your response times so that you can actually prevent the issues," explains Nikki Cuban, vice president of sales and marketing, OnAsset Intelligence.
One of the concerns of the Sentry FlightSafe device is having enough battery power during the flight. When electronic devices are on a plane and turned on, they continuously attempt to connect to nearby networks, which will cause the battery to drain very quickly. The benefit of the Sentry FlightSafe device is having the ability to know when to turn on and off its transmitters, which helps it to maintain a longer battery life.
Another piece of valuable equipment is the Envirotainer RAP e2 Container, which is a temperature controlled container used for air cargo. The container runs on rechargeable batteries, which can last about 35 hours and can be charged at a standard AC-power outlet. The Envirotainer RAP e2 Container also has an insulated container shell that helps to maintain the proper temperature during transit.
Tips for Shipping Air Cargo
•Proper identification is important: Fresh shipments should be clearly labeled as perishable.
•To better preserve your shipment, place coolants on the top and bottom of the cargo.
•Be aware that dry ice is classified as a dangerous good—be sure to comply with all regulations.
•Perishables should be packed carefully to endure at least 72 hours of transit time.
•In most cases wet ice is prohibited; Delta Cargo recommends gel-packs as a coolant.
Source: Delta Cargo
Companies in this article