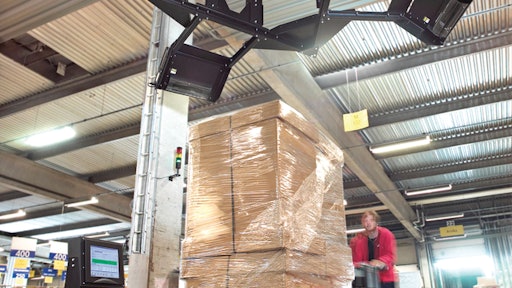 With the use of the latest cubing and weighing systems in the warehouse, food and beverage companies can help improve their carbon footprint while remaining frugal. Understanding cubing and weighing technologies—what they can and cannot do—keeps companies well-informed as to how the systems can enhance efficiencies.
Latest trends
Although the cubing and weighing sector has been making incremental improvements to its systems over the years, one of the more important developments has been the utilization of on-demand boxes.
"There are companies out there that cut and build and make a box specific to the order," says Randy Neilson, director of sales and marketing at Quantronix, a Farmington, UT company known for its CubiScan products.
By employing an on-demand box system, a company is able to fully capitalize on the quantity of items that can fit inside the pallet boxes as well as the quantity of pallets that can fit in the warehouse or in the truck.
"Many companies today are changing their packaging production lines by deciding to no longer purchase boxes," says Packsize CEO Hanko Kiessner. "Although a bit counterintuitive at first, these companies are finding that the time required to make packaging on-demand is less than the time required to find and move packaging that has been purchased conventionally."
Another recent trend in the cubing and weighing sector is a change in the arrangement of SKU pallets. "The industry has trended from single SKU pallets, to layered (or rainbow) pallets to fully mixed SKU pallets," says Stephen Hoffman, technology specialist at Dematic. Assembling fully mixed SKU pallets creates a more aisle-friendly pallet for specific customers. Mixed pallets can quickly and efficiently replenish the shelves, which help increase customer satisfaction.
These fully mixed SKU pallets also save a company money by decreasing the transportation costs. According to Hoffman, with a combination of both pallet software and dimensioning systems, this "can result in more dense mixed case pallets that may even be stable enough to allow for double stacking in a delivery vehicle."
New products and improvements
There are various new products and improvements in the marketplace that help to increase warehouse and transportation efficiency. Earlier this year Quantronix introduced a small static cubing and weighing system called the CubiScan 125, which has the capabilities to measure and weigh boxed items as well as irregular-shaped items.
"Up until now there really hasn't been a small static cubing and weighing system that has been capable of measuring larger case sizes as well as measuring the odd shapes and small components at high accuracies and high resolution," says Neilson.
The CubiScan 125 utilizes three ultrasonic sensors in order to accurately measure boxes and also uses infrared diodes to measure irregular items. It can measure irregular items within seconds that are 18 inches in length and width, 12 inches in height and have a 50 pound capacity.
Along with the dimensioning system being extremely swift, it can measure and weigh irregular items up to 5/100 of an inch and 5/1000 of a pound. [Note: a YouTube video, which can be seen here: http://tinyurl.com/CubiScan, depicts how the CubiScan 125 works with boxed items and irregular-shaped items].
Columbus, OH-based Mettler Toledo offers a large overhead pallet dimensioning system called the CSN840 Pallet. This user-friendly dimensioning system includes three sensors in order to view all sides of the pallet being dimensioned.
The CSN840 also includes a traffic light to inform the operator the current status of the system: A green light lets the operator know the system is ready to measure; the yellow light means the system is currently measuring a pallet and the red light symbolizes that an error has occurred with the system.
"With [Mettler Toledo's] system, pallets are delivered to the scale by fork vehicle," says Dematic's Hoffman. "The operator scans the pallet barcode and the scale captured weight and cube captured by the overhead dimensioner are married together." [Note: an in-depth video of the CSN840 can be seen in action here: http://tinyurl.com/CSN840Pallet].
A significant advantage of this dimensioning system is the addition of a digital camera, which captures high-resolution photos of the pallets. "This is good for quality, damages, and any disputes that may arise," says Jerry Stoll, marketing manager of Mettler Toledo.
Resolving dimensioning problems
Understanding and determining the dimensional weight for packages is essential in order to prevent the possibility of rebilling issues. For domestic shipments, the dimensional weight is determined by multiplying the package's length by its height and by its width, then dividing it by a dimensional weight conversion factor of 194 for U.S. shipments or 166 for Canadian shipments. Utilizing up to date cubing and weighing systems helps to provide the user with the most precise dimensions, which helps to prevent potential rebilling issues.
Alongside with knowing the most accurate dimensional weight, using the proper box for your cargo is also essential in order to avoid having too much void space.
"It can get very expensive shipping too much void space in a box," says Quantronix's Neilson. "If you're picking a better size carton for your order then typically you're going to have less filler material in the cartons."
By selecting the best size box for the cargo, a company can save money by using less filler materials and by also using less corrugate. This not only saves companies money, but it also has a positive impact on the environment.
"Food suppliers can save up to 30 percent in raw material costs, avoid petroleum-based fillers altogether, limit the quantity of damaged items, and reduce their packaging's overall environmental impact on the planet," says Packsize's Kiessner.
Trends on the horizon
Currently, cubing and weighing systems are considered to be pricey pieces of machinery, since they're specialized equipment designed for specific applications. However, that may change in the future.
"As dimensioning becomes a bit more mainstream, I would look to see maybe the cost of this equipment to begin to come down a little bit," concludes Neilson.
Sizing Up The Right Box
Operating an efficient company while simultaneously maintaining an environmentally sound footprint can be a challenge for some companies, but utilizing on-demand packaging systems, such as Packsize's On-Demand Packaging, can help support a company's sustainability efforts while remaining cost effective.
Following are five reasons why companies are choosing Packsize, according to industry expert and company CEO, Hanko Kiessner:
1 – Helps a company prevent waste. "Food suppliers can save up to 30 percent in raw material costs," says Kiessner, "avoid petroleum-based fillers altogether, limit the quantity of damaged items, and reduce their packaging's overall environmental impact on the planet."
2 – It can reduce transportation costs. Packsize On-Demand Packaging can reduce "the number of trucks and planes needed for shipping by as much as 30 to 40 percent," says Kiessner.
3 – Positive impact on the environment. Using an on-demand appliance, according to Packsize, has prevented "32 million kilograms of CO2 from being released into the atmosphere."
4 – Saves money. When utilizing on-demand packaging, it can save a company up to 20 percent by reducing corrugated costs. In addition, using filler material in boxes can be reduced or eliminated completely.
5 – More time. "…The time required to make packaging on-demand is less than the time required to find and move packaging that has been purchased conventionally," says Kiessner.
Companies in this article