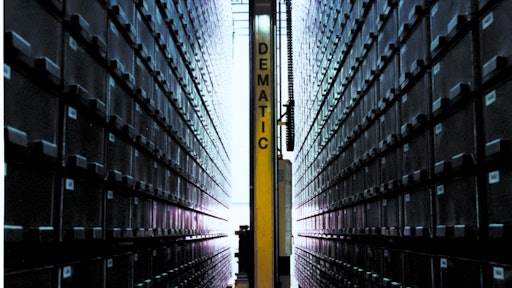 STATUS REPORT: WAREHOUSING
ASRS UPDATE
"Going green" and "sustainability goals" are buzzwords that are entering the lexicon of the operational efficiency discussion, no matter the industry. This is true for the warehouse industry as well. But, the experts note that the primary concerns are operational efficiency, optimal throughput, and labor cost containment.
Peter McCarthy, CEO of PAS-Americas in Rolling Meadows, IL, reports that he has seen an evolution in how sustainability goals are perceived. "Initially, it wasn't on people's radar. As they paid attention to the concept, they weren't really sure why they were doing so. Today, there is an attempt to monetize sustainability concerns and I think companies realize the only true way to increase profitability is to develop sustainable solutions within their own buildings—and that this results in true cost savings."
ASRS solutions provide operating efficiencies resulting in green initiatives, especially in cold storage and freezer applications, notes Keith Berres, executive sales manager for SSI Schaefer in Charlotte, NC. "These facilities require a much smaller footprint while providing far more storage in the same amount of area. Convention warehouses are around 40-feet high, while cold storage facilities can reach heights of 120 feet—so you are talking about a three-to-one footprint improvement, which requires less energy to operate."
Laura Worker, marketing manager for Westfalia Technologies Inc. in York, PA would agree. "I have to say that most of our discussions with customers are not totally focused on sustainability. It's more a situation of by the way, in addition to saving you money on building space, electricity, and operational benefits, these systems are less harmful to the environment. For example, by reducing electricity consumption, fewer natural resources are used and that is an added benefit."
A broader perspective on all business processes as they impact the operation over the long term is helpful for customers, notes Bill Leber, director of business development for Swisslog in Newport News, VA. "As you develop a longer view, you consider things like life-cycle costs of your input, energy efficiency, and other cost factors that may be more subtle but that really compound over the long term."
Leber adds that many companies don't consider life-cycle costs relative to a payback period for their investments. "They should think of investments as improving the infrastructure of their business and as an investment in their strategic future, versus the short-term savings they might be considering."
People managing the supply chain are sincere in their attempt to be sustainable, notes Mike Kotecki, senior vice president for Dematic in New Berlin, WI. "However, the economy and the competitive marketplace being what they are, if there is no true ROI and a tangible financial or operational reward for being sustainable, it is a very difficult sell in the board room." He adds that might be changing because of the implications of being a green company relative to the company's image. "I think what is actually happening is warehouses are coming to companies like Dematic saying they have a project for which the ROI is based on reducing labor and improving product quality and customer service—and if they can be sustainable along the way, so much the better."
We talked to some of the leading providers of ASRS solutions to discover what's new and how these automated solutions can help companies achieve their sustainability goals by operating more efficiently and cost effectively.
High-Bays In Deep-Freeze

Convenience and necessity are driving frozen food sales, causing managers of deep-freeze warehouses to optimize receiving and retrieving frozen food products. ASRS solutions can maximize space utilization, improve energy efficiency, and improve inventory and order fulfillment accuracy, states Leber at Swisslog. "The No. 1 advantage using an ASRS in these environments is being able to use a cube building design, opposed to the basic rectangle design. With less surface area than a rectangle, cube designs warm up a lot slower. Automation can produce between 20 percent to 40 percent reduced refrigeration costs in a frozen environment."
A cube design will also allow you to store more goods because you don't need wide aisles for fork trucks. A cube design utilizes space more efficiently, with storage racks that reach up to the ceiling. "In a freezer environment, anytime you are refrigerating empty space, you are wasting energy and money," Leber says.
Leber cites a recent ASRS installation Swisslog provided to a frozen foods factory. "They were planning to construct a building with a manual operation using forklifts. They planned to put in 10,000 pallet positions. We showed them how, by not changing anything in their plans, they could get in 14,000 pallet positions. That is a 40-percent increase in storage over their original plan, which means that their per-pallet energy costs will be reduced by about one-third."
The beauty of an automated warehouse is that all of its material flows are choreographed. "You are immediately inducting products into the system from receiving and the system automatically conveys them into the warehouse and puts them away in a logical and methodical way," explains Leber. "When you are assembling your orders, there is never a situation of people hunting around to find products because they are always where they need to be. Products are picked in an efficient and logical sequence, leaving the cold facility only when required. Whereas frozen goods in a manual system could spend 20 minutes or so in a non-freezer environment and then you are always questioning the shelf-life integrity of those products."
Of course, the drawback of manual deep-freeze warehouses is the harsh environment itself, which breeds numerous opportunities for inefficiencies. "Trucks tend to have higher breakdown rates and accident rates," Leber says. "Product damage rates are higher and accuracy rates are lower because workers just want to get in and out of the environment as quickly as possible. In a manual picking situation, people are more apt to sacrifice quickness over accuracy which means you end up shipping the wrong frozen food product and this gets to sustainability. Many times, people forget that inaccuracy impacts sustainability because if you ship the wrong products, they only have to be returned and then reshipped. A lot of energy and cost goes into keeping those products frozen. So you wind up with additional electricity costs on both ends."
Leber notes that Swisslog's expertise in designing equipment to operate in these harsh environments is well documented in the industry. "We use special steels in designing and manufacturing our ASRS equipment. Our designs are built to be as maintenance-free as possible so you don't have to have people going into these harsh environments to maintain the equipment."
Aisle-Changing Cranes
LTW Intralogistics Inc. in York, PA offers a solution using stacker cranes capable of changing aisles. "Most stacker crane manufacturers in the world typically offer cranes that run on floor-and ceiling-mounted rails that work back and forth all day long in that one rack aisle," notes Daryl Hull, president of North American operations. Hull adds that LTW has been providing these cranes for decades in Europe, entering the U.S. market in 2000.
Once LTW's cranes reach the end of a rack aisle, they can travel perpendicularly to that aisle and enter another aisle to continue storing and retrieving pallets. The advantage to this solution, explains Hull, is that you don't need a dedicated crane to operate in a specific aisle—which can cause huge problems if that particular crane breaks down.
Say you have an ASRS solution in a facility with 10 aisles and 10 stacker cranes, each operating in its respective aisle, says Hull. If a stacker crane breaks down, there is no way to get products out of that aisle. "With LTW aisle-changing cranes operating in a situation like this, you just move the disabled crane to the maintenance area and the remaining cranes complete the tasks required in that aisle," Hull explains. "And if the pallet you need in that aisle is for one of your best customers, our redundancy system can assure that pallet is retrieved. This is very important to maintaining a high level of customer service. Also, there are no additional costs involved in having to arrange a special trip to deliver that pallet. This goes to lowering your transportation and holding costs while lowering your emissions."
LTW matches the number of cranes required to the throughput of a facility. "We have many installations where there are four aisles and one crane or five aisles and three cranes, depending on the throughput," says Hull. He cites an installation with 60,000 pallet locations that had been operating with 24 crane aisles that now operate efficiently with just six LTW aisle-changing cranes. "Customers can install a system based on the number of pallet positions they need for today and for projected future needs. But they only need to put in the number of stacker cranes they need today, adding additional cranes when necessary."
Another operational benefit with sustainability results is the power-saving technology designed into these cranes. "The lift truck industry refers to this as regenerative braking, while we refer to the process as capturing and reusing the leftover electricity," Hull says. As the carriage lowers, LTW software allows the power to be captured from the lifting motor, which now becomes the generator. "We capture that AC power and when the stacker crane slows down, the electric motor shuts off and the crane now works under deceleration, at which point we capture that power. We can put that captured power into our small grid inside the building to help power other equipment like conveyor systems, lights in the office, or other stacker cranes. Any additional power can return back to the city's power grid."
LTW aisle-changing cranes operate with AC power. So by not using batteries, companies can avoid the high costs associated with battery maintenance and safety concerns. "There are no hydraulics on our equipment, greatly reducing maintenance costs. As a manufacturer of ASRS solutions, we are dedicated to controlling the aftermarket costs of our equipment and in Europe we have continually guaranteed 99-percent uptime on our equipment over a 15-year period," Hull reports.
The Orbiter
About two years ago, Schaefer US introduced the Schaefer Orbiter System (SOS) that had been operating successfully in Europe over the last three years. "It is a pallet shuttle system operating on a capacitive charge, so there are no batteries involved," Berres explains. The system consists of the Orbiter satellite with a docking station, designed for high-density storage solutions using any type of material handling equipment.
One use of the Orbiter shuttle is riding on the ASRS crane as the load-handling unit, Berres reports. "Every time the Orbiter is docked to the crane, it receives its capacitive charge from the docking station so it can begin its journey down the aisle with a pallet on top as it stores or retrieves the pallet. The advantage to this solution is it is not degraded by cold environments like a battery-operated shuttle is and it doesn't require the change-outs that a battery does for charging cycles. You also don't have to deal with the caustic chemicals involved with battery usage, so there is a definite maintenance advantage with our system." The docking station provides the capacitive charge within seconds, providing enough energy for the shuttle to complete its travel down the rack aisle and back.
Berres notes the system was designed as a way to improve the efficiency of operating a pallet shuttle in the cold storage environment. "Although the Orbiter can work in any environment, it is well-suited for the cold storage environment because it does not rely on batteries."
Schaefer offers ASRS solutions for everything from pallets to cases and totes, and it can retrofit cranes into 32-foot-high to 36-foot-high buildings. "A more sustainable product for retrofits is our Orbiter, which is capable of stacking pallets 20 deep, eliminating the need for extra aisles," Berres says. "We can integrate our Orbiter system into an ASRS that has a single crane operating and servicing both sides of the aisle, each storing pallets up to 20 deep." The system can also be integrated into other forms of automation to improve the energy footprint. "We can integrate into your automated picking processes such as automated case picking, layer picking, and standard pallet-in/pallet-out applications that can be done without the use of forklifts."
At a certain point, retrofitting is not recommended if an existing building is too small, Berres explains. "For the most part, you can improve your storage capacity by up to 50 percent in large cold storage DCs with the use of mobile racking and the Orbiter." While the average cold storage building is about 40-feet high, the Orbiter can operate in facilities up to 120-feet high.
Cart-Based Automation
When PAS-Americas began receiving requests for help from customers contemplating various types of logistics technologies to deploy in their warehouses, PAS commissioned third-party independent consultants to review its solution versus other ASRS provider solutions, reports McCarthy. "They compared our cart-based automation with manual racking systems and crane-based ASRS solutions and their conclusion was that our solution yields a 90-percent decrease in carbon dioxide emissions vs. a manual racking system—and a 60-percent decrease in carbon dioxide emissions vs. a crane-based ASRS solution. The reason for this is that the power draw on our equipment is significantly less than anything else on the market. The other reason is our technology can be deployed in existing operations and there is no need to build a new facility, whereas many other automated solutions require a new facility. Our solution maximizes the space within existing buildings."
The secret behind these high efficiencies is patented cart-based technology operating highly engineered yet simple componentry. "Each component is designed to do just one thing simply and efficiently," McCarthy explains. The solution is comprised of four components: an SSC (System Staging Carousel) cart, a row cart and aisle cart, and the PowerStor module housing a vertical lift device to raise and lower the SSC cart carrying a pallet in or out. The system operates in a loop, picking up in one or several locations and dropping off at one or several locations. The process from start to finish takes about 30 seconds. "The first time after production that a human has to touch the pallet is at the dock door.
This is how it works. A pallet moves to an SSC cart designed with a high-efficiency motor, and from there it is transferred to the PowerStor module onto a lift device, which lifts the pallet to meet up with the tandem-working aisle and row carts.
"The aisle cart is designed to bring a pallet down an aisle and the row cart moves the pallet to the appropriate row," McCarthy says. "Very little power is required for each of these components to do its job efficiently because each component is moving the weight of the pallet primarily. For instance, when you are using a crane, you need a lot of power not only to move the weight of the pallet, but to move the large column of steel as well. So the more complex and versatile equipment is, the less efficient it is because of the huge drain on power it requires."
Flexibility is another advantage. "Crane-based automation is inflexible," notes McCarthy. "Once you design a facility around crane technology, when you turn it on, you cannot change the rates at which products go in or out. With our solution, if your rates double we can install additional SSC carts, lifts, and row and aisle carts to increase the throughput of your facility because our solution is completely component-based."
McCarthy cites a recent implementation in a 120,000 square-foot building 32-feet high with 13,500 pallet locations. "This customer previously had a manual system before deploying our PowerStor solution." The average utility costs for this facility before the PAS system was installed was about $612,000—which included the cost of operating all the lift trucks, and heating, cooling, and lighting the facility; and they were spewing out 3,086 tons of carbon dioxide annually. "With our system, however, their utility costs annually decreased to only $70,000, with 354 tons of carbon dioxide emissions."
Satellite Technology
As the green initiative began to take hold on the industrial scene about four years ago, companies began to be more concerned about environmental responsibility, says Laura Worker, marketing manager for Westfalia Technologies Inc. in York, PA. "We wanted to be able to respond to this interest with our Satellite rack-entry vehicle offering a number of features making it a green solution, primarily due to its capability to provide storage up to 12 pallets deep in a lane. This means that we can provide a solution that can be applied in a much smaller building footprint and we don't have to be concerned with turning a fork lift because our aisles are narrower and we can store more in the racks."
Westfalia's "Go Green with High-Density AS/RS'"initiative is all about denser storage configuration that utilizes about 40 percent less space with a smaller building footprint offering numerous benefits, such as lower energy costs. "Typically, it's about 30 percent lower for refrigerated or frozen warehouses because you are cooling and freezing a smaller space," Worker says. "It's cheaper to cool up than it is to cool across a bigger footprint."
When retrofitting an existing building, Westfalia experts examine a company's inventory statistics to discover the amount of storage required and what that equates to relative to the number of pallet positions required. "We also look at the company's throughput rate as well as how quickly they need to get pallets into and out of the system," continues Worker. "And we examine their order fulfillment practices and whether they are picking full pallets in and full pallets out—or are they doing case picking or each picking. We factor in their estimated future growth plans as well."
Worker reports that installing an ASRS solution can improve inventory statistics dramatically. "There is less product damage because things are moving through the system more safely. You also have better order fulfillment because these systems produce more accuracy—which equates to better customer service and fewer customer complaints."
Better fulfillment efficiencies means there are no increased transportation costs. "If you process an order incorrectly, you end up having to do two additional shipments, which relates to extra handling costs and transportation and fuel costs," she says. Costs associated with handling are reduced because Westfalia's ASRS high-density designs can place integrated tunnels—for accumulation conveyors and pick tunnels—within the racks.
Companies in this article