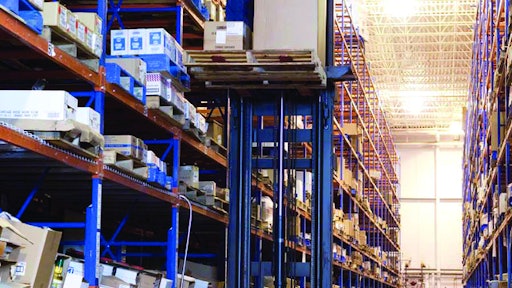 With many indicators pointing to economic recovery in North America, owners and managers of warehouses and distribution centers are beginning to see increased orders and throughput. While this is good news, concerns about suddenly obsolete material handling and space requirements are prompting some owners and managers to investigate a retrofit project to improve workflow and to upgrade their ability to respond appropriately to the improving economy. Some are even planning brand-new facilities with completely updated amenities to meet both current and future needs.
No matter the approach, however, the evolution of a facility's lift truck fleet should be a key component of planning discussions. A warehouse or distribution center redesign is the perfect opportunity to re-evaluate the existing fleet mix to replace aging units, but keep in mind that new truck types may be necessary, especially if storage density and throughput will change substantially.
Conversely, an existing fleet may not transfer seamlessly to the design and workflow of a new facility. Additionally, many facility owners and managers are grappling with issues like sustainability and reducing carbon footprint, which means a fleet's future power technology needs also must be addressed.
For these reasons, it's crucial that owners and managers of warehouses and distribution centers spend as much time as necessary in the planning stages of a retrofit project or new facility design to ensure all lift truck-related decisions are sound. An important part of that process is partnering with industry experts, including lift truck manufacturers and dealers, to ensure all goals are met and a reasonable return on investment can be achieved. Leveraging those relationships to ensure astute decision-making will increase the opportunity for project success.
Front-end Planning
It can be difficult to know where one is going without a map, and the same is true for a new or retrofit warehouse or distribution center building project. That's why front-end planning is so crucial and should not be underestimated, because it will create a framework for the entire project, including a timeline and milestones that facilitate accountability for all participants. Facets of the front-end planning process include:
Clearly defined objectives: Without a well-thought-out set of overall objectives for the project, it will be nearly impossible to ascertain whether it is ultimately successful or not. Too often, facility owners and managers waste time, budget and resources without clearly understood and attainable goals.
Must-haves vs. nice-to-haves: Defining project goals and objectives is easier when potential amenities are divided into two categories—those that must be present and those that would be beneficial to have if cost were not a consideration. Once a budget is established, the task of weeding out the optional items is much easier. Note that the project type will often dictate what will fall into a given category—in a retrofit, for example, variables like column spacing, ceiling heights, and available floor and dock space will influence what is feasible. With a "greenfield" project, issues such as prevailing building codes, available capital for the project, corporate business objectives and project timelines may dictate the decision between must-have and nice-to-have.
Internal checkoff: Individual departments and customers within a warehouse or distribution center will need to efficiently interface with the resulting design of a new facility or workflow changes in a retrofit. If the distribution center is part of a manufacturing complex, then the requirements of supporting the manufacturing process become a high priority. Thus, making those departments part of the planning process to ensure their comfort level is crucial. That includes the information technology (IT) department, which may be responsible for the network infrastructure that supports the lift truck fleet management system.
Securing external expertise: The planning process is much less overwhelming when support from external sources is secured. This includes engineering or design firms, of course, but also should include manufacturers of material handling systems and lift truck manufacturers and dealers.
Regarding the last point, it's prudent to use the front-end planning process to carefully review the credentials of all external participants to ensure appropriate experience in similar projects. Keep in mind that special design considerations are necessary for specific facility types. For example, a cold storage or blast freezer facility typically requires maximum storage density, due to the very high cost of construction. A 3PL may wish to use a design that maximizes flexibility in layout and storage to serve a wide variety of customers. Food processing facilities must comply with U.S. Department of Agriculture requirements.
Fleet Assessment
Virtually every decision made during the front-end planning process for a retrofit project or a brand-new facility will affect the existing lift truck fleet. Either project type is a great opportunity to re-evaluate the existing fleet mix, but such an evaluation is best completed by a trusted lift truck manufacturer or dealer. With the proper credentials and experience, either can objectively assess multiple issues, such as:
The fleet's age and service condition: That includes not only the mechanical condition of individual units, but also related issues, such as the method of equipment acquisition and the most cost-effective maintenance approach. Note that reviewing a lift truck manufacturer's or dealer's credentials can help determine its ability to provide effective ongoing training and support, as well as its ability to be a reliable long-term partner and provide a solutions-oriented approach.
The fleet's ability to meet future needs: The potential of increased demand, new customers and new products are crucial variables that should be factored into the decision-making process. With the short product life of many consumer products, it's more important for a manufacturer and its warehouse or distribution operations to be flexible and react rapidly to changing economic conditions.
The fleet's ability to be used efficiently in a new layout or storage configuration: Obviously, a new warehouse or distribution center likely will be substantially different from an existing facility, but a retrofit project can completely change storage density and workflow as well.
Recent material handling and storage trends also will affect fleet makeup. For example, one such trend is high-bay and cube utilization analysis. To reduce a facility's physical footprint, especially in larger urban areas where space is at a premium, there is currently a tendency to build vertically and maintain manageable costs. Thus, the planning phase will focus heavily on cube design and racking structure, and the options that are borne from that process will require varying approaches based on truck type, such as whether deep-reach lift trucks or very narrow aisle (VNA) lift trucks are needed.
Of course, the chosen design approach will be influenced by multiple factors beyond lift trucks, including everything from building codes to seismic activity to labor pools. A lift truck manufacturer or dealer with extensive experience will be able to account for these variables and recommend changes that result in the best possible fleet mix.
Powering The fleet
All lift truck fleets require power to operate at any throughput level, but those that use batteries must take into consideration issues like charging and electrical costs in the front-end planning process. A great external resource in this area can be the local electrical utility, which can recommend more cost-effective ways to use electricity based on throughput levels. For example, it may recommend battery charging at times when both peak electrical demand and rates are lower.
Remember: It's in the local utility's best interest to work with customers to reduce peak electrical demand to avoid brownouts or blackouts, and many provide financial incentives to do so. In addition, a hard look at electrical power needs and efficiencies also can help ownership and management meet sustainability and reduced carbon footprint goals.
A lift truck manufacturer or dealer also can recommend truck types that are inherently more energy efficient, which can help meet sustainability goals. For example, some lift trucks have both a battery and charger on-board, allowing for regenerative energy usage that greatly reduces battery charging requirements. A manufacturer or dealer could recommend fast chargers, or craft a transition strategy from electric-powered to fuel cell-powered trucks, based on a careful analysis of all variables, including cost, number of shifts and shift lengths.
Maximizing ROI
No matter whether a warehouse or distribution center is brand-new or undergoing a substantial retrofit, it's important for ownership and management to have clearly defined goals and objectives before investing any time or budget. Arriving at those objectives and crafting a project plan that ensures success and maximized return on investment requires consultation and strategic partnerships with multiple external parties.
That should include lift truck manufacturers and dealers with established expertise in developing viable solutions for multiple project and facility types.