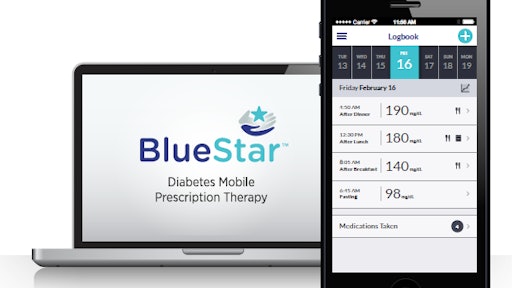 Digital health leader WellDoc and the Healthy Trucking Association of America (HTAA) announced Thursday their partnership to help truckers living with diabetes. Additionally, WellDoc unveiled its consumer diabetes health app, BlueStar C, which is designed to aid individuals living with diabetes to manage their chronic condition.
Both organizations, through this initial launch, will introduce BlueStar C to truckers and fleets at the Mid-America Trucking Show (MATS) in Louisville, Kentucky, which takes place from March 23-25.
"We are proud to launch BlueStar C, our consumer version of BlueStar and the latest offering in our suite of products for managing diabetes, via our collaboration with HTAA," says Kevin McRaith, CEO of WellDoc. "The trucking industry is facing a severe health crisis due to the prevalence of diabetes, and we are passionate about providing a solution to help individuals manage their diabetes. BlueStar C is geared for people like truckers, who lead hectic and busy lives. Our product can support them on their diabetes health journey."
According to the National Survey of Long-Haul Truck Driver Health and Injury conducted by the National Institute for Occupational Safety and Health (NIOSH), over two-thirds of respondents were obese (69 percent), and 17 percent were morbidly obese. Obesity increases the chance for type 2 diabetes, sleep apnea, heart disease, cancer, joint and back pain and stroke. The prevalence of diabetes among truck drivers was more than twice that of the general population (14 percent versus 7 percent).
"Diabetes is an epidemic facing the trucking industry, and this charter project is top priority for HTAA," says Bill Gordon, president and CEO of HTAA. "We are embarking on this significant partnership with WellDoc, a leader in developing digital health solutions for individuals living with chronic diseases, because our core mission is to provide truckers with solutions to help maintain their health and wellness. Diabetes and its related complications can disqualify drivers from receiving or maintaining their commercial driver's license—ultimately taking away their livelihood. We believe BlueStar C will truly help truckers stay on track with their diabetes self-care, both on and off the road."
WellDoc supports people living with diabetes with a suite of products. Its FDA-regulated platform, BlueStar and BlueStar Rx, was designed with clinical outcomes in mind. WellDoc's digital therapeutic app supports the lifestyle changes and all medication regimens that people with diabetes are often prescribed. Additionally, the user data are summarized and shared with health care providers to assist in clinical decision-making. BlueStar C shares many of the same key features of BlueStar and BlueStar Rx, but with a distinct lifestyle focus that provides daily essential support for better self-care, health and wellness. Additionally BlueStar C helps users track and share their diabetes self-management data with their families, caregivers and health care teams.