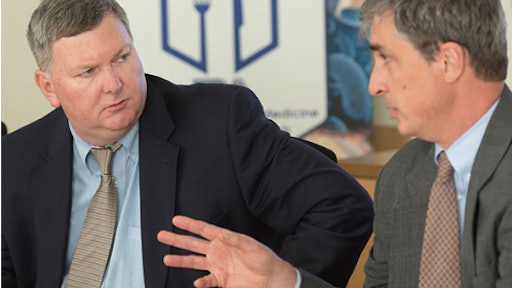 Six months ago, the FDA moved to speed its response when there are foods on the market that present a real or potential danger to consumers' health.

The agency created a team of key senior leaders to get involved with the most challenging recall situations, those complicated by such issues as the nature of the product, the scope of available evidence, and the company's response. This team is called SCORE (Strategic Coordinated Oversight of Recall Execution).
With these tough cases, the team supports the FDA's field staff and district offices across the country by evaluating the whole range of options for the use of the FDA's compliance and enforcement authorities, and making swift decisions about the best course of action to take.
William Correll, director of the Office of Compliance in the FDA's Center for Food Safety and Applied Nutrition (CFSAN), and Douglas Stearn, director of the Office of Enforcement and Import Operations in FDA's Office of Regulatory Affairs (ORA), are the SCORE co-chairs. On the FDA's website they talk about what SCORE has achieved in its first six months, the challenges it has faced, and the road ahead.
To read more, click here.