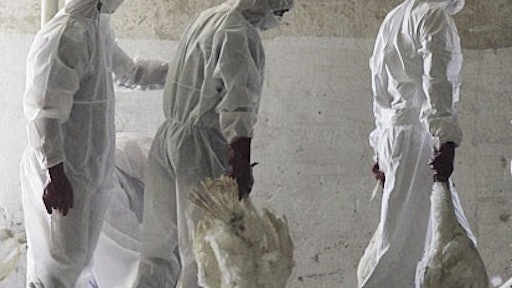 U.S. poultry companies and regulators are taking unprecedented steps to combat the potential return of an avian-influenza virus that roiled egg and turkey farmers earlier this year and killed more than 48 million birds, according to The Wall Street Journal.
The U.S. Department of Agriculture, bracing for a return of the virus during autumn migration season, is hiring hundreds of veterinarians and other temporary workers to help respond to the threat. USDA also is weighing its first use of bird-flu vaccines, and states are ramping up employee training and readying equipment to compost dead chickens.
Poultry giants including Perdue Farms Inc., Tyson Foods Inc. and Cargill Inc. are redoubling safeguards such as barring outside visitors to barns and farms. Animal-health companies and farm-equipment makers are ramping up production of tools to quickly euthanize flocks and decontaminate barns.
"We have every reason to believe we could see an outbreak of some sort this fall as wild birds come back through the middle of the U.S.," said Bill Northey, Iowa's agriculture secretary. The state was the top U.S. egg producer before half its roughly 60 million egg-laying hens were wiped out this spring in the nation's worst outbreak of avian influenza.
The highly infectious H5N2 strain led to retail prices for eggs more than doubling and sent turkey prices to record highs earlier this year. It also has cost taxpayers nearly $1 billion in cleanup, preparation costs and indemnity payouts to farmers—much of it from emergency federal funds tapped by the USDA's animal-and-plant health service.
Researchers said the virus likely spread through the droppings of wild ducks and geese as they migrated to the upper Midwest, but that inadequate biosecurity and cleaning practices probably contributed to outbreaks. Federal agencies say there is little human-health risk and no human infections have been identified so far.
To read more, click HERE.