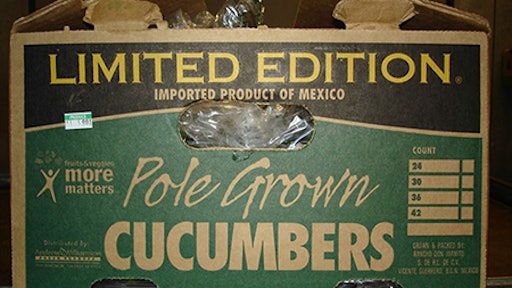 A third death is now linked to the salmonella poona outbreak associated with fresh cucumbers imported by Andrew & Williamson Fresh Produce Inc., according to The Packer.
With 95 cases confirmed so far, Arizona has the-second-highest number of outbreak illnesses behind California, which has 120 cases, according to the most recent update from the Centers for Disease Control and Prevention on Sept. 22. From Sept. 15 to Sept. Sept. 21, the nationwide case count grew from 418 to 558, according to the CDC. The outbreak now stretches across 33 states. More than half of the sick people are children under the age of 18. Two other deaths, one each in Texas and California, have been confirmed as part of the outbreak.
Health officials in Pima County, Ariz., confirmed an "older female who had serious underlying health conditions died while being treated" for a salmonella infection in a hospital.
"This circumstance is a saddening reminder that illnesses that often don't cause a high level of harm to most people can have a devastating effect on those in our community that are most medically vulnerable," Pima County Health Department director Francisco Garcia said in a news release.
To read more, click HERE.