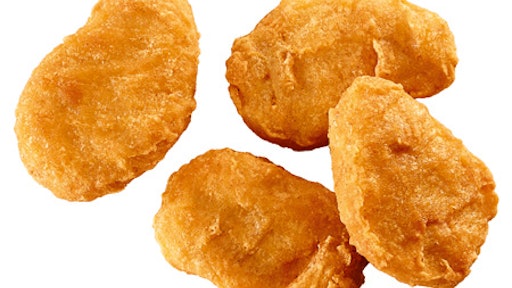 The Canadian government is warning consumers about the safety of breaded chicken nuggets, chicken burgers and strips after 44 people have been sickened with Salmonella, according to Food Safety News.
The Public Health Agency of Canada is collaborating with provincial public health partners, the Canadian Food Inspection Agency, and Health Canada to investigate an outbreak of Salmonella infections in Ontario, Quebec, Nova Scotia, and Newfoundland and Labrador linked to frozen, raw, breaded chicken products.
Twelve people have been hospitalized. No deaths have been reported. Individuals became sick between Feb. 7 and May 23, 2015.
"While breaded chicken nuggets, chicken burgers and strips may look like they're pre-cooked, many frozen breaded poultry products are actually raw and need to be handled carefully and cooked thoroughly," Health Canada stated in a public health warning.
To read more, click HERE.