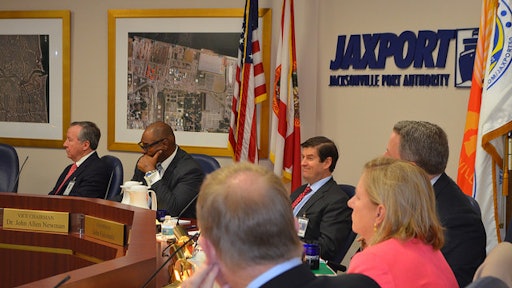 Organizers announced speakers for the Logistics Perspective on the Caribbean panel at JAXPORT's 2015 Logistics & Intermodal Conference scheduled for March 24:
Peter Keller, executive vice president; TOTE, Inc. (moderator)
Chris Swartz, director global transportation and logistics services, AJC International
Jay Brickman, vice president of government services and Cuba service, Crowley Maritime Corp.
Michael J. Brannigan, executive vice president and chief operating officer, The Suddath Companies
Panelists will discuss emerging trends in the Caribbean and strategies that mainland shippers and carriers can use to capitalize on those trends. Additional discussion points for the panel will include the near and long-term prospects for economic recovery in Puerto Rico, the long-term potential of Cuba and other Caribbean nations, and related topics of importance to shippers and ocean carriers in this trade lane.
Logistics Perspective on the Caribbean is part of a series of panel discussions and keynote presentations at the conference. While the focus of the conference will be on challenges and benefits facing shippers through southern ports, speakers from around the country will discuss issues common to all logistics and intermodal decision makers. The panelists will include senior executives from major ocean carriers, railroads, shippers and service providers.
Registration is now open for the conference, which will be held March 23 to 25 at the Sawgrass Marriott Golf Resort & Spa in Ponte Vedra Beach, Fla.
The three-day event includes:
Opening reception on the evening of March 23
A full day of panel discussions and keynote presentations on March 24
A golf tournament on March 25 at TPC Sawgrass Dye's Valley Course
The conference is limited to 350 registrants. All previous JAXPORT Logistics & Intermodal Conferences have sold out.
Sponsors for the 2015 JAXPORT Conference include CSX, Norfolk Southern, APM Terminals, Container Maintenance Corp., HDR Inc., Sea Star Line, Genesee Wyoming, JAXUSA Partnership, Seaonus, Holland & Knight LLP, University of North Florida, RS&H Inc., Flexi-van Leasing Inc., St. Johns Bar Pilot Association, LANDSTAR, American Journal of Transportation, the Journal of Commerce and Pangea Logistics Network.
For sponsorship or registration information, visit www.jaxportconference.com or call JAXPORT at (904) 357-3047.