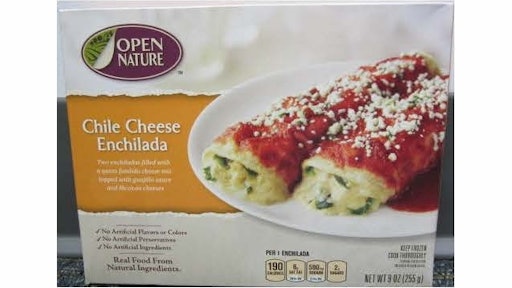 Open Nature Chile Cheese Enchiladas are being recalled for potential Salmonella contamination, according to Food Poisoning Bulletin. Although no illnesses have been reported in connection with this recall, consumers who have purchased this product are advised not eat it.
The recalled product was sold in the freezer section at Safeway-owned stores nationwide including Safeway, Carrs, Genuardi's, Pak 'N Save, Pavilions, Randalls, Tom Thumb and Vons. The frozen prepared dinner was packaged in a 9 oz box and marked with a UPC 0-7989310436-9, the lot number 141006 and a "best by" date of Aug. 6, 2015. The product was sold at stores from Oct 9, 2014, through Dec. 1, 2014.
The product was made by Overhill Farms, Inc. of Vernon, Calif., which issued the recall after a supplier for the organic cilantro notified the company that the organic cilantro may have been contaminated with Salmonella.
To read more, click HERE.