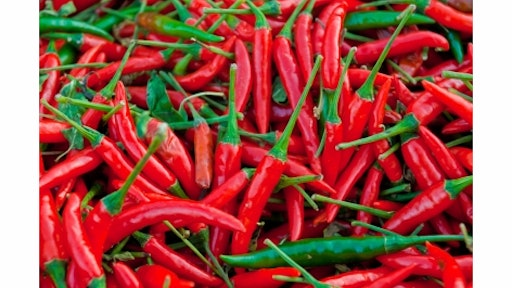 Bailey Farms of North Carolina is recalling 6,215 pounds of Fresh Serrano Chile Peppers because they may be contaminated with Salmonella bacteria. No illnesses have been reported to date, according to Food Poisoning Bulletin.
The recalled peppers were distributed to Meijer, Inc. Customers may have purchased the peppers from October 14 to October 19, 2014 at Meijer stores in Michigan, Illinois, Indiana, Kentucky, and Ohio.
The product was also distributed to Publix Super Markets Inc., Merchants Distributors, Inc., Walmart, Food Lion, Flavor 1st Growers and Packers, US Foods, Military Produce Group, LLC., C&S Wholesalers, John Vena, Inc. and Harris Teeter. Consumers may have purchased the peppers between Oct. 2 and Oct. 21, 2014. Check with the stores listed to verify if the product you purchased is subject to the recall.
A random sample was taken by the Michigan Department of Agriculture on October 13, 2014 from peppers at a warehouse in Lansing, Michigan. Bailey Farms was notified that the sample tested positive for the pathogenic bacteria on Oct. 20, 2014.
To read more, click HERE.