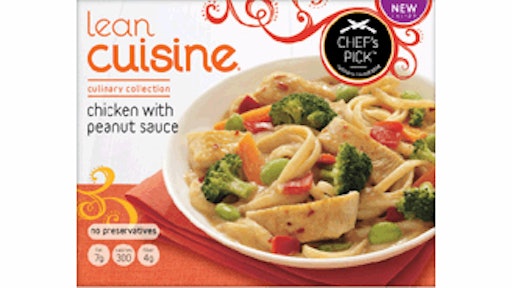 Nestle Prepared Foods Co. is voluntarily recalling a limited quantity of Lean Cuisine® Culinary Collection Chicken with Peanut Sauce because it may contain shrimp, one of the major food allergens, that is not declared on the label, according to Food Poisoning Bulletin. Three consumers who purchased the mislabel product alerted Nestle to this issue. No illnesses or allergic reactions have been reported to date.
The recalled product has a UPC number of 13800 10154 and a production code of 4165595911U. The product has a "best before" date of July 2015. A small quantity of Shrimp Alfredo was inadvertently placed into packaging for the chicken with peanut sauce product. No other Lean Cuisine items are affected by this recall. The product was distributed at the retail level in Washington state, California, Louisiana, and Texas in the frozen food aisle.
To read more, click HERE.