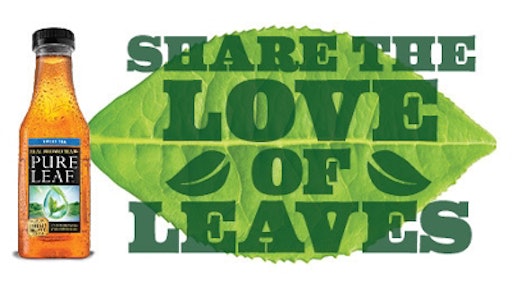 Pure Leaf Iced Tea, a product of The Pepsi Lipton Tea Partnership, announced it is continuing its partnership with Gail Simmons, TV personality and special projects director at FOOD & WINE magazine, to support the campaign's mission of bringing fresh fruits and vegetables to communities nationwide. Through the brand's "Share the Love of Leaves" program, Pure Leaf fans can get involved and make a difference in their communities by helping the brand donate up to $150,000 total to Wholesome Wave, a nonprofit that focuses on making fresh, healthy, locally grown food affordable and accessible to all.
"At its core, Pure Leaf uses real tea leaves to deliver an outstanding product with real brewed tea taste. We wanted to take our commitment to realness to the next level, and we found a great way by supporting access to wholesome foods," said Eric Whitehouse, marketing director, The Pepsi Lipton Tea Partnership. "In partnership with Gail Simmons, our shared passion will raise awareness of Wholesome Wave's efforts and provide underserved communities with access to fresh produce through local farmers markets."
"Although all food can be beautiful, shopping at my local farmers market is where I find some of my favorite, fresh ingredients that lead to great-tasting and nourishing dishes," said Simmons. "Thanks to Pure Leaf's support of Wholesome Wave, we're able to help bring these fresh foods and real experiences to communities in need across the country."
The center of the "Share the Love of Leaves" program is Pure Leaf's newly-launched Tumblr page (www.TheLoveOfLeaves.com), which will serve as a destination for fans to follow the program and experience the brand's passion for realness through recipes, household tips, DIY projects and daily inspiration all while keeping an eye on how the donations add up through the summer. Consumers can "Share the Love of Leaves" on social media to trigger a donation and support the mission. For every social engagement from fans on Pure Leaf's Facebook or Tumblr, and use of the #loveofleaves hashtag on Instagram and Twitter, Pure Leaf will donate an additional $1, up to $50,000, for a grand total donation of $150,000. This will help provide 100,000 pounds of locally grown fresh fruits and vegetables for communities nationwide.
Simmons will also help bring the brand's mission to life during the "Love of Leaves" media luncheon in New York City, where she will demonstrate and prepare dishes that highlight the fresh tastes of the season with produce from farmers markets. Pure Leaf and Simmons will also participate in FOOD & WINE's marquee FOOD & WINE Classic in Aspen in June. In addition, Pure Leaf's sampling program plans to hit a wide variety of farmers markets and retail locations across different regions. Its activation will highlight the premium and authentic nature of the brand and encourage fans and market-goers to share photos of their experiences in support of their local farmers markets.
"The support from Pure Leaf and its fans is vital in raising awareness of our mission and funding for our programs all over the country," said Michel Nischan, award-winning chef and CEO/founder of Wholesome Wave. "We believe that everybody in the world should be able to put the same beautiful, ripe tomato on their table. That's our mission—to make healthy, locally grown food available to everyone."
"Through research, we've found that our fans value the quality and realness in our product, and we're committed to producing a beverage that has variety and fits their lifestyle," said Whitehouse. "We are equally excited to offer our consumers a way to extend this shared passion in our mission to deliver real foods to underserved communities."
To learn more about Pure Leaf, visit www.TheLoveOfLeaves.com.