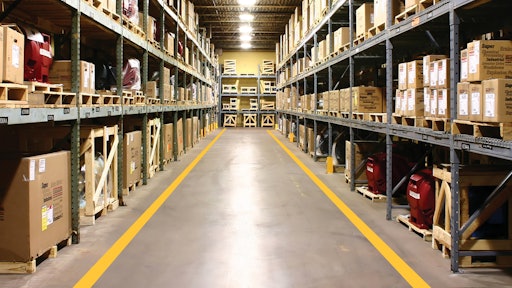 ShieldMark Inc., recently announced a redesign of their patented Mighty Line floor tapes and floor marker products with the specific aim of helping managers make their facilities safer, more organized and productive. ShieldMark has added Cold Application Floor Tape, Rodent/Sanitation Floor Tape, label protectors and Mighty Line Cleaner to the Mighty Line spectrum of taping system solutions in 2014.
Their Mighty Line offers long-lasting durability and labor-saving advantages and easily outperform alternatives such as labor-intensive painting and thinner, shorter-lasting floor tapes. Durable quick and easy to apply peel and stick floor markers are fast rendering floor painting obsolete, since it is so time consuming, includes annoying fumes and harmful VOCs, and may even require shut-down of value-added production areas/activities.
Mighty Line's advanced floor marking tapes provide non-invasive floor marking installation and removal. They can also be cleaned with industrial brush scrubbers, resist damage from wheeled forklift traffic, and are fume-free. As a result, many managers from a wide variety of industries are using these floor marking products to ease their 5S lean manufacturing implementations.
The wide variety of Mighty Line colored floor marking 5S angles aid in facility layout, organizational control, and overall neatness by providing proper inventory and equipment placements. Placing the right items in the right places reduces the likelihood of misplaced pallets, inventories, and equipment−saving retrieval time and reducing non-productive searching activities.
To read more, go to www.mightyline.net