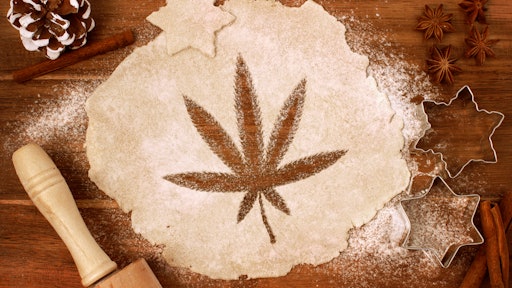 Getty Images
We've come a long way from Woodstock. These days, 10 states and the District of Columbia allow the recreational use of marijuana. Even in states where the plant is still illegal, restaurants are toeing the line by offering their patrons cannabidiol, better known as CBD.
CBD is just one of 104 cannabinoids, or chemicals that come from the marijuana plant. Proponents of CBD say it delivers some of marijuana's benefits without the high caused by the cannabinoid THC, and food service companies from restaurants to coffee shops are racing to add the federally legal substance to foods and beverages.
For supply chain executives, this is both a blessing and a headache. The CBD industry has exploded in growth over a short period of time, and suppliers have built a new cannabis supply chain from scratch. While it's a lot of work, it's also a lucrative business opportunity.
Keeping Up With the CBD Explosion
Much of the hype around CBD undoubtedly is a result of the fact that marijuana is still banned at the federal level, but many users are convinced that the chemical has powerful healing properties. While science has yet to catch up to the CBD craze, preliminary findings are promising: Several studies indicate that the chemical might be helpful in the treatment of chronic pain and anxiety.
CBD items are available for purchase at stores all over the country, and the substance has entered the mainstream rapidly. For now, CBD consumers report relief seizures, anxiety, pain, insomnia, inflammation, and several other conditions. Considering many of the pharmaceutical drugs used to treat these ailments come with debilitating side effects, CBD's popularity will only continue to skyrocket if researchers can bolster these claims with scientific evidence.
That means suppliers will need to prepare to handle unprecedented volume. Demand for CBD products only continues to rise, and the suppliers who act the fastest will be the ones who beat out the competition as states formally legalize the substance.
CBD is already enjoying an unparalleled surge in popularity. It's available in everything from gumdrops and coffee to balms, masks, and creams. Molson Coors Brewing Company is even said to be investing in CBD-infused drinks, and Corona parent company Constellation Brands has invested $3.8 billion in Canadian marijuana manufacturer Canopy Growth.
The picture is similar in the restaurant world, and industry growth estimates are extremely positive. Information from the Brightfield Group pegs the market for CBD products at about $591 million in 2018, with estimates indicating that it will grow to $22 billion by 2022. And data compiled from Upserve customers revealed a 99% increase in CBD menu item sales in 2018.
For small "mom and pop" cannabis suppliers, keeping up with this type of growth can prove challenging. Retail and restaurant managers are trying to keep up with consumer demand, but the lack of a technical supply chain infrastructure often means calling, texting, or emailing cannabis vendors to place an order. Massive orders may also be difficult for smaller suppliers to fulfill, so supply chain executives will have to find a way to go from zero to 100 essentially overnight as CBD's popularity explodes.
A Look at Legality
Be prepared for new litigation to take effect in your area as lawmakers catch up to the cannabinoid trend. In New York City, for instance, the burgeoning CBD movement came to a halt as the city's health department established rules prohibiting its addition to coffee, food, and alcoholic beverages. The chemical was later mostly legalized as part of an $867 billion farm bill that President Trump signed into law late last year.
These regulations are constantly changing, making it an even greater challenge to keep up. Much like the pharmaceutical industry, the CBD industry is filled with myriad legal hurdles and requirements. And because the industry is so new, these laws are changing at a breakneck pace — shortly after Colorado legalized recreational marijuana, for example, there were 141 regulatory changes in the span of one year.
In the supply chain management process, there's little room for error. Tax rates and lab testing regulations vary by state (and sometimes by city), and suppliers are required to report all transaction details. When you're managing orders worth hundreds of thousands or even millions of dollars, even minor slip-ups can be costly.
Using Technology to Your Advantage
There's no shortage of pressure, but CBD can be incredibly lucrative provided you establish the right supply chain management technology that streamlines the process and allows you to scale quickly while still following all laws and regulations.
Creating a new supply chain management system is daunting, but it also provides the opportunity to innovate and make improvements. Rather than simply doing things the way they've always been done, use it as a chance to revamp your processes with a focus on efficiency.
Whatever platform you end up choosing, adaptability is key. Because regulations are constantly changing, ensuring your technology is able to roll with the punches will be important. You'll also need to be able to scale quickly and handle large orders without skipping a beat — all while staying in compliance with shifting legal requirements.
Legal issues aside, it's clear that CBD is only growing in popularity among restaurant owners and customers. Although laws and regulations surrounding the use of the chemical are still very much a work in progress, the supply chain managers who jump on the trend early will be the most successful over time.