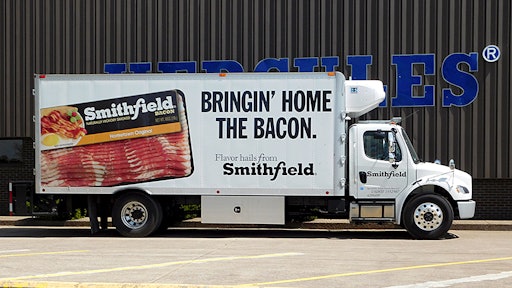 SmartDrive
Video-based safety systems offer many obvious benefits, including driver exoneration, risk management, cargo and vehicle theft protection, compliance with standard operating procedures, and enhanced driver satisfaction and retention. All of those are important to keeping drivers safe and fleets operating efficiently, especially considering the Federal Motor Carrier Safety Administration (FMCSA) reported that 4,311 large trucks and buses were involved in fatal crashes and 87,000 in injury crashes in the U.S. in 2015. That's more than 11 fatal crashes and 238 injury crashes every day. 
The same report noted the average cost of a large-truck related injury is $462,366 per crash, while the average cost of a fatal large-truck accident can skyrocket up to $11.6 million. In total, the estimated annual cost of accidents involving large trucks is well over $134 billion. This is why having video to help mitigate the risky driving behaviors and protect fleets from dangerous and costly accidents is crucial.
But a lesser known benefit of video-based safety and transportation intelligence is the ability to lower a fleet's liability and their ever-rising insurance premiums. With visibility and context that only video can provide, fleets are able to settle claims quickly, consistently and efficiently, which in turn positively impacts the bottom line. No matter the industry, fleets big and small understand that video is a critical tool for exoneration, litigation and subrogation—an immeasurable value.
"Since implementing a video-based safety program, we have seen tremendous improvement in our drivers and their driving habits," says Jeff Reed, president of Skyline Transportation. "As a result, our insurance costs have been dramatically reduced. In fact, we've seen a 70 percent reduction in our insurance cost, and that's been a real benefit for our company and our drivers."
Defending Against Liability Claims
With rising costs, fleets across industries are turning toward video-based safety programs to defend against liability claims. With any claim, the first 24 hours are critical; more time spent between incident and resolution equates to more money expended trying to resolve the issue.
Video provides a second pair of eyes on the road. All too often, truck drivers are the first to be blamed for any incident, but with video, a driver's narrative can easily be supported by factual evidence.
"We're a target," notes Golden State Foods' driver Greg Legge. "The cameras are for our own safety and the safety of other people. It's a tool to help make us better drivers."
Drivers and fleets look to video to exonerate them when they aren't at fault, which reduces the number of violations on a driver's commercial driver's license (CDL). With fewer violations, the CDL isn't at risk of being taken away, and fleets don't have to worry about letting go of good drivers.
"Some companies are worried about having a video-based system due to liability issues in case a driver actually is at fault in an incident. However, the benefits—including being able to exonerate drivers when not at fault and being able to prevent accidents—far outweigh the risks," says James Michael, senior operations manager at Smithfield Foods. "As a private fleet, we want to ensure our brand is synonymous with safety. Leveraging a video-based platform is a key tool for us to protect our drivers, the motoring public and our reputation."
When a driver is at fault, video can help the claims adjuster quickly assess the facts, allowing all parties to act promptly and resolve the claim. Leslie Leazer, vice president of corporate claims and litigation at Knight-Swift Transportation, agrees. "Our company loves when we can provide video as it reduces the amount of time (and money) required to understand the situation and get to the truth," she explains.
Diminishing Subrogation Expenses
Subrogation—when an insurance company seeks reimbursement from the person or entity legally responsible for an accident after the insurer has paid out money on behalf of its insured—is another area video can impact. Whether that is money paid for property damage, deductible amounts, diminished value, pain and suffering, or loss of consortium, video can help lower and even diminish those expenses.
For Averitt Express, its use of a video-based safety program has enabled the company to prevent lawsuits and increase subrogation collections by 15 percent since deployment in 2017.
One common incident for many fleets is a truck backing into another vehicle, then driving off without claiming responsibility. With video, it's simple and fast to pull the offending company's name, vehicle license plate number and company DOT number. With this information in hand, fleets can immediately move to resolution by providing the video footage to the other company and avoid an insurance claim all together.
"When drivers are involved in an incident that's not their fault, we're not wasting time or money fighting claims, because we can prove exactly what happened with the video. We've found these exonerations are paying for the system," says Ken Humphries, vice president of safety and employee relations at Schilli Corporation.
Keeping Internal Processes in Check
Along with having video, it's essential that fleets have a specific internal claims management process to ensure they're handled quickly, consistently and efficiently every time, allowing drivers to return to the road as soon as possible. When fleets have to shell out money to resolve a claim and a driver is not able to complete a route, fleets are negatively impacting their bottom line twice. A well-defined process ensures consistency from one claim to the next and aids in the speed to resolution.
Video is also helpful for responding to claims of negligence. By using video and a comprehensive coaching program to correct driver performance, fleets are showing their commitment to safety and dedication to taking proactive steps to address high-risk driver behavior. With the majority of collisions caused by human error, it's vital fleets demonstrate they know what their drivers are doing on the road. Many rely on a programmatic video-based driver risk management solution to monitor, manage and proactively intervene to improve driving habits.
To optimize the benefits of video fleet-wide, it's imperative to ensure both driver and management buy-in at every step of the process. At Smithfield Foods, Michael says they engage their drivers in a conversation, so they understood the program and how it works.
"Once it was clear to them that video is only recorded if a risky maneuver or external G-force is detected, many drivers made a personal commitment to avoid causing a trigger by driving safely each and every time they hit the road. The results speak for themselves," he adds.
Individual fleets may have distinct reasons for adopting a video-based safety and transportation intelligence solution. While a variety of business needs may drive the decision to incorporate video as a key element of a comprehensive safety and risk management program, the benefits are wide reaching. Fleet leadership and drivers alike ultimately benefit, with myriad operational and financial benefits.
Jason Palmer is the chief operations officer for SmartDrive, a driver safety and transportation intelligence company based in San Diego, California.