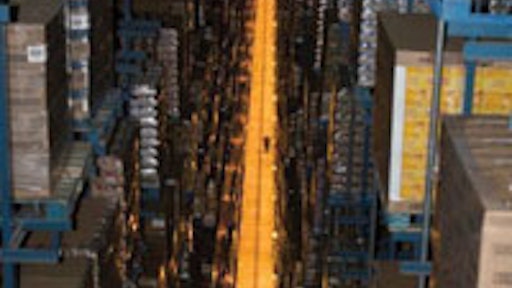 1. ES3: YORK, PA
ES3 offers manufacturers and retailers the opportunity to take cost and time out of their supply chains while improving service through its collaborative and automated consolidation and Direct-to-Store (D2Ssm) solutions.
Since opening the York, PA facility in 2002, ES3 has reduced cost and improved service for the more than 50 manufacturers and all Northeast retailers utilizing this facility. ES3 started the first true consolidation program—not just pooling of less-than-truckload orders but, true consolidation at order creation. Retailers build fully optimized truckload orders, across all participating manufacturers, daily.
The retailer can order a pallet or layer of an item and receive it, from order to delivery, in less than 48 hours. Retailers get better in-store service levels and manufacturers get lower costs through better truck utilization and lower limits on retailer fees. The result is a better supply chain that moves product faster, at a lower cost than single manufacturer mixing centers, and higher service levels than direct plant shipment models.
However, Consolidation was only the start of the savings that ES3's collaborative warehouse enables for the grocery industry. In 2010, ES3 launched its D2STM service. By utilizing cutting-edge automation, economies of scale, and unprecedented facilitation of manufacturer collaboration, ES3 has changed the economic order quantity for the industry, from a truckload to a case, and changed delivery timing from days to hours.
The D2S program combines manufacturer mixing centers and retail distribution centers into a single facility. Product flows in straight from the manufacturers' factories in full truckloads or rail cars and flows out to the retail stores in aisle-friendly sequenced pallets of single cases per item.
The combining of manufacturer and retailer warehousing into a single facility eliminates the costs associated with handling, storage, and inventory holding. It eliminates a leg of transportation. It also reduces damage, increases speed to shelf, and improves on-shelf availability.
The manufacturers get lower costs and higher sales. The retailers get lower costs and higher sales. The shoppers get the products on the shelf when they want them. Everyone wins!
2. Restaurant Depot: COLLEGE PARK, NY
Restaurant Depot is a cash and carry restaurant supply wholesaler with approximately 80 U.S. warehouses that offer supplies for food service operators, independent retailers and caterers.
Given the growing number of purchase orders, warehouses, cross-docks and logistics staff, coupled with the increasingly competitive environment for securing capacity, the logistics team identified the need for a Transportation Management System (TMS). It selected InMotion Global TMS and companion web portal LoadLink, applications offered by InMotion Global Inc. (IMG).
The solution is a free, web-based application that is fully hosted utilizing the latest cloud-based technology, saving customers from any upfront hardware/software expenditures. The system includes features that centralize and streamline the entire transportation process from load inception through final delivery and invoicing, allowing shippers to manage their transportation operations from anywhere seamlessly.
Restaurant Depot initiated a nationwide rollout of InMotion Global TMS, installing it in its Northeast and West Coast offices and training its carriers to use LoadLink. The logistics team now electronically transmits load tenders to carriers via LoadLink rather than faxing or e-mailing load tenders to them.
arriers receive an automated tender notification from InMotion Global, and then log into LoadLink to electronically accept or decline load tenders.
Carriers also use LoadLink to set their own appointment times, record actual pickup/drop-off times and update their load location and status information. LoadLink allowed Restaurant Depot to improve and accelerate the load tendering and load updating process, while reducing their internal man-hours associated with the activity by 78 percent.
The team also provided LoadLink access into its vendor pickup locations, RD warehouses and internal management. By allowing RD warehouses, vendor pickup locations and internal staff to directly access load and order information through LoadLink, the team reduced the internal man-hours associated with fielding phone calls and e-mails by 74 percent.
3. Affiliated Foods Inc.: ARMARILLO, TX
Affiliated Foods Inc. wanted to improve productivity, reduce training time and reduce warehouse employee turnover rate. So the grocery wholesaler decided to move from a paper-based system in the warehouse to an end-to-end voice directed system for picking, put-way, replenishment and truck loading, for fork operators and workers on foot.
Affiliated installed a wireless infrastructure to deploy Vocollect Voice, which was integrated into its Aquitec warehouse management system (WMS). Workers use Vocollect hardware and headsets to receive voice commands, which are driven by Vocollect software integrated with Aquitec WMS software.
The benefits were swift and impressive: Affiliated was able to go from three to two shifts; 66 percent increase in perishable fork productivity; training time reduction from three days to one day; 67 percent decrease in employee turnover rate; and 23 percent increase in dry grocery fork productivity. Plus a decrease in turnover occurred within the first six months of deployment.
4. Maines Paper & Food Service Inc.: CONKLIN, NY
With nine distribution centers in the eastern and midwestern United States, Maines Paper & Food Service Inc. stocks everything businesses need, from food and beverage products to flatware.
When Maines needed a partner to help it achieve higher service levels and profitability, while reducing time-consuming lift truck equipment management at all of its locations, it chose The Raymond Corp. and its authorized sales and service center network.
Pengate Handling Systems, a Raymond Sales and Service Center located in Albany, NY, manages Maines' lift truck maintenance needs. Through a maintenance agreement, two dedicated service technicians from Pengate are consistently on site at Maines' headquarters to cover routine and preventive maintenance.
To keep distribution operating smoothly in its 400,000-square-foot facility, Maines relies on a fleet of 174 Raymond lift trucks that includes pallet trucks, Reach-Fork trucks, orderpickers and Swing-Reach trucks.
Maines counts on the productivity of its lift trucks and operators, especially since the company does not use any automated equipment or conveyors. Therefore, Maines has worked with Pengate to ensure the lift trucks are equipped to handle Maines' applications and maximize uptime.
One innovation that Maines is using on its pallet trucks to increase orderpicking efficiency is the CoastPRO system from Raymond. Operators can engage electronic coast control that moves the truck forward while the operator picks a product from the racks. The pallet forks are then in line with the operator's position, reducing the time needed to walk back and forth to the pallet truck during orderpicking.
"We also worked with Raymond to install extra guards on some of our counterbalanced lift trucks to protect the hydraulics and the baselegs of the trucks," says Patrick DeOrdio, vice president of operations for Maines. "The angled guards protect the trucks during turns around racks and reduce costs for repairs and downtime."
Maines has more than 43 lift truck operators who count on the lift trucks every day and appreciate the benefits of theses options.
To ensure all operators are properly trained to meet OSHA's lift truck training requirements, Maines utilizes Raymond's operator training program, which is taught by Maines' own in-house trainers. The company uses the program to train new people, recertify existing staff and provide refresher training to operators who may have had an incident. The training program helps Maines provide uniform training to all lift truck operators.
In addition to its regular fleet of workhorse lift trucks, Maines also has tested some new products from Raymond. The company most recently tested Raymond's new PowerSteer feature for pallet trucks. Maines found that PowerSteer increased operator comfort by significantly reducing the amount of stress placed on an operator when maneuvering pallet trucks. In addition, PowerSteer enhanced the operators' control over pallet trucks when maneuvering in tight spaces, such as within trailers.
5. Harvest Time International (HTI): SANFORD, FL
Harvest Time International needed to work with the retailer and manufacturer networks to make product donation more of a value-added process to the donor company. It accomplish this by adopting more of a "3PL mentality" when working with donors.
Harvest Time, a 20 year-old global disaster and hunger relief organization, providing aid to over 7,000 families each day, needed to capture more grocery and non-grocery product donations. Harvest Time was not limited by its ability to accept, process and distribute product, but rather by reverse logistics challenges that their current and prospective donors were experiencing.
The company realized, that if it could partner with its donors to overcome their reverse logistics challenges, it would attract more donations. The company assumed the role of a 3PL and developed an Unsalables Management Program to address many key reverse logistics challenges. Everyday, Harvest Time moves new, used, out-of-package, discontinued, scratched, dented, surplus and out-of-date items and even some product labeled for disposal from its "end-of-first-use" to "second use." It accepts mixed loads of unsorted grocery and non-grocery product which optimizes inventory and reduces handling risk and expense.
The program has built-in sustainability as well, since it re-purposes all kinds of products that might otherwise end up in a landfill. Asset recovery and brand protection are addressed by a program, the Short Dated Product Solution, that enables a donor to establish a salvage/donation program with Harvest Time activated by a product's date code.
While the Unsaleables Management Program and Shorted Dated Product Solution addressed the key reverse logistics concerns of its current and potential donors, response time and load flexibility were also very critical. Harvest Time can accept any donation, in quantities that range from a few pallets to many truckloads, with very little lead time. It can also spot a trailer at the dock door, which accommodates donors who have neither storage space for its donations nor yard equipment. As product becomes available, it is loaded directly on the trailer, maximizing warehouse floor space.
Harvest Time has been able to achieve this high level of response and flexibility, by outsourcing its execution logistics to C. H. Robinson Worldwide Inc. The relationship has granted Harvest Time access to a national matrix of local transportation and warehouse operators who can aggregate full loads that are either shipped to Harvest Time or re-routed by us to other ministry or non-profit partners. The program has been a big win for all parties. Harvest Time International's donations in 2010 were up in excess of 50 percent over 2009.
6. La Tortilla Factory: SANTA ROSA, KY
Carlos Tamayo, founder and president of La Tortilla Factory (right) and Sam Tamayo, Carlos' son and vice president of business development, show off labels printed by their four Markem-Imaje 5200 Series carton printers. Previously the company used liquid high-resolution printing systems that were causing frequent issues on the production line. 
The cost savings and improved efficiency offered by Markem-Imaje printers compelled the company to make the switch. The 5200 printer offers the advantage of Touch Dry Hot Melt ink, which allows codes to dry immediately on contact with cases, trays and even wrapping films with 100 percent code readability.
7. Papa Johns: LOUISVILLE, KY
When you're one of the largest pizza companies in the world with more than 3,000 restaurants, maintaining efficient, cost-effective operations throughout your supply chain is essential to continued success. Even though growth was on the fast track, Louisville, KY-based Papa John's International Inc. was still hampered by supply chain inventory, visibility and accuracy challenges that were impacting its businesses.
"Without the tools to track and optimize supply chain functions, we were leaving money on the table at every turn. We needed a solution to align all the facets of the supply chain in order to reduce inventory levels and eliminate outside storage and inventory write-offs," says Susan Kinder, director, operations services.
Looking for an innovative solution, Papa John's turned to Manhattan Associates. Manhattan Associates was selected for the seamless integration and coordination made possible by its Supply Chain Process Platform.
This creates a central information repository that provides consistent, standardized inventory data and performance metrics that can be shared by Papa John's entire supply chain.
Implementation of Manhattan's solutions has provided unprecedented visibility along with reduced expenses, improved efficiency and productivity in every part of the supply chain.
Eric Hartman, senior director of logistics, says, "With new visibility, we know when a PO was created and can track a delivery all the way to our QCC, which is invaluable. Manhattan solutions allow us to manage inventory levels accurately, efficiently and more dynamically based on actual need—and that has resulted in our being able to reduce overall inventory levels."
He adds, "We were able achieve our goal of a 10 to 15 percent reduction in freight spend after just six months of live runtime on the system."
Executive dashboards that track key performance indicators and enhanced reporting are two of several important new functions made possible by the system. In addition, automated traceability provides the means to address both FDA compliance and improved product quality. This functionality creates real-time data as well as a clear audit trail in the event of persistent delivery or transport issues.
"In one instance we had product that was consistently showing up damaged. We were easily able to determine the source and work with the carrier to determine that loading wasn't properly configured. We came up with a low-cost solution—and that cost was more than offset by having inventory that arrived in good shape and didn't have to be thrown out and replaced," Hartman points out.
8. DSC Logistics: DES PLAINES, IL
DSC Logistics was interested in improving labor management throughout its network to benefit its customers. DSC's customers include leading food companies Kellogg, J.M. Smucker and StarKist as well as two dozen other food manufacturers.
Realizing that the ability to effectively manage labor is critical to productivity—especially for food supply chains where key processes in the warehouse, such as receiving, putaway, case picking, pallet picking, replenishment, product moves, and trailer loading are labor intensive—DSC was motivated by a desire to maximize efficiency and reduce total system costs. By setting optimal labor management as a goal, DSC realized that success would offer a strategic advantage to DSC customers and become a differentiator for DSC's capabilities as a supply chain partner. Effective labor management also supports the increased flexibility inherent in circumstances when labor is preferred over automation.
DSC applied engineering expertise to develop a Performance Optimization Process (POP). The initial implementation of this program was based on an integration of the selected labor management software (Red Prairie) and DSC's proprietary warehouse management system (WMS). (DSC has since applied POP to other software.)
DSC's approach included:
Initiation of a pilot program focusing on case picking;
Development of Best Practices (including ergonomic Best Practices) and a work template for each task;
Creation of a warehouse map (defining all locations of the warehouse and measuring travel time on various pieces of equipment accurate to the inch);
Design and implementation of a change management and training program, including training for supervisors who provide coaching to employees on the warehouse floor;
Baseline measurement of productivity;
Ongoing measurement of results.
The solution involved DSC's Performance Optimization Process (POP). The pilot program and roll-out described above included an integration of Red Prairie DLx Module and DSC's WMS. Red Prairie's DLx Labor was chosen because it is a sophisticated tool for measuring performance in the warehouse and it met the following criteria:
Had to be able to be integrated with DSC's WMS;
Had to be able to measure and report on all of an employee's time, from shift beginning to end;
Had to be dynamic so could be adapted as customers' need change;
Had to have a database of pre-determined time standards.
To date, implementation of the program at 22 Logistics Centers in DSC's network (that includes 35 LCs—a total of more than 17 million square feet—plus 11 more locations DSC manages as a Lead Logistics Partner) has resulted in an average 20 percent reduction in labor management costs, with a highest cost reduction of 35 percent.
DSC also found in terms of incentive-based compensation that savings are greater than payout amounts.
For DSC and customers, this provides a standardized, dependable, measurable means of delivering on the promise of top performance.
POP is also being applied to and getting good results with systems other than Red Prairie's DLx Module that have a less sophisticated data capture.
9. Mission Foods: IRVING, TX
As a leading tortilla producer, Mission Foods is an innovator in manufacturing quality tortillas, chips, salsa, taco shells and more.
As part of the distribution process, Mission Foods places all of its packaged products in returnable plastic containers (RPCs), which independent distributors then load onto their trucks. Mission Foods found that after the RPCs left the warehouse for deliveries, however, they were likely never seen again.
With a paper-based tracking process, it had no way to track if RPCs were returned to a different facility, or if they were ever returned at all. The company sought an asset control solution that would prevent this drastic loss of RPCs, which resulted in millions of dollars in lost revenue each year.
Mission Foods turned to Intermec Inc. for RFID asset-tracking technology. The solution: innovative RFID technology, utilizing Intermec IF61 readers, antennas, labels and PM4i printers. The results:
$700,000 in initial savings;
Average of 25 turns per container (seven turns equals breakeven point);
4 percent container replacement rate.
10. Landshire Inc.: ST. LOUIS
Over the past 50 years, Landshire Inc. has grown from a small regional sandwich producer to a national supplier of foodservice products, offering packaged sandwiches, hot sandwiches, pastry and roller grill items to convenience stores and retail locations throughout the country.
The company wanted to reduce its LTL costs on its frozen freight shipments and turned to Witte Bros. for help. Witte offers refrigerated/frozen LTL, dry LTL and truck load freight programs from its centralized location in Troy, MO—and boasts a 99 percent on-time delivery rate.
The third-party logistics provider is also innovative, helping Landshire save more than $200,000 annually in freight costs by pallet and package redesign. Witte re-configured the pallet footprint to allow more boxes on each pallet and changed the box design to hold more product while maintaining the same cubic size.
It was also able to change the height of pallet stack.
Companies in this article