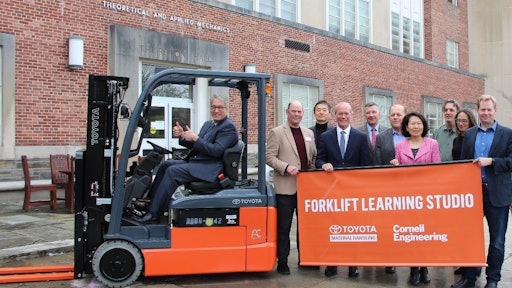 Toyota Material Handling (TMH)
Toyota Material Handling (TMH) and Cornell University's College of Engineering announced a partnership dedicated to the development of an innovative learning studio that incorporates Toyota equipment to elevate immersive engineering education to an entirely new level.
"We are excited about the future of this partnership and the impact it will have on the next generation of engineers," says Brett Wood, president and CEO of TMH. "As a former engineering student, I would have loved the opportunity to learn in such a hands-on way that connects the classroom to the real world. Young people often wonder how they'll use certain theories in their professional lives because it's often difficult to connect the dots. In our Forklift Learning Studio, all of the 'dots' will exist in the same space as the finished product. This connects perfectly to our Toyota culture of continuous improvement by giving Cornell Engineering students a place for continuous learning."
From PR Newswire:
The Forklift Learning Studio will be built and developed during the summer with a goal of officially launching at the start of the fall semester in August.

This studio is intended to be the first of multiple learning studios. Each one will be designed to unify multiple courses and link students across classes and skill levels as they engage in work with real-world applications. They will each incorporate a fully functional system –

like a forklift

– so that students can use it to perform experiments and model problems that connect to lessons from other classes.
"Our students enjoy theory, but they are motivated by action – building and testing. They respond best to seeing engineering systems first and having the system motivate the theory they learn," says David Erickson, the S.C. Thomas Sze Director of MAE. "The educational opportunity Toyota is enabling us to bring to life will fundamentally change the student experience by allowing them to see how each area of engineering connects to a larger system – in this case, a forklift. We believe this will provide students a uniquely engaging learning environment."
"When you think about it, forklifts are incredibly important to the world we live in. Everything that we buy at the grocery store, every package that ends up at our front door was touched by material handling equipment at some point in the process," says Brian Kirby, the Meinig Family Professor of Engineering at Cornell's MAE. "If we can't move goods and materials, it has a domino effect on all kinds of things in industry, the economy, and ultimately our society. The opportunity to expose our students to such an important industry while also revolutionizing the way they learn is a win-win on every level."