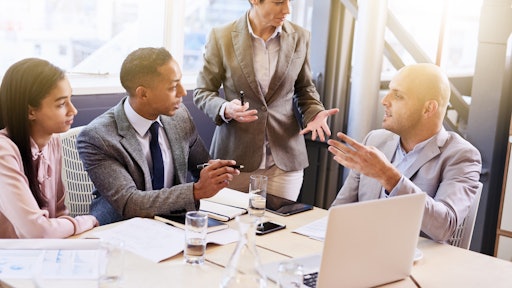 nakophotography AdobeStock_121949613
Geopolitical conflicts, a looming recession, weather-related disasters and the aftermath of the COVID-19 pandemic tested supply chains in 2022. These events forced many enterprises to address previously unseen vulnerabilities, including staff and skills shortages, in order to make their supply chains more resilient, productive and agile.
Times like these provide a wake-up for companies to shift away from the typical "brace for impact" approach that continues to define supply chains to evolve with market conditions and change the trajectory of their business. This includes taking the opportunity to rethink workforce planning and management to maximize human capital investments and prepare for the future.
Ultimately, organizations must see the bigger picture of their business goals and operations to design a workforce strategy that helps future-proof their company. This includes preparing, retraining and upscaling the workforce for the next wave of digital transformation that ushers a digitized, autonomous supply chain where the Internet of Things (IoT), cloud computing, digital twins and machine learning all work in harmony.
With the world around us changing, here are some strategies companies and suppliers can implement to upscale talent to support supply chain transformation initiatives.
Prepare your workforce for upscaling
First, true transformation begins by creating a culture that embraces change and growth. According to a survey conducted by Gartner, 46% of CIOs report culture being the most prominent reason change initiatives fail, while 42% of CEOs at companies undergoing digital transformations anticipate their firms will experience deep cultural changes. By shifting away from change awareness towards a culture of change expectation, your workforce will be prepared for any organizational transformation.
To achieve this, businesses should explore development programs to encourage new ways of approaching supply chain challenges and make their supply chains more adaptable and effective. Organizations should also introduce data-centric skills through learning programs to teach employees how to generate data that can be used to improve operating models, inform decision-making processes and enhance the customer experience.
Similarly, businesses must also rethink talent recruitment when building resilient workforces.
Leveraging new investments in digital infrastructure allows companies to gather more data in order to improve operations and adjust to rapidly changing demands.
Enhance data literacy skills
As industry-wide digital transformation progresses, workers with data-centric skills will be in high demand. So, it's crucial to develop work strategies to be competitive when recruiting a supply chain workforce and prepare the workforce for new roles that are likely to emerge. Examples of emerging data-centric roles include data scientists, procurement specialists and finance professionals.
By using digital tools and data usage, data scientists can make supply chain solutions measurable and actionable. Another growing role within supply chain organizations is sourcing and procurement specialists. These professionals need to learn how to understand data and visualization tools to improve procurement processes. In order to maintain profitability while undergoing these changes, finance professionals must understand how to use data to define risks.
Implement the right communication plan, strategy and systems
Third, business leaders must develop a communication management strategy to help employees understand upscaling and prepare for changes. Companies can't successfully establish a culture of change without explaining why it matters. According to Gartner, employees with high trust have 2.6 times the capacity to absorb change.
In turn, leaders must be transparent, communicative, and willing to hear and respond to feedback to build trust. Effective communication requires a consistent message, one that is congruent with the organization's goals and culture. Company leaders must also practice two-way communication to ensure all stakeholders are aligned on company goals and expectations.
Lastly, the strain the supply chain has undergone in recent years has revealed that businesses can no longer rely on traditional, silo-structured supply chain management. Developing fully-integrated supply chain management systems can help organizations achieve collaboration rather than cooperation—improving transparency while allowing personnel to prepare for potential disruptions.
Digital upscaling for long-term value
Digitalization can improve the speed and efficiency of supply chain systems, but the rapid rate of development creates a risk of companies "leaving behind their workforce" rather than engaging their employees in upscaling programs. In fact, only 38% of supply chain executives believe their workforce is mostly or completely ready to adopt the technology tools provided to them.
When companies take the time to invest in their workforces, it allows them to leverage the many advantages of digital transformation in their day-to-day operations. Now is the time to get a team in place and create a future-ready plan that will best position your organization and workforce for the road ahead.