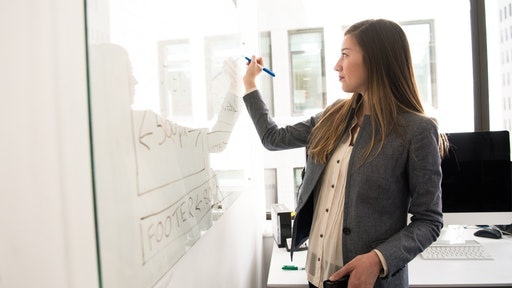 Pexels
Kathleen Smith, global services operations leader for Converge, an Arrow company, and one of Supply & Demand Chain Executive's 2022 Women in Supply Chain award winners, explains why it's not about being the loudest voice in the room but instead, the most effective.
CLICK HERE to view the full list of 2022 Women in Supply Chain winners.
Supply & Demand Chain Executive: Tell me a little bit about yourself and your company.
Kathleen Smith: Converge is an independent distributor, owned by Arrow Electronics in which I have been part of for 20 years. I started as an analyst and have moved, over time, to my current role as a global services operations leader. I get to work with companies and assess their global inventory challenges; this involves working with them to manage their global hub requirements. Personally, I am married to a very supportive husband, Michael, have two amazing children, Olivia, and Danielle, and have an adorable dog, Bernie.
Supply & Demand Chain Executive: What attributes do you think a successful supply chain leader has?
Smith: The first thing that comes to mind for me is collaboration, with your teammates and colleagues of course, but also specifically collaboration with the customers. A successful leader will really take the time to listen to what the customer needs and ultimately envisions. Often times, by getting to know them you'll uncover opportunities to provide them something they didn't even realize they needed, as well as the smoothest and most efficient ways to reduce their cost.
Supply & Demand Chain Executive: Are there any challenges that you have faced in the industry? How did you overcome them?
Smith: Unfortunately, everyone has become all too familiar with the damage done by COVID-19 over the last few years. I, naturally, was affected greatly by the changing market conditions. We moved from just-in-time to just-in-case inventory models, which requires longer product storage periods for customers. Individually, I had to find ways to obtain space, which was at high demand, within a very compressed timeline.
Supply & Demand Chain Executive: What is it like being a woman in a traditionally male-dominated industry?
Smith: I have been fortunate to have worked with some very talented individuals, male and female. When I reflect over my years in the industry, I can recall moments of feeling overwhelmed due to the realization I am the only female in the room. Currently, it is uplifting that that dynamic has changed. The conversation is leveling out and I strongly believe this will continue.
Supply & Demand Chain Executive: Why do you think more women should be involved in the industry? How can we recruit and retain more talented women?
Smith: I think this industry allows for many opportunities for the up-and-coming talent and one thing that this pandemic demonstrated better than anything in recent history is the importance of supply chain management. We need to get these talented young women inspired and integrated to keep this industry at its best and able to support us through difficult times. Thankfully, I believe forums like this help highlight women and their wide range of roles currently in the industry and is an extremely effective way to attract employees. Ultimately, as far as we've come, there's still disparities in just about every industry. As I mentioned, I have two young daughters, and I want to see a world where these disparities don't exist and where women are empowered.
Supply & Demand Chain Executive: What advice do you have for those first starting out in the industry?
Smith: Listen and ask questions. Remember it is not about being the loudest voice in the room but the most effective, being able to share ideas, work with others. Allow yourself time to absorb all the information provided and around you.
Supply & Demand Chain Executive: How does it feel to be named as one of Supply & Demand Chain Executive's Top Women in Supply Chain?
Smith: It is quite the honor; recognition is a wonderful feeling. Knowing that individuals took the time to nominate me and then be selected is an extremely gratifying feeling.