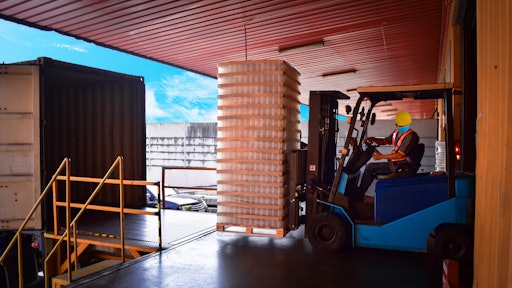 Hor/stock.adobe.com
Loading docks are one of the most important links in any supply chain – and often, one of the most dangerous. They are typically a whirlwind of activity, with semi-trucks, forklifts, pallet jacks, and robotic equipment all interacting with human workers. And, with the accelerating growth of e-commerce, the frequency and pace of those interactions is increasing. It's no wonder nearly a quarter of all industrial accidents take place in the shipping and receiving area.
The cost of these mishaps is high. Between worker's compensation, damaged products, fulfillment or production delays and downtime, the National Safety Council projects that more than $161 billion in annual expenses are associated with workplace injuries in the United States.
The good news is that proper safety precautions can help facilities avoid an estimated 70% of all reported accidents and associated costs. Investing in the right loading dock technologies and equipment can help reduce these risks and ensure employees return home safely at the end of every shift. Dock improvements can also help make facilities and their employees more productive, drastically reducing turn times and detention/demurrage charges, as well downtime and worker's comp costs.
Here is an overview of some loading dock upgrades that forward thinking companies are investing in.
Engaging heavy equipment with the push of a button
By any definition, loading dock equipment is heavy duty … and just plain heavy. Dock levelers need to withstand 10,000 lb. forklifts (without product) moving across them into a semi-trailer hundreds of times a day, while vehicle restraints must be able to lock in 18-wheel tractor trailer rigs, as well as a variety of other vehicle types and sizes. Moving either piece of equipment manually is both challenging and dangerous.
Levelers are the centerpiece of any loading dock. Beyond their critical role as a bridge between the dock interior and the trailer bed, companies should also consider their impact on ergonomics and safety. Instead of workers having to use a back-breaking pull-chain to operate them, hydraulic loading dock levelers can be operated with a push-button and can be interlocked into a combined dock control system. Levelers that offer a smooth transition from facility floor to leveler to trailer and back are also preferable, since the "dock shock" caused to forklift drivers by bouncing across poorly designed levelers can result in chronic spinal injuries and other physical problems – not to mention damaging forklifts or breaking the products they are moving.
Vehicle restraints are another core component of any loading dock. Securing a trailer's rear impact guard or rear wheel, depending on the application, should be the first step taken once a trailer is centered and backed in. This helps prevent catastrophic trailer separation accidents. Automatic vehicle restraints can be operated with an interior control box, allowing workers to safely operate the equipment from inside the building. Engaging them is as simple as the push of a button. Unfortunately, many facilities still restrain trucks using wheel chocks, which require dock workers to go into the dangerous drive approach to place the chocks in front of the rear wheels.
Interlocking controls and safe sequence of operations
The development of programmable, interlocking controls has been another safety game changer. These controls can be programmed to work only when the vehicle restraint, loading dock leveler, overhead dock door and dock barrier are used in a safe sequence of operations, thus helping prevent expensive and potentially dangerous accidents.
This safe sequence of operation begins with the vehicle restraint since the hydraulic leveler and overhead door cannot be activated until the vehicle restraint has achieved safe engagement of the RIG or wheel. Once accomplished, the overhead door can go up, the safety barrier can be retracted, and the leveler can be lowered into the trailer. Today, industrial software solutions provide data and analytics captured by smart loading dock equipment. Real-time safety dashboards allow facility managers to study and understand safety challenges, frequency trends and their root causes.
Loading dock light communications
Red/green interior and exterior dock lights have become common communication and safety tools in today's loading dock environment. And thanks to additional sensor and LED technology, communication has never been better.
Outside the dock opening, from a fixed location above the dock door, a sensor can detect the motion of a tractor-trailer backing into a dock position. A visual and audible alarm (embedded in the vehicle restraint or operating as a standalone) alerts dock workers and pedestrians in the drive approach of the impending danger. This multisensory alert system is particularly important because ambient noise often masks the sound of a cab's noisy engine, which can be 70 feet or more from the back of the trailer.
Inside the dock area, additional motion-sensing technology can emit a bright blue light onto the dock leveler when it detects material handling equipment or a pedestrian's presence inside the trailer. This can work in conjunction with the vehicle restraint to alert dock workers or forklift operators who enter an unsecured trailer and prevents unlocking of the trailer when there is motion inside of it. The blue light flickers as an audible alarm alerts the unsuspecting dock worker that they've entered an unsecured trailer, while the external light system simultaneously changes to red, warning the truck driver that there is activity inside the trailer.
Going beyond LEDs, an added layer of visual communication can be achieved with an exterior camera view of the vehicle restraint that can be seen on the control box inside the dock, helping keep boots off the ground on the dangerous drive approach. When equipped with a dual camera, workers can also verify trailer stand presence at the nose of the trailer. Loading dock timers are another recent innovation. They can be set to automatically count up or down when the vehicle restraint secures a trailer to the facility – thus helping facilities avoid detention and demurrage charges on shipments that take too long to load or unload.
Intelligent data with smart equipment and software
The ability to capture loading dock data, analyze safety or productivity events and determine appropriate corrective action can help improve staffing, scheduling, and overall dock efficiency and productivity. For example, when a trailer is sitting at a dock for a long period of time the impact is felt in the subsequent processes. It can also lead to an overflow of goods in the staging area. Armed with meaningful safety data and software to help analyze it, facility managers can place a higher priority on specific safety events and improve warehouse safety best practices.
When facilities invest in equipment that is smart, they set themselves up for insights into things such as real-time dock status of all loading dock activities, or energy loss issues when doors are left open. By combining loading dock management and communication software solutions with smart equipment, companies can ensure that a facility is prepared for the future. Not only are insights collected from equipment and processes, loading dock and yard operations can be made more efficient.
Protecting workers with product upgrades
Shipping and receiving areas have only become busier and more congested with the growth of e-commerce. Fortunately, loading dock safety and logistics equipment can help keep workers both safer on the job and more productive.
While cost may be an initial hurdle to safety upgrades for some facilities, many of the leading loading dock products available are offered as standalone options or can be added as retrofit – providing facilities with an incremental, budget-friendly equipment integration option. From push button operation and interlocked equipment to safety warning systems, smart sensors and loading dock safety and productivity software, these solutions can help improve safety, worker satisfaction and throughput for any dock operation.