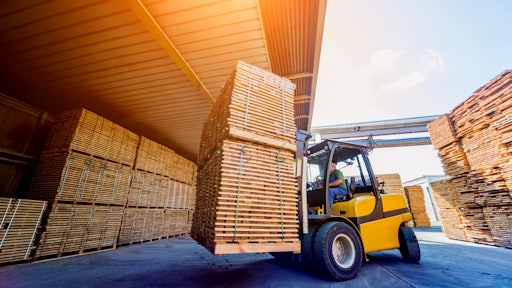 romaset
Across the globe, the Coronavirus disease (COVID-19) pandemic has led to major changes in how warehouses and factories operate. Social distancing and employee safety measures have placed additional pressure on manufacturers, not to mention the rise in demand for e-commerce sales, which at present, stands at an all-time high. In the United States alone, online sales increased by 44% in 2020, the highest annual e-commerce growth in at least two decades.
Faced with increased demand, warehouse managers are under significant pressure to both enhance and sustain their operational efficiency, central to which is the optimal performance of warehouse equipment. Ageing forklifts that are no longer running at maximum efficiency may need to be serviced or replaced to keep up with high demand. But, it is also important to understand how components of the product may be hindering its performance. In particular, its power source -- the battery.
The right battery can have a significant impact not just on performance, but also on the footprint of a warehouse and running costs. Currently, the needs of most forklifts are met by lead-acid batteries, but in times of high demand where more fleets are required, lithium-ion offers a more effective alternative.
With the impetus on maintaining increased demand across warehouses, operators need to improve the efficiency of their machinery. High energy density coupled with quick recharge time means that lithium-ion batteries can accommodate multiple shifts whilst also reducing idle time. As standard, warehouse managers should look for batteries that can reach full charge in under 90 minutes. This will allow for three shift operations without the need for a battery change in the middle of the working day.
Unlike other forms of batteries, the performance of forklifts will not start to deteriorate as the lithium batteries run out of power. Innovative battery monitoring systems (BMS) and active balancing modes can be employed both in the charging and discharging cycle for lithium-ion batteries. This allows the equal flow and receipt of energy between the cells, keeping them constantly at the same voltage levels, optimizing the performance and lifecycle of the battery as a system.
Advanced lithium-ion batteries can also offer approximately 4,500 charging cycles, depending on user profile. The added longevity translates to a marked difference in return of investment despite the higher initial purchase cost.
The high energy density and quick recharge time also negate the need for a second 'on charge' battery, which further reduces the footprint of your warehouse dedicated to charging forklift batteries, allowing for more space for product storage and distribution. Most alternatives to lithium will require a backup battery due to the length of time required to recharge, which utilizes vital space.
Lithium batteries can further increase the efficiency of equipment when it comes to maintenance and servicing. It is important to look for products from energy storage manufacturers that allow warehouse management systems (WMS) integration which enables warehouse managers to monitor the batteries and pre-empt any issues. Warehouse managers should also look for batteries that incorporate cloud access as standard, this will allow engineers to remotely access the batteries to shut down a damaged module or increase charge significantly to reduce unnecessary downtime associated with faulty or low power forklifts.
As e-commerce shows no signs of slowing down and fulfilment centers continue to improve efficiencies to meet consumer demands, simple changes such as the adoption and proper care of lithium-ion batteries can greatly improve productivity and resilience. By selecting a battery that features additional features such as BMS and cloud connectivity - as standard - from a trusted manufacturer, warehouses can continue to provide fast and reliable service to their customers.