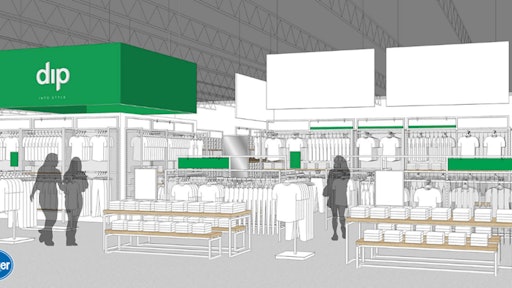 Kroger is planning to launch a clothing line this fall called Dip. The apparel, designed by Joe Mimran, is expected to roll out to more than 300 Fred Meyer and Kroger Marketplace large-format stores, Supermarket News reports.
Dip will include apparel for women, men, juniors, children and babies, according to Supermarket News. The brand is intended to help those with busy lifestyles who want to get the most out of their fashion dollar. The stores will offer flexible collections that will make it easy for customers to assemble outfits or clothe their entire family.
Kroger announced its plans for its own clothing brand last November, with the line debuting in Fred Meyer store sin the Pacific Northwest and in Kroger Marketplace locations around the country. Dip will replace over a dozen of Kroger's private-label clothing brands as the company attempts to redefine the customer experience.
Convenience will play a major role in the clothing line, as Kroger notes that customers quickly browse through the apparel department of their stores, playing into the brand's slogan, "Dip into simple. Dip into style."