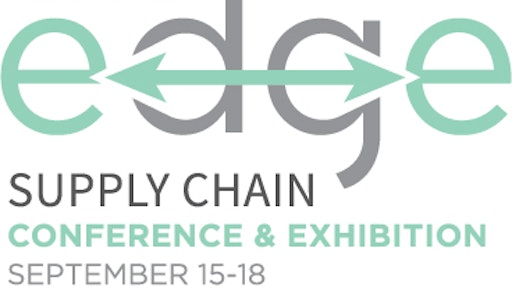 The Council of Supply Chain Management Professionals (CSCMP) is hosting its annual supply chain conference—CSCMP EDGE—in Anaheim, California, from September 15-18.
The premier event offers an unwavering commitment to the future of supply chain professionals and the industry, showcasing leading-edge content and cutting-edge solutions.
The conference brings professionals together for innovative idea sharing and thought leadership in supply chain management.
Meanwhile, EDGE is offering complimentary conference registration to military service members who are transitioning to civilian life. In addition, CSCMP is offering a free one-year membership for service members.
CSCMP is also encouraging attendees to attend coveted facility tours at the Port of Los Angeles, Disneyland and the Los Angeles International Airport.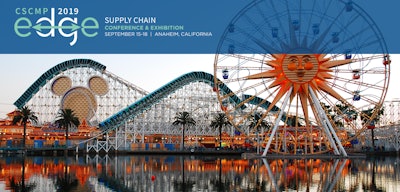 Throughout the tours, attendees will get a behind-the-scenes look at how some of the biggest supply chain locations in the U.S. keep operations running smoothly and efficiently.
The conference is dedicated to creating an environment that allows guests to build connections and facilitate provocative discussions—all with the intent to discover new strategies to lead their organizations.
Over the course of days, participants can absorb a year's worth of supply chain trends and best practices, hearing from the top supply chain executives and academics as they describe their own experiences in the industry. Such insights will leave attendees buzzing about valuable solutions to supply chain challenges and shared lessons learned.
On the first day, EDGE is hosting a Women Leaders Forum from 3:00 p.m. to 5:00 p.m. The forum is open to all attendees and brings industry leaders together to discuss how women are transforming the supply chain industry through thought leadership and innovation.
This year, the event will host Ashley Tyrner, founder and chief executive officer of Farmbox Direct, as a keynote speaker. Throughout her talk, Tyrner will detail her journey of becoming a businesswoman and eliminating food deserts across the United States.
Monday morning's keynote session, Better and Faster: The Proven Path to Unstoppable Ideas, featuring Jeremy Gutsche, chief executive officer at Trend Hunter, uncovers innovation blind spots and illustrates how organizations compare to the world's top innovators. His lessons are drawn upon untold experiences from people surrounding the industry that have achieved remarkable success by simply seizing the opportunities many have overlooked. Throughout his talk, Gutsche enables attendees to recognize patterns and clues, leading them to be a better investor, innovator, creator and adaptor.
Tuesday's keynote session, The Gig Economy and the Millennial's Journey to Change the World, features a stand out panelist of—you guessed it—millennials.
Seema Bansal, co-founder of Venus ET Felur; Chieh Huan, chief executive officer of Boxed; and Eric Termuende co-founder of NoW Innovations will join the stage with CSCMP's moderator contest winner to discuss the age of disruption and what that means for the "youths." The panel will address the many facets of being an entrepreneur in the digital age, taking into account what to envision for the future and how to plan for change in the world.
Sarah Thomas, the NFL's first permanent female official, closes out the keynote sessions with her talk, Going After Your Goals for the Right Reasons, on Wednesday morning. During her session, Thomas will share essential leadership lessons that she learned in an industry that is typically dominated by men. Her insights on gender equality in the world of professional sports are easily translated to every field or industry.
CSCMP understands that there are varying knowledge levels when it comes to the supply chain. That's why sessions are separated into three different levels: foundational, applied and strategic. The conference is offering 100 different educational sessions on a range of topics surrounding the supply chain industry.
Session: A Look Down the Road—Carrier CEOs Speak
When: Sept. 16 (10:30 a.m. – 11:30 a.m.)
Speakers: James Fields, chief operating officer, PITT OHIO; Robert Howard, chief operating officer, Dohrn Transfer; Derek Leathers, president and chief executive officer, Werner Enterprises; Gail Rutkowski, executive director, NASSTRAC
About: During this session, carrier leaders discuss how they respond to issues such as high operating costs, tight markets, government regulations and emerging technologies. Learn how regulations and legislation are impacting transportation budgets while gaining insight on the current logistics landscape.
Session: Crisis Response: Trade Wars, Natural and Unnatural Disasters
When: Sept. 16 (10:30 a.m. – 11:30 a.m.)
Speakers: Stan de Caluwe, senior supply chain solutions manager, Holland International Distribution Council; Gabriele Hennecke, head of logistics excellence and digitalization, Siemens AG; Rob Lewin, director, Flowserve Corporation; Eduardo Vargas, regional director, Morrison Express Corporation
About: In a time when trade wars and extreme weather events are constantly making headlines, it is crucial to know how your company will respond. During this session, a panel of trade compliance and goods movement experts discuss the spectrum of crisis response, helping attendees understand import/export documentation and legality.
Session: How Does the New NAFTA Affect the Border Process
When: Sept. 16 (10:30 a.m. – 11:30 a.m.)
Speakers: Ben Bidwell, director of customs brokerage, C.H. Robinson; Jason Craig, director of government affairs, C.H. Robinson; Christina Kopitopolous, director of customs and trade affairs at the office of the U.S. Trade Representatives, U.S. Government; Kathy Neal, global trade compliance director, Regal Beloit
About: Earlier this year, the United States, Canada and Mexico negotiated a new trade agreement called the United States-Mexico-Canada Agreement (USMCA)—effectively getting rid of NAFTA. In this session, industry stakeholders detail how they are planning for the potential changes. In addition, attendees will receive insight from a member of the U.S. Trade Representative's office.
Session: The Amazon Effect—Adapting to Sky-High Customer Expectations
When: Sept. 16 (2:00 p.m. – 3:00 p.m.)
Speakers: Kim Ballewske, vice president of distribution and customer experience, La-Z-Boy Inc.; Wilbur Deck, solutions engineering manager, Trimble Visibility
About: La-Z-Boy executive Kim Ballewske speaks on her experience in adapting La-Z-Boy to a business model that can compete in the highly service-oriented space. Throughout this session, attendees can determine how to adopt best practices in automating customer service response within the supply chain, while gaining insight on emerging technologies in the final-mile delivery space.
Session: The Growing Importance of Blockchain—Lessons Learned and Real-World Implications
When: Sept. 16 (2:00 p.m. – 3:00 p.m.)
Speakers: Paul Chang, global blockchain industry leader, distribution & industrial markets, IBM Blockchain; Anita Gardeva, IBM Food Trust, IBM Blockchain, IBM; Luis Hernandez, WW digitalization program manager, Hewlett Packard Enterprise; Jason Maddox, Deutsche Post/DHL, DHL; Bob Wolpert, chief strategy and innovation officer, Golden State Foods
About: Blockchain isn't just a buzzword in the industry anymore—it's a tangible solution being utilized by big companies, such as IBM, to bring visibility back to the supply chain. This session will go beyond the theory of what blockchain technology is and discuss two functioning solutions: IBM's Food Trust with Golden State Foods and Deutsche Post/DHL's Freight Invoice System with Hewlett Packard Enterprise. While examining the ledgers, attendees will also receive advice and suggestions for building and deploying their own blockchain technology.
Session: Driver Shortage Solved Through Driver Leasing On-Demand
When: Sept. 16 (3:30 p.m. – 4:30 p.m.)
Speakers: Justin Clarke, founder and chief executive officer, F|Staff; Kirk Hellofs, vice president of operations, States Logistics; April Ray, chief marketing officer, F|Staff
About: The ongoing driver shortage has been plaguing the transportation industry for some time now, creating significant staffing challenges. New marketplace technology allows carriers and drivers to have the power when it comes to driver staffing. During this session, attendees will assess the current driver staffing model and recognize any opportunities that marketplace technology can deliver.
Session: CSCMP's 30th Annual "State of Logistics Report" Presented by Penske
When: Sept. 17 (10:30 a.m. – 11:30 a.m.)
Speakers: Joe Carlier, senior vice president of global sales, Penske Logistics; Jill Donoghue, vice president of supply chain, Bumble Bee Seafoods LLC; Kevin Smith, president and chief executive officer, Sustainable Supply Chain Consulting; Thomas Williams, group vice president of consumer products, BNSF Railway
About: Attendees can take away useful insights to help plan their business strategies for the coming year. The report, authored by A.T. Kearney and presented by Penske Logistics, will provide an overview of the economy during the past year, the logistics industry's key trends and the total U.S. logistics costs for 2018. In addition, the session includes an interactive dialogue with a panel of report contributors and industry leaders.
Session: The Driving Force Behind Autonomous Fleets
When: Sept. 17 (10:30 a.m. – 11:30 a.m.)
Speakers: Richard Beyer, vice president of engineer, research and development, Bendix Commercial Vehicle Systems LLC; Robert Brown, head of public and government affairs, TuSimple; Craig Harper, executive vice president and chief operations officer, J.B. Hunt Transport; Stephan Keese, senior partner, Roland Berger LLC; Dennis Mooney, senior vice president of product development, Navistar
About: Autonomous vehicles are going to hit the road—whether we are ready for them or not. Self-driving fleets are expected to solve many concerns that are currently surrounding the transportation industry. While the technology is raising questions, industry experts will explore the effects that autonomous vehicles will have on the transportation industry during this session.
Session: Build Tomorrow's Supply Chain Team Today
When: Sept. 17 (3:30 p.m. – 4:30 p.m.)
Speakers: Tisha Danehl, vice president, Ajilon; Clay Jackson, vice president of supply chain planning, Tractor Supply Company; Jennifer Krueger, director, S&OP, Ulta Beauty; Mike Levans, group editorial director, Peerless Media LLC
About: Learn how to effectively recruit the next generation of supply chain leaders—Gen Z and millennials—in this seminar. Join the discussion to learn which strategies your organization should use to attract, develop and retain future talent.
Session: Industry 4.0: Planning Physical and Virtual Inventory
When: Sept. 17 (2:00 p.m. – 3:00 p.m.)
Speakers: Stuart McAvoy, global director of supply chain optimization, UPS; Pat McCusker, chief operating officer, Fast Radius; Daryl Slaght, portfolio owner global inventory solutions, UPS
About: During this session, attendees can explore the physical/virtual inventory model and the partnership between UPS and Fast Radius. With an in-depth Q&A to follow, members will learn about physical/virtual inventory forecasting and assess the role of 3D printing in supply chain.
Session: Leveraging Talent to Innovate, Disrupt and Scale Your Supply Chain
When: Sept. 18 (8:30 a.m. – 10:30 a.m.)
Speakers: Betsy Bingham, vice president of integrated supply chain, Honeywell; Kristin French, chief of staff, Defense Logistics Agency, U.S. Department of Defense; Sally Miller, chief information officer, North America, DHL; Dana Stiffler, vice president of research, Gartner; Beth Ward, senior vice president of supply chain, Hallmark; Trish Young, vice president of strategic enterprise capabilities, value streams, Nike
About: Learn talent strategies that are designed to innovate, disrupt and scale supply chains for value creation during the final session of the conference. Attendees can learn how to leverage diversity to attract and retain top talent to meet supply chain goals.
Companies in this article