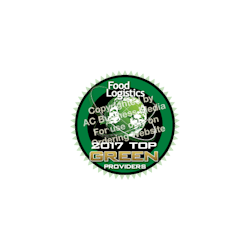 Food Logistics' annual Top Green Providers list offers logistics professionals a guide to the providers, manufacturers and software and technology companies that have found new ways to promote sustainability throughout their operations and those of their customers.
This year's list consists of transportation providers, 3PLs, cold storage providers, technology companies, pallet manufacturers and many others who have stepped to the front to become the leaders in supporting a more sustainable global food supply chain.
To see the entire list of Food Logistics' 2017 Top Green Providers and the services and solutions they provide, click on the download document button above.