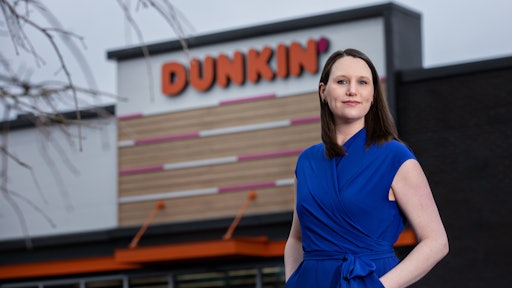 Brenda Upton Photography
Entering a new job and juggling motherhood can be some of the most stressful moments of someone's life, but when you add a global pandemic to the mix, it is anyone's ball game.
That's exactly what happened to Liz Longstreet Darr in 2020. Just one week into her new position as executive VP of strategic sourcing, National DCP, the country went into lockdown because of the Coronavirus disease (COVID-19) pandemic. But, with everything she learned throughout her career suddenly being put to the test, Longstreet Darr didn't miss a beat. She rallied her new team behind her, encouraging them to focus and deliver industry-leading results. Her efforts to navigate the COVID-19 pandemic by strategically problem solving, among accolades, has earned her Food Logistics' 2021 Rock Star of the Supply Chain winner.
Now in its seventh year, the Food Logistics' Rock Stars of the Supply Chain award recognizes influential individuals in the global cold food and beverage supply chain whose achievements, hard work and vision have shaped the industry for the better.
"It's pretty humbling for me. There's so many talented supply chain professionals out there, and everyone's worked so hard this past year and accomplished so much," Longstreet Darr says. "In the supply chain, professionals get recognized quickly when something goes wrong. And, rarely does supply chain people get recognized for all the things that go right. If you get 99% of the products there on time, people contact you about the 1% that doesn't get there. That's just how it works in the supply chain industry. That's what we all signed up for, and it's fine. But, what's great about this award is it recognizes people for the great work they've done behind the scenes. I think for me that's what it means. It is just recognizing the positive impact that I've done."
Longstreet Darr has been in the foodservice industry all her professional life, moving toward the food supply chain industry 13 years ago.
"I always loved the foodservice industry. I started out—like many people—bussing tables, eventually waiting tables, and then worked in the front of house in restaurants. I was able to get an internship at Darden Restaurants as a supply chain intern when I was in college," she explains. "I didn't know about supply chain when I was young, and I didn't really ever think about supply chain as a career, but I was fortunate enough to get that internship and realize that supply chain was a way for me to stay close and connected to restaurant operations without physically being in a restaurant every day. I didn't intend to go into it, like I think most people did not intend to. We all just kind of ended up here and fell in love with it."
Longstreet Darr started her position in March 2020, overseeing the program management team and working with suppliers to source and negotiate all of Dunkin's packaging needs for distribution. Her background in the foodservice industry helps her make decisions as she understands what products may impact operations if an issue arises.
"You end up empathizing with them because you've been there—you know what it's like to tell a customer that you're out of something. It's never fun," she says. "Having that background is helpful and certainly helps with connecting with the restaurant operators when dealing with supply chain challenges."
Longstreet Darr is always looking to better improve processes, especially when it comes to the COVID-19 pandemic. She asked her team how they can work together to improve things, however, all of this had to be done virtually, as National DCP's employees worked remote.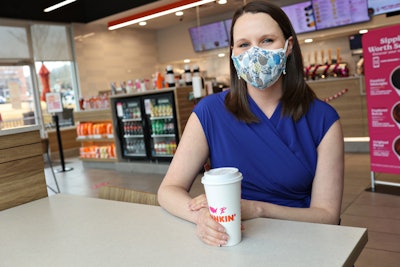 "There's more supply challenges than there used to be, but as a supply chain professional, we've all dealt with supply challenges," says Longstreet Darr. "I think probably the way we work is actually a bigger change than the amount of supply challenges we've faced. Our team is working together via video and other tools that we can find for collaboration."
While many things have changed because of the pandemic, visibility into the food supply chain will remain. Longstreet Darr believes that the restaurant industry is now finally catching up to the foodservice industry in terms of technology and reporting. This allows for better decision making and planning in the long term.
"I think technology is continuously improving and getting more sophisticated. The more that happens, the better decisions we make. There's nothing more important to a supply chain professionals than not running out of product, so improved, timely visibility into inventory continues to be important," she adds.
Though, supply chain challenges will continue to be the norm post-pandemic. Rather than being defeated by it, Longstreet Darr encourages her peers to be energized by it. By being persistent and dedicated to the task at hand, it will lead to a more satisfactory outcome.
"I have encountered challenges like anyone in my career, but they always lead to me having a chance to reflect and figure out how I can do things differently, to be better and better myself professionally," she says. "I think with every challenge, you learn something, and as long as you can see past it and know that you're going to learn something from it and get through it, I think that is the key."
Despite its stressors, work is still considered a safe place for Longstreet Darr. She explains that her work allows her to have consistency in a time when the world is pretty inconsistent.
"We'll look back on this year five years from now and say, 'Oh, my gosh, like, how did we get through that year? What really happened?' I think we're all a little bit in survival mode, just hunkering down getting through this," says Longstreet Darr. "Work is consistent, and fortunately, I enjoy what I do. I work with great people at National DCP. When everything else is kind of falling apart, I can still log in at 8 a.m. and see my team members and see how they are advancing our strategic planning. It's just good to do the best you can."