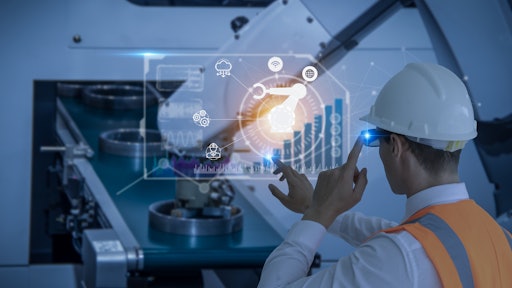 Poobest/adobe.stock.com
Throughout the industrial world and across every continent, businesses are making significant investments in robotics and automation. According to the McKinsey Global Industrial Robotics Survey, automated systems will account for 25% of capital spending over the next five years. Many of these businesses believe robotics-driven automation systems will drive major benefits in output quality, efficiency and uptime.
There are challenges for these implementations to be successful, including the cost of investment, experience in deploying projects and the belief that more robotics will mean companies can rely less on human capital.
The report illustrates several industries expected to see major growth in the use of robotics and automation, such as retail and consumer goods, where 23% of retail survey respondents plan to spend more than $500 million. That compares with 15% in food and beverage and 8% in automotive.
Robotics and automation will continue to grow
However, logistics and fulfillment operations are expected to realize 30% or more of their overall capital investing over the next five years, which would place it as the No. 1 player in robotics. This most likely won't surprise anyone, as large companies and their logistics partners have been battling to leverage technology to increase competitive efficiencies over the last five years.
The fundamental benefits of robotics and automation cannot be ignored and virtually every industrial deployment will result in a more intelligent use of resources. In most cases it frees the human employee from mundane, repetitive tasks and empowers them to concentrate on core business objectives instead, bringing about numerous benefits to the workplace.
In the early days of robotics, there was plenty of chatter about robots fully replacing human workers. The thinking was that robots will eventually outsmart humans and there will be less need for human capital. This has clearly not been the case, nor is it today's path of robotics and automation.
They are planning to represent a considerable amount of the average industrial company's production strategy going forward. According to a report on automation in the workplace by PricewaterhouseCoopers, as many as 30% of jobs in the UK, 38% of jobs in the United States, 35% of jobs in Germany, and 21% of jobs in Japan are at risk of being replaced by machine-based automation by the early 2030s. Even more recently, 10.5 million jobs remained open, with roughly 1.7 jobs available per worker at the end of November 2022. While low headcounts of workers seem to be the new norm, robotics are not replacing anyone and are filling the gaps that can't be covered with labor. Robotics tend to do the least desirable and most repetitive jobs in the supply chain.
Even with more robotics, human labor will be a key driver
There are a handful of documented reasons why humans and human labor will continue to play a significant role despite the growth in robotics and automation.
Robots don't understand emotional thoughts. Robots operate on rationally programed logic. However, there will always be irrational variables that involve emotional critical thinking in the decision-making process. This is why human labor will be important in supervising robotics so that changes can occur depending on any number of irrational changes to the environment.
Robots can't understand context. Especially for manufacturing jobs that require analysis, or the interpretation of slang from different countries and cultures, some robotics and automation may struggle in these types of warehouse production roles.
Lastly, robotics don't understand customer service. Robotics and automation may continue to prove challenging as industrial companies try to implement these functions into remote customer site visits for service and repair, for example. Artificial intelligence (AI)-powered robotics will always be programmed to deliver the most pragmatic solution without any consideration of how that might affect future customer relationships.
In each of these scenarios robotics can play a role, but not without human interaction. Successful industrial companies today are finding the right balance here and leveraging labor management technologies to better manage the relationship between human capital and robotics.
In a recent industrial-focused survey, 36% of executives said they currently leverage labor management system technology for their warehouse operations, and another 29% said they plan to make investments in this type of technology in 2023.
What is labor management and why is it necessary for robotics?
These companies are relying on labor management technologies to inject more flexibility to quickly adapt to a rapidly evolving marketplace using robotics and automation. It allows for greater productivity and efficiency from logistics and warehouse personnel to support everything from increasing customer demand to rapid shifts in the use of robotics and automation programs on the floor.
This strategy is helping to modernize legacy warehouse environments through real-time visibility into delivery, labor management and operations to satisfy escalating customer expectations, save valuable resources and reduce overhead costs even further. The ability to optimize any facet of the warehouse automation system enables a highly flexible and responsive supply chain operation. More importantly, today's advanced labor management solutions can leverage historical robotics data to create smarter performance tracking across the life of each automated system without complex and costly projects. In many cases, companies can leverage this technology to reduce data refresh from eight hours of programmed analysis down to just a couple of minutes for more real-time decision-making of labor needs.
Robotics and automation will continue to grow throughout the industrial commercial landscape. Without the use of intelligent labor management technology, these companies will not efficiently and effectively manage their robotics systems for optimum logistics and warehouse functions.