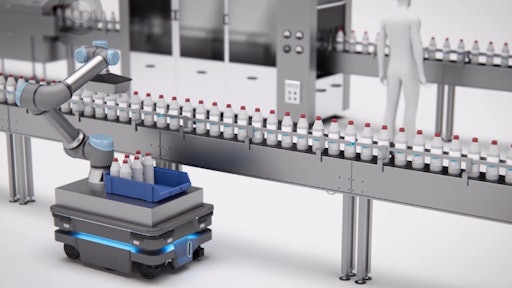 Mobile Industrial Robots (MiR)
Once characterized by people and forklifts rushing around warehouses and clocking in and out, over the past 20 years factory floors in the consumer packaged goods (CPG) industry have transformed into seas of high-speed conveyor belts and robot arms that are packing, transporting and shipping faster, more cost-effectively and more efficiently than ever.
Many companies automating their material transport have added autonomous mobile robots (AMR) to their automation strategy, with many adding large fleets of AMRs to their workflows. Using built-in Lidar scanners and 3D cameras, these AMRs can independently transport materials around a facility without the need for costly infrastructure changes and disruptions in production.
The result of AMR deployments such as these has heralded a new era for warehouses and manufacturing facilities with global shipments of AMR seeing a 65% annual growth rate in 2022 over 2021 with global shipments expected to exceed 500,000 by 2030, according to ABI Research. Though the addition of AMR to CPG operations comes with benefits, the major undertaking is not without its implementation challenges on the way to full automation. Below are three things to consider as you are integrating AMR into your material transportation operations, each of which will make the transition as quick and painless as possible.
Knowledge, communication and support should drive preparation
The time between the decision to implement AMR and the robots hitting the floor is critical. A proactive team will find the aspects of the operation that can benefit the most from AMRs and appoint an internal champion to lead the project and manage implementation. Factors and circumstances will vary based on the factory, internal expertise, goods produced, etc. and you may benefit from bringing on an external integrator or automation partner to fill in the gaps.
A site evaluation needs to follow the initial research and planning. A key advantage of AMRs is their ability to adapt to almost any environment, but you need to conduct a detailed evaluation of your site before you start. This will help optimize your robot deployment for your specific requirements and avoid unwelcome surprises. The evaluation should include an assessment of Wi-Fi capabilities and protocols, distance and cycle time needs, adjustment for product material and weight and traffic routes on the floor.
The final piece is a full on-site demo with all the plans in place, which will highlight anything that still needs to be worked out and show you what a rollout might look like.
Key steps to deploying AMRs
Successful CPG automation rollouts start small and build from there. With additional robots come additional complexities, even as simple as charging ports and warehouse traffic. Some pointers on getting started are:
● Choose your application. Start with an easy-to-deploy, high-return application to get your bearings. Consider transport components between warehouse and production with simple missions that optimize productivity, like removing trash and other waste to keep the production floor clear and safe. Regularly collecting samples from production lines for quality control analysis catches manufacturing issues early and reduces waste. Eventually, the tasks will grow to be more complicated.
● Review the application. If you haven't brought in a system integrator before, now might be the time to use their expert application teams to guide your AMR design and implementation to make sure your project gets off to a good start. Review project specs, fleet integration with Wi-Fi coverage, service requirements and remote access and establish service contracts, especially after commissioning. Check the facility layout, including distances and parts per hour, preferred paths and width of aisles for bi-directional traffic of the mobile robots.
● Conduct a risk assessment. For any mobile robot deployment, conduct a risk assessment to ensure employee safety. While the robot manufacturer is responsible for delivering an AMR that meets safety standards, integrators and end-users must also follow appropriate safety directives, international standards and best practices.
● Perform a pilot program. An AMRs user-friendly interface and intelligent sensors and software mean your team can quickly create maps and simple missions on your own. Using this program as a proof-of-concept will help you learn and grow your automation plans successfully.
Build out operations
After a successful deployment, initial observation of the machines and starting to see the tangible efficiencies on the floor, most companies consistently see new opportunities to grow their use of AMRs. That growth often takes the form of adding more robots for the same tasks or piloting automation of new tasks. Some companies have already deployed dozens of AMRs to solve internal transportation tasks throughout the entire value chain, from inbound logistics to in the production to outbound logistics and more.
This would also be the ideal time to educate employees on how to interact with the machines and capitalize on efficiencies themselves. The training is typically welcome, given that the robots are absorbing many time-consuming, repetitive, or physically taxing tasks, freeing up time for upskilling workers to take on more responsibilities and decision-making tasks.
AMRs are undoubtedly the future of automating material transport within CPG. Putting the time and resources into a thoughtful and strategic implementation – from preparation to deployment, to expansion – is critical to boosting your organization's productivity and competitiveness in a marketplace where speed and efficiency win the day.