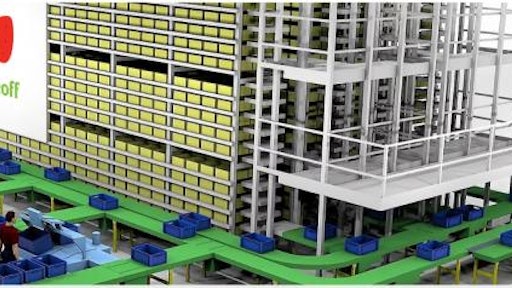 Albertsons is testing artificial intelligence to simplify and automate online orders picked at store-level. The grocer is partnering with Takeoff Technologies to test a "micro-fulfillment center" concept supported by Takeoff's AI capabilities, Chain Store Age reports. The automated center will leverage Albertsons' existing supply chain store footprint and will be able to pick various types of products.
According to Chain Store Age, as a customer enters their order using Albertsons' e-commerce interface, the order will then be delivered to the automated system, allowing Takeoff's solution to take over the fulfillment process. AI-enabled robots and system of totes and conveyors will collect items for online grocer orders in minutes. The items will then be delivered to an Albertsons employee to prepare the order for the customer.
The automated center will reduce the amount of time necessary for individual customer orders to be processed. The company reports that it is the first national grocer to implement an automated e-commerce fulfillment center.
Companies in this article