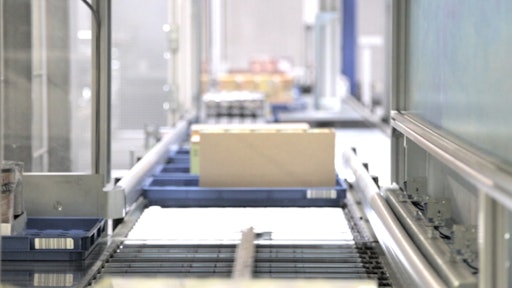 In the coming weeks, Walmart will break ground in Shafter, California, on what it calls its first high-tech distribution center for fresh and frozen groceries.
Set to open fall 2020, this innovative DC will use WITRON technology to process 40 percent more product than a traditional DC—and result in fewer crushed strawberries, says Elizabeth Walker of Walmart corporate affairs, in a blog post.
Rather than manually stacking boxes and building pallets, Walker says the new DC will allow associates to use the new technology to do the (literal) heavy lifting. But what if those machines put a watermelon on top of a case of tender, beautifully ripened strawberries?
Shayne Wahlmeier, one of the engineers on the project, described the plan to keep this from happening.
"Every product is measured and documented so that we know how to handle it," he explains. "A computer algorithm shows all the cases ordered for a given store and determines how to palletize them to maximize the space on a pallet or trailer. It also takes into account density—what's crushable, what's not."
Consumer Savings
The efficiency gains achieved from this new DC will also result in savings that can then be passed on to customers, Walker says.
"Because the technology is helping associates build a more flexible, dense pallet, more products will be able to fit onto a truck. This will reduce transportation costs, and those savings can be passed on to customers," she says. "And remember those strawberries that aren't getting crushed? Fewer damages mean a reduction in food waste. Customers can be more confident that a product is in stores when they come to fill up their carts."
Job Creation
The Shafter DC will also create hundreds of new jobs, Walker says, many of which will be technology-focused or STEM jobs.
"The order-filling position is an arduous one," says Tim Cooper, senior vice president of supply chain for Walmart. "While the supply chain is the backbone of Walmart's business, the jobs of the future might be less physically demanding."
Companies in this article