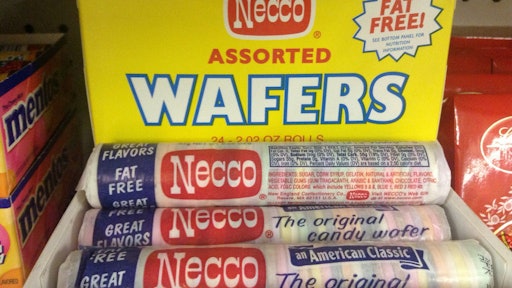 Necco Wafers will continue to produce candy for the rest of the month of May, and perhaps until November, depending on who takes over the company after a bankruptcy auction scheduled for later this month, the Boston Globe reports.
It is unclear if the candy company will make it through the end of 2018. Necco Wafers was originated in 1847.
Necco filed for Chapter 11 bankruptcy protection back in April. Liquidator Gordon Brothers has committed to operating the company through November if it has a winning big at the auction. However, its future remains uncertain, especially if someone else ends up winning at the auction.
In US Bankruptcy Court, Necco asked to be allowed to forgo a required auction process so it could complete a $13.3 million private sale of its assets to Gordon Brothers.
Former Necco chief executive Al Gulachenski said he'd like to buy the company through a crowdfunding campaign. He would need to raise $20 million to keep part of Necco in business. The Boston Globe reports that the campaign has only raised $4,320.
Current chief executive Michael McGee told state officials that the company would lay off 400 workers and executives if it couldn't find a buyer by May. As of April 17, the company had 232 full-time employees.
To read the full original article, please click here.