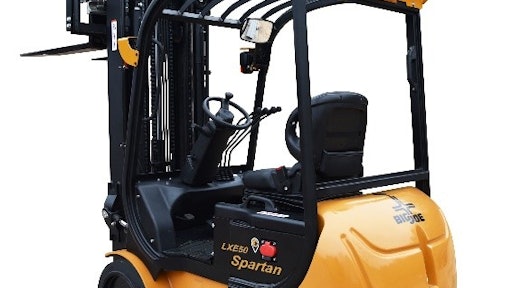 Big Joe Forklifts
Big Joe Forklifts' newly released lithium forklifts -- the LXE50 Spartan and the LVE35 Sprint -- were uniquely designed from the ground up to help companies take maximum advantage of the latest in lithium-ion battery technology.
"We designed the new Spartan and Sprint to be lithium forklifts from the ground up to help companies transition and take full advantage of the promise of lithium technology," says Big Joe's CMO, Bill Pedriana. "Running internal combustion forklifts and paying high fuel and maintenance costs just makes very little sense with options like this now on the market. These new machines are less expensive to operate, they can charge fast enough to keep up with just about any use case, and you lose virtually nothing in comfort or performance. Not to mention the fact that you no longer have to breath in fumes all day."
From BusinessWire:
The new Spartan is a 5,000-pound capacity cushion-tired model that shares the same design attributes as an internal combustion truck of the same capacity. The idea is that operations currently using LP or diesel trucks will now have an electric option that can keep up with their duty cycle requirements and fit right into existing applications.
Similarly, the new Sprint 3,500-pound capacity three-wheel forklift will further accelerate the adoption of electric trucks for users in need of a smaller machine by removing the need for an external charger. The Sprint comes standard with a single phase 120vac onboard charger that can be upgraded to 240vac.
The Sprint and Spartan feature 80v AC drive systems powered by a 230AH or 460AH UL-recognized lithium battery, respectively.