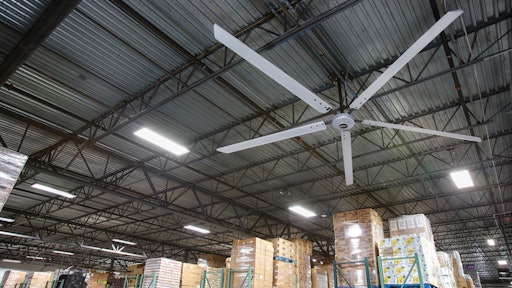 Each year, nearly one-third of food produced is lost to spoilage, and a significant amount of that waste occurs before food even gets into the hands of consumers. There are many points along the farm-to-fork supply chain where spoilage can set in—and one of them is in the warehouse.
Companies are increasingly focused on improving the energy efficiency of their warehouses, and in turn, also improving the freshness and wholesomeness of the foods they are storing.
Temperature Zones
According to Tim Nguyen, regional vice president at ESI Group USA, a food facility designer, builder and consultancy, one of the largest energy consumers in the warehouse is refrigeration.
"Many companies are improving the energy efficiency of their warehouses by using variable frequency drives (VFDs) in their refrigeration that can control the intake of energy, adjusting it to the needs of specific refrigeration applications, without expending excess energy that isn't needed," Nguyen says.
Equally important is a more holistic approach to warehouse environmental management that goes beyond refrigeration.
"In cases where warehouses store a variety of food items, there might be a need to refrigerate perishable items, while other food items don't require refrigeration but might only need a cool, dry area for storage," explains Walt Swietlik, director of customer relations and sales support at Rite-Hite, which manufactures a variety of safety, security and dock-related items for the warehouse space. "To meet these different needs, warehouses should ideally be divided into different environmental zones, with each zone operating at a different temperature, depending upon the type of food that is being stored in it."
Instead, Swietlik says what we tend to see now at many warehouses is an excess of energy-inefficient freezer space being used to store items that really don't require refrigeration.
"This is wasteful energy consumption. The best approach is to subdivide the space in the warehouse into different temperature zones that are calibrated to the requirements of the specific food items that are being stored so you can avoid using refrigeration where it isn't required," he adds.
Recognizing the value of temperature-zoning their warehouses, large companies with multiple warehouses have made huge strides in improving the energy efficiency of their storage facilities. They have done this by varying the ability of their warehouses to store many different types of food items in multiple environmental zones where are ideally suited. However, smaller companies that have just one or two warehouses continue to lag, and there is still more work to be done to optimize energy efficiency and food freshness.
"It can be difficult for smaller and middle sized companies to make an upfront investment in their warehouse facilities because of the cost, but they'll see the returns on those investments if they assess their warehouse needs first, invest in the best energy efficiency solutions for their particular situations, and then measure the recoupment of their energy savings from those investments," says Jeff Chastain, senior vice president and general manager at Hunter Industrial Fans, which provides energy efficient fan and ventilation solutions.
Other key areas companies should consider to improve the energy efficiency of their warehouses, preserve food freshness and reduce spoilage include:
Getting energy audits and retrofitting buildings
Managing the warehouse holistically
Leveraging environmental investments
Including workers and work processes in warehouse environmental planning
Factoring in food safety measures
Responding to new supply chain trends like direct farm to consumer shipments
Energy Audits and Retrofitting Buildings
Many local electrical utilities offer guidelines and/or energy efficiency audits of commercial structures like warehouses.
"The audits identify areas of commercial buildings that can be improved for energy efficiency, and outline a series of steps that companies can take on their own," says an energy audit manager at a West Coast utility company. "When we evaluate a warehouse, some of the common areas for improvement are adding to building insulation, converting roofs to lighter colors to reflect sunlight and to prevent overheating, and eliminating seams in metal roofs."
Managing the Warehouse Holistically
According to Hunter Fan's Chastain, larger companies, and now some mid-sized organizations, are beginning to install building management systems (BMS) that can holistically manage and even automate the environmentals for an entire warehouse.
These systems, he says, can control and monitor warehouse mechanical and electrical equipment such as ventilation, lighting, power systems, fire systems and security systems—all from a single "pane of glass" computer workstation. When all of your environmental control equipment is tied into this system, you can sit at a console and control temperature and humidity in different zones within your warehouse, adjusting each zone as needed for the type of food that it is storing. You can also review analytics and reports that inform you how well your warehouse is performing in terms of energy efficiency and spend.
Leveraging Environmental Investments
An HVAC system is a given in the warehouse. It can also become an enormous energy eater if you let it run without environmentally zoning your facility or using other methods to leverage the air cooling or heating that HVAC provides.
"One of the things we try to encourage clients to implement is a high volume low speed fan (HVLS), which can leverage the effect of the HVAC, reduce food spoilage and improve warehouse productivity," says Chastain. "The fan leverages the heating or cooling that your HVAC is providing, so the HVAC no longer has to work as hard to control your warehouse environment. This is a cost as well as an energy savings."
Warehouse docks are also major energy wasters, as they are often left open when trucks arrive and depart from the warehouse with their cargo. Air and debris from outside of the warehouse can infiltrate, compromising the internal environmental of the warehouse and/or forcing environmental control systems like HVACs to work harder.
"We help our clients solve this problem of environmental 'leakage' by placing seals between the trucks at the loading and receiving docks and the warehouse," says Rite-Hite's Swietek. "These seals shield out the external environment and keep the warehouse environment regulated."
In addition, the seals are flexible and can be adjusted to a variety of different trucks. In the past, seals only covered the top and the sides of the truck, which allowed some leakage of the outside environment into the warehouse from the bottom of the truck's loading platform. Now, Swietek says Rite-Hite provide seals that cover all three sides plus the bottom of the truck.
"This reduces energy leakage, keeps the warehouse environment stable and also keeps out rain, dirt, mosquitoes and other weather-related elements," he adds.
In the area of refrigeration, which exerts the most "pull" on energy of any single system in a warehouse, there are also energy saving technologies that can be put into play.
"Variable frequency drive motors in refrigeration units allow you to align your refrigeration to the levels needed for the product you are refrigerating," says ESI Group's Nguyen. "This helps save energy costs because you now have an option instead of having to run all motor drives during peak loads. In refrigerated warehouse facilities, you can also shed or increase load, so that you are only running at full load durng off peak demand time."
Environmental Planning
It isn't just food, technology and equipment that managers have to be concerned about when they operate a warehouse and strive to gain energy savings. It's also workflows and employees.
For example, if a warehouse is handling fresh foods, the turnaround has to be rapid. You just can't leave a load of lettuce on a dock, or in a section of the warehouse that isn't environmentally calibrated to the storage needs of that particular food item.
"This is where the protocol for handling different types of foods becomes very important and must be diligently followed by employees," notes Nguyen.
In some cases, training and even appropriately placed signage can help. In other cases, the automation of a warehouse management system (WMS), which is linked into IoT-enabled sensors on pallets of particular goods with barcodes that are scanned into the system, can track where these goods are in the warehouse and whether they are properly placed. If the goods aren't in the area they should be, a specific time period can be set, after which an alert is issued. All of these technology aids can assist with the process.
Factoring in Food Safety Measures
Breweries and other types of food processors and warehouses should also be concerned about the potential safety and hazard impacts of the environmental systems that they install.
"This is one of the reasons why we developed an overhead fan that doesn't have a gearbox and bearings, or the potential to drip oil on food products that could be situated directly below it," adds Chastain.
Supply Chain Trends
With the entry of Amazon into the food retail business, distribution and home delivery, the consumer is now in charge of everything. Wholesalers, now more than ever, are looking at how millennials want their food delivered to them.
"In the past, we had a supply chain that went from farm to warehouse to processor to a food servicer or retail outlet," explains Nguyen. "Now, we are moving into a modified route of farm-to-processor or directly to home. This is what people in the food distribution and warehouse industry need to get ready for."
Mary Shacklett is the president of Transworld Data, a technology analytics, market research and consulting firm. Prior to founding the company, she was vice president of product research and software development at Summit Information Systems. She may be reached at mshacklett@twdtransworld.com.
Companies in this article