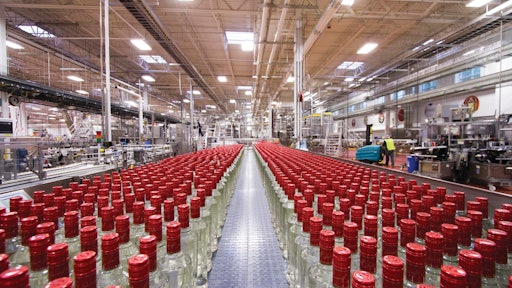 Beverage companies are embracing a bevy of tools, including automation, software, and enhanced productivity techniques to improve speed, safety and sustainability throughout their operations.
Last August, Diageo North America unveiled the completion of a more than $120 million investment in its largest bottling facility in Plainfield, Ill. The facility's enhancements included three new high speed bottling lines, a flexible production area designed specifically for new-to-world and small-scale specialty products, and several high-tech packaging machines.
"Diageo's ambition is to be the best performing, most trusted and respected consumer products company in the world. Our supply chain operations will play a critical role in delivering that goal," says Larry Schwartz, president, Diageo North America. "The investment we have made in our manufacturing network demonstrates our commitment to developing this important part of our business."
While the Plainfield facility was already a zero waste to landfill site, the recent enhancements have furthered Diageo's environmental sustainability goals by lowering greenhouse gas emissions, improving water efficiency, and using 100 percent renewable electricity to power the facility.